By now any NFL fan who has spent some time surveying the 2019 draft class of wide receivers has become familiar with prospect names like D.K. Metcalf, Marquise Brown and N'Keal Harry. Names projected to be at the top of the draft board tend to garner the most attention and the most coverage.
As great as it might be for the Bills to grab one of those top receivers early, is there better value to be had at a later point in the draft?
NFL Network draft analyst Daniel Jeremiah believes the best bang for your buck at wideout is on day two and beyond.
"I think that wide receiver-wise, you have two that I believe will go in the first round," Jeremiah said. "Even with the foot injury I think Marquise Brown will still go in the first round. D.K. Metcalf is going to go in the first round. After that it's become kind of a flavor thing.
"We talk about receivers being like a basketball team -- if you have big guys, maybe you're looking for a little more explosive player, smaller player, and if you have small guys you want a bigger guy and you need a slot guy. It's whoever you're looking for. There are all kinds of flavors, and I think you'll see a bunch of those skill players roll off the board second, third, fourth round. There will be a boat-load of them."
ESPN NFL draft analyst Mel Kiper sees the greatest potential return on investment at receiver in round two specifically.
"There will probably be up to six to seven (receivers taken) in the second round," said Kiper. "There are going to be a lot of second, third-round receivers, who might turn out to be players like JuJu Smith-Schuster and Michael Thomas. It's not a great first round receiving group. It's a great second to fifth round receiving group."
CBSSports.com's prospect rankings at wide receiver project 11 wideouts to be selected in round two and three. TheDraftNetwork.com has 12 receivers projected to come off the board on day two.
Among the most common names appearing in that range include Stanford's J.J. Arcega-Whiteside, Ole Miss' A.J. Brown, Iowa State's Hakeem Butler, Ohio State's Parris Campbell, N.C. State's Kelvin Harmon, Arizona State's N'Keal Harry and South Carolina's Deebo Samuel.
When it comes to what the Bills might be looking for in a receiver, NFL Films draft analyst Greg Cosell feels Buffalo needs to get bigger at the position.
"I would think the Bills would be looking for some size because right now they have John Brown, Cole Beasley and (Robert) Foster so they don't have much size," Cosell said. "So I think in this particular group they would love to get a big outside receiver, and then it depends on who you like. Maybe they like N'Keal Harry, maybe they like somebody else. But I would think that they'd be looking for some size at the wide receiver position at this point."
Harry, who goes 6-3 and 216 pounds does offer size and according to Cosell offers a physical style of play as well.
"I think the run after catch is great," Cosell said of Harry's game. "He can jump and go up and get it. The only issue for me and it's a big issue. He struggled to separate and win versus man coverage in college.
"So now the question is, is he going to separate and win versus man coverage in the NFL? You can help them with that with your scheme, but at some point, you're going to have to win."
Cosell said Harry might project better to the slot where he has more options to separate from the defender, and more NFL clubs are lining up their bigger receivers inside.
Arcega-Whiteside and Harmon are seen as possession type receivers by Cosell, who win in traffic, but might not possess a second gear.
"He's very tough, competitive," said Cosell of Harmon. "That always projects well. He's got a big body. He's got body control he's got hands. The more I watched him I thought he was very measured. I don't think he'll be a vertical guy.
"Arcega-Whiteside was almost used as a basketball player at times the way he would literally box people out and go up and get the ball. I think his vertical ability is a little deceptive with his size and his stride length. Question is can he get on top of NFL corners? He's certainly got size and he's got contested catch ability. That's what they do. They work outside the numbers."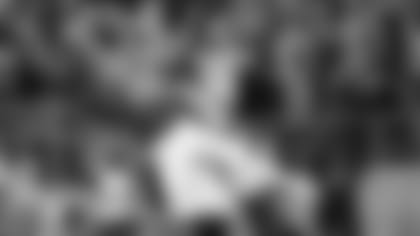 Even if a team waits until late day two or early day three on a receiver, there is still good value to be had in the middle rounds as Kiper sees it.
"Emmanuel Hall a kid from Missouri can take the top off a defense," said Kiper. "Ran a 4.39 and averaged over 20 yards a catch. He's a third or fourth round possibility. Terry McLaurin from Ohio State. If he were there and dropped down a little further than I think he will, he'd be a great addition.
"MeCole Hardman from Georgia with his return ability and his 4.3 speed is a very intriguing option in the third or fourth round. Same thing for his Georgia teammate Riley Ridley the receiver. Then there are some possession types like Anthony Johnson from Buffalo, very underrated player for day three. The depth at wide receiver, a lot stronger than it is in the first round."
Despite all of that several mock drafters have chosen Ole Miss WR D.K. Metcalf for Buffalo with their pick at nine overall. Blessed with 4.33 speed and a 6-3, 225-pound frame, he's a tantalizing prospect who is widely expected to be the first receiver off the board.
"I put him at nine, which is a little higher than I anticipated," said ESPN NFL draft analyst Todd McShay. "The Bills had a need there at wide receiver. (Florida OT) Jawaan Taylor was off the board. I see the weaknesses with his game. I know he's kind of a one-trick pony, but it's a heck of a trick. When you can get down the field, go up and compete for the ball, adjust and make the plays he did at 228 pounds and get off press coverage, he's got that already. Now you have to develop the other parts.
"But if you can pair him with a guy with the kind of arm that Josh Allen has along with his ability to extend plays and make throws that not many quarterbacks can make downfield, a guy like Metcalf could bring out the best in Josh Allen."
Only the Bills know how seriously they're considering Metcalf as an option in round one. But if their draft board coincides with where many draftniks believe the value of the 2019 receiver class resides, the sweet spot may be somewhere on day two.