Though he wasn't sure how it would happen, Cody Ford always had a sneaking suspicion that he would be a Buffalo Bill.
When the team traded up to select him in the second round of the 2019 NFL Draft, he couldn't help but smile.
After all, it's where he wanted to be.
"I actually had an interview back when I was in Norman, [OK], a guy asked me where I wanted to play," Ford said after walking across the stage.
"I told him I want to go to Buffalo."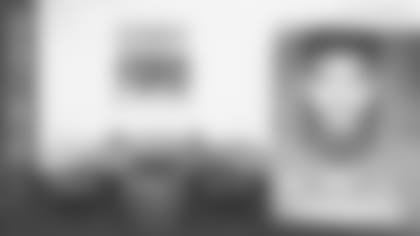 Ford fell in love with the Bills after interacting with the team's coaching staff in the pre-draft process, forming a strong bond with new offensive line coach Bobby Johnson.
"I had interactions, like I felt like they were going to pick me at some point," Ford said via conference call. "You never know when. The interactions we had were amazing.
"Coach [Bobby] Johnson is a great guy, any time we talked it was all good stuff. Really can't wait to work with him so that we can go in and start making some noise early."
The former Oklahoma offensive tackle was widely looked at as one of the better linemen in this year's draft, with many outlets having a first-round grade on him.
A few surprising picks on the first night of the draft pushed Ford into the second round. Though he was disappointed to fall out of round one, he feels as though everything happens for a reason.
"A lot [of mocks] had me in the first," Ford said. "But I tweeted out earlier, always trust God. You never know what's going to happen. This situation could be better than any situation in the first round, so I'm very grateful for it."
Ford primarily played right tackle at Oklahoma, starting 14 games on the dominant Sooners' offensive line in 2018. Though Ford would prefer to play tackle at the professional level, he's open to a shift to guard, a position he started seven games at throughout his collegiate career.
"Just wherever I can come in and help the team win, I'll play," Ford said.
Throughout his time at Oklahoma, Ford became known as an incredibly intense player, a high-motor lineman who competes on every single snap.
It's a demeanor that can't be taught.
Fortunately, he was born with it.
"It just kind of came from high school," Ford said. "I just wanted to play the game the way it's supposed to be played, which is nasty and physical."
It's been a whirlwind few months for Ford. Now finally on an NFL roster, he's eager to help his team reach its ultimate goal.
"From what I've heard, it's a great organization," Ford said. "Everything's been great that I've heard about them. I feel like I'm going into a great situation."
"I want to see this organization make big noise this season. Let's see if we can go win one."