"It was definitely a strange path, but my foot is in the door, so I just have to keep the door open now," he said. "Or shut it behind me."
Sills doesn't dwell on the freak helmet hit to his throwing hand in high school that would alter his release and change the course of his football career as a quarterback. After exhausting all options as a signal caller going from West Virginia to El Camino junior college to try to make it work, Sills knew what was more important than playing quarterback.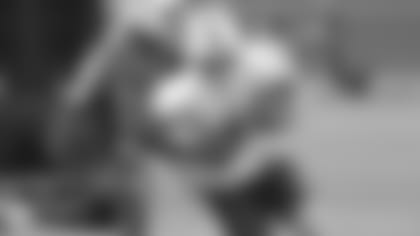 So back to West Virginia he went, this time as a receiver. And Sills tore it up.
The converted wideout scored 33 touchdowns in two seasons, including an eye-popping 18 his junior year to lead the nation.
"I didn't really know what expectations to have going into my junior year because it was my first year playing receiver," he said. "Going into the season I had to raise the expectations a little bit because we saw quickly I was going to surpass 10 touchdowns. That's what my initial goal was going into the season."
That combined with just over 2,000 yards receiving over those two seasons is what drew the eyes of Bills GM Brandon Beane and several other NFL personnel executives.
"A year ago there was some talk when we were in the quarterback market that (West Virginia QB) Will Grier might come out," Beane said. "So I went to watch West Virginia play twice, watching Grier, but in both of those games Sills made a lot of big plays in that game. This past year I saw him twice because I was watching him and Gary Jennings and a couple of other guys. He continued to make a lot of plays downfield, contested balls. He plays outside, has height and length and you just saw production from him. A smart kid and a savvy route runner."
Sills attributes his quick and successful transition to receiver to his background as a quarterback.
"The biggest thing was just being on the same page as the quarterback and knowing what the quarterback was seeing on a play-by-play basis," he said. "Knowing if I need to give my QB more room on the sideline for a 'go ball,' just being on the same page as the quarterback has contributed to a lot of my success in college."
Acclimating himself to receiver however, was a full-time effort. Sills was working on route running with Mountaineers receivers coach, Tyron Carrier in March, long before spring ball even got underway.
"I've just always been confident in hard work and how it translates to the field," Sills said. "When I made the transition to receiver I was just going to be the hardest worker and do whatever I could to learn the position. I felt everybody else had been playing this position their entire life, and I've only been doing it now for two years. So I feel like I'm behind and have to work that much harder to catch all these guys."
That process only continues now with Bills receivers coach Chad Hall. Sills is eager to get new instruction and learn new things from his NFL position coach this spring.
And though his knowledge base on the receiver position is bound to grow, it's the football intelligence he already possesses that has his head coach encouraged that Sills has the chance to be a roster addition.
"We talk about valuing smarts and intelligent football players and having that quarterback background is an important piece of that," McDermott said. "It doesn't always mean that a player is football smart, but that quarterback piece in one's background is somewhat unique. The more players you can add like that to the team, it adds to the overall intelligence of your football team. And I love the fact that he seemed to approach his college career every day moving forward, with a little bit of a chip on his shoulder."
Beane says the Bills had a draftable grade on Sills, and he believes Sills will have a good shot to make the club. This despite a deep receiving corps that contains a handful of proven starters and probably only six roster spots at the most.
But having signed an undrafted receiver who panned out exceptionally well last year in Robert Foster, Beane has faith in Sills ability to make his presence felt in his own way this spring and summer.
"There are so many receivers in these drafts who do not get drafted," he said. "The way the college game has changed your board is just filled with receivers and you try to break it down. There were receivers who got drafted who I would've taken Sills over. That goes back to preference. We recruited him hard once the draft ended."
Sills, who was watching the draft with former Mountaineers teammate Daikiel Shorts, a fellow receiver who had been an undrafted rookie signing of the Bills in 2017, gave Sills good feedback about his Bills experience with the staff and it tipped the scales in Buffalo's favor.
Working in Sills' favor is what many scouts believe is a higher ceiling than most rookie wideouts knowing he's only played the position for two years. Logic would say there's a lot of growth to his game still in front of him.
"I think so. I'm just scratching the surface with how I can play," said Sills. "I had a receivers coach in college, who was great, but that's all I've learned. Just his teaching. I think taking what he's taught me and then learning from coach Hall and all the other coaches here that have a great deal of football knowledge and just soaking that all in will be good for me."
The Bills are hoping it's good for them too. The encouraging part about Sills approach to the game is his self-motivated nature. He'll fit right in to the way things operate at One Bills Drive on a daily basis.
"I've always been a pretty self-motivated person," he said. "Whatever happens, happens. I don't look at being undrafted as extra motivation. I'm just going to come in here the same way as an undrafted player as I would if I was a first-round pick. I don't need any extra motivation. I've always had a chip on my shoulder. That's how I try to play. So I'll just be going out here to try to help make the Bills organization the best it can be."
Five years ago, Sills wouldn't have guessed he'd get to the NFL as a receiver, but how he got here isn't nearly as important to him as the chance he has in front of him now.
"I didn't expect it was going to be like this," he said. "But it's an opportunity for me and I'm ready to take full advantage of it."