It was going to be the biggest game of Ryan Lewis' young football career. The only thing was he didn't know it.
As a starting cornerback for Pitt, Lewis was still trying to adapt to playing football in reverse having been a high school running back. But his uncle, Pitt alum, and former NFL cornerback, Tim Lewis, was going to make sure his nephew knew full well the meaning of Pitt versus Penn State.
"I remember when coach (Jackie) Sherrill recruited me. He had always made it abundantly clear that the only kids that went to Pitt were the kids that Penn State didn't want or were not good enough for Penn State," said Tim Lewis. "I kind of hit him below the belt and reminded him of that. Anything to motivate him. I told him to remind his teammates of that too. I don't know if it worked, but I let him know that Penn State didn't think he was good enough."
"I was getting taped up in the training room a couple of hours before the game and he called me and said, 'I know the coaches have probably given you all the information about what this game means to everyone. But I have to let you know everything," Ryan recalled. "'They always used to say the dumb kids go to Pitt and the smart kids go to Penn State. Good football players go to Penn State and lesser players go to Pitt.' It was good stuff. It gave me some juice."
With Pitt up 42-39 with 1:22 left in the game, Penn State QB Trace McSorley let fly a 50-yard prayer to the end zone, but Lewis was the first to the football and came down with a game-clinching interception.
"We were in a cover three and we had three receivers to my side, the number two receiver ran an out and up. The number one receiver ran a post," said Lewis, who remembers the play like it was yesterday. "I was just reading the quarterback's eyes and the quarterback threw the ball in the window between the one and two receivers.
"I didn't think he was going to throw the ball, but once I saw him do that I tracked the ball and there was no one behind me. I just went up and caught it in the back of the end zone. I didn't even know if I was inbounds or not, but I heard the crowd roar. At that point I knew we had won the game."
For Lewis it wasn't a coming out party, but rather a step toward becoming a true cornerback. Having been through a myriad of coaching changes in his time at Pitt, and having a hard time getting playing time, Lewis once contemplated transferring.
"There's a time where I didn't know if I wanted to stay at Pitt and if it was really for me," he said. "I called my dad. We had a long talk and he basically told me don't ever stop following your dream. Don't quit. Things are going to get hard. Nothing in life is easy. All the guys who are making it right now have all gone through some tough stuff in their life.
"He told me, 'You can do this. Just stay mentally tough. I'm always going to be here for you. It's going to be your decision, but just stick it out right now through thick and thin and it'll all be worth it.'"
Two years later, Lewis was seeing the benefits of sticking it out. He was finally feeling comfortable at the cornerback position. The problem was it was already his senior year, and the prospects of playing in the NFL, something he had wanted since he was a kid, looked more than formidable.
But what Lewis had that was helping his cause were multiple arteries of NFL bloodlines.
Lewis' father, Will Lewis was a former cornerback who played in the NFL making the Seattle Seahawks roster as an undrafted rookie. After two seasons in the league, he played the last seven seasons of his career in the USFL and CFL, before a successful career as an NFL personnel executive.
The elder Lewis also coached football at the college and professional level before moving into NFL personnel and scouting.
"With him I remember even when he was playing youth football he would always make this comment on game day," Will Lewis said of his son. "He would say, 'I love this game. Football is my life.' I would always say to him, 'No, football is my life. Yours is a little bit different.' That's why I kind of laugh at it now because football has become his life. And I just remember him being so passionate about it from early on where he thought it was his life."
Ryan's uncle, Tim Lewis, was a first-round pick of the Green Bay Packers out of Pitt, where he played for four seasons before his career was cut short by a neck injury. He coached for the Steelers under Bill Cowher, rising to the post of defensive coordinator, and has coached for five other NFL franchises.
"Most would refer to Ryan as a late bloomer," said Tim Lewis. "He's a talented athlete who didn't put all the pieces together early, but now they're all starting to fall into place. All of the hard work and dedication, commitment, his understanding of the game, his athletic ability is now able to show because he gets what the position is supposed to do."
Ryan's cousin, Louis Riddick, a safety by trade, also played at Pitt and in the NFL for seven seasons with a year in the World League as well. Much like Ryan's father, Will, Riddick embarked on a 12-year NFL front office career after he was done playing and is now an NFL analyst for ESPN.
"He is a fantastic athlete and you could see that from a very young age," said Riddick, who is also Ryan's godfather. "His father was a fantastic athlete."
And finally, Riddick's older brother, Rob Riddick, had an eight-year NFL career with the Buffalo Bills as a running back.
So there was no surprise when at Pitt's pro day, Ryan Lewis ran a 4.37 40-time, had a 35-inch vertical leap, 10-foot eight-inch broad jump, 16 reps on the bench press and a 6.87-second three cone drill time.
It wasn't enough to get Lewis drafted, but he was signed as an undrafted rookie by Arizona. After not making the Cardinals 53-man roster, he was placed on the team's practice squad, but released a week later. That's when the Patriots swooped in and signed him to their practice squad where he spent most of the 2017 season.
After not making the Patriots roster this past summer he was promptly signed by Buffalo.
A home school football education
Every step of Lewis' journey to the league, he's had family providing expert guidance and tips.
As a youth player, his father Will was instrumental in teaching him the fundamentals.
When injuries restricted Lewis to one year of play in high school, the recruiting letters were few and far between. Uncle Tim got Ryan's highlight reel in front of the folks at Pitt.
"When I made the call, it was really nothing. I didn't think anything would come of it," said Tim Lewis. "It was just a videotape and what do you think? But they went hook, line and sinker. They wanted to have him. The rest is history."
Of course, switching from running back in high school to cornerback in college only brought on more advice and counsel from his entire family, who largely played in the defensive backfield.
"At first it was all good and I was taking it in," said Ryan of the pointers he was getting. "Then dad started coaching me up on my Facebook pictures too and that's when I had to tell him to back off a bit.
"My uncle Tim has done some of that too. I just take it all with a grain of salt because it's all good stuff. It's all love. We all love football, so we can't ever stop trying to get better."
"It was more than he wanted to hear," Ryan's father, a former cornerback, admitted. "There was nothing he could do where he wasn't going to get critiqued by somebody. We knew he was going to be a piece of clay at defensive back, so everybody felt like they had a good piece of advice or information for him.
"Everybody knew he was going to have to get scarred. When you play defensive back, you're going to have to get your scars before you feel confident and learn the position. He went through that a little bit at Pitt and he had a chance to come out on the other side of it."
His uncle, Tim, was also a cornerback and the one who feels most comfortable dispensing advice on how to play the position. Not only because he was an experienced coach at the collegiate and NFL level, but due to his nephew's thirst for knowledge.
"Since he was a little kid he's been like that," Tim Lewis said. "He's the one of the three boys my brother has. He's the one that joked the least. He smiles a lot, but there's always a question. He always wanted to figure things out. He's a perfectionist. Sometimes that can hurt him. When you stop thinking as a corner and you start reacting, that's what defensive football is.
"He'd ask me, 'Uncle T. what do I do here? How do I do this?' Sometimes football on defense is just a matter of tackling the man with the ball. It can come down to something as simple as see ball, get ball."
Riddick, who has more of a scouting background, likes his cousin's skill set. He believes it fits well to the NFL game.
"Very physical. Very good run supporter. He has tremendous recovery speed," he said. "To be perfectly honest, the thing he has to work on are his finishing skills. When he gets his hands on the ball he has to come down with it. You saw the pick that he dropped against Green Bay that would've been a pick six.
"He knows he needs to work on that. His father tells him that all the time. He's just a very physical kid who never gets tired. He just loves to play. His motor is going to look the same on play one as it does on play 71."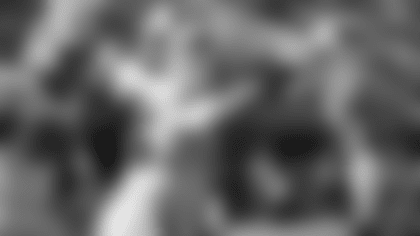 Ryan Lewis got his feet wet earlier this season for the Bills, making the first three starts of his career in place of the injured Phillip Gaines, who was out with a dislocated elbow. When Gaines was healthy however, Lewis again assumed a reserve role at cornerback.
Following Gaines release earlier this week, Lewis looks like a prime candidate to replace him again in the starting lineup.
Lewis is assuming nothing, choosing to maintain his nose-to-the-grindstone approach.
"I've always been a student of the game. It's something I learned in college. It's made the game a lot easier," he said. "It's something I take pride in. It took me like a good week to a week and a half to learn everything when I first got here. We have great leaders like Micah Hyde and Jordan Poyer and they teach me everything."
And Lewis is still getting advice from his bounty of family pro football alums. Advice you might not expect from a group that has made getting to the NFL look easy.
"After the Vikings game Louis told me to savor every moment. Every practice," said Lewis. "Every walk into the facility. Every day in the meeting room. Literally every second. Some guys take it for granted and realize it too late. Not everything is guaranteed. It's always good to get the reassurance and hear that again to not take this whole thing for granted. It's a privilege to play at this level.
"No one has ever really wanted me as a football player. I wasn't heavily recruited. I was undrafted, so to get an opportunity like this and see the hard work pay off is great."
His father showed him that by carving out a nine-year playing career after going undrafted. His cousin, Louis Riddick, was a ninth-round pick. Even uncle Tim, wasn't thought of as a high draft choice until he lit it up in the East-West Shrine game and the Senior Bowl and became a first-round pick overnight.
"It can happen very quickly for anybody once someone gives you an opportunity and then you're standing there on the threshold ready to meet that opportunity," said Tim Lewis. "That's what I did. And Ryan is doing the same thing. He is blessed with talent, ability, change of direction and strength and all the things you need, intelligence, instinct, awareness, understanding. He's a coach's kid for God's sake. All he needs is the opportunity and things will blossom from there. I'm positive of that."