For the fans who cheered on the Bills Sunday against the Dolphins, the come-from-behind win was undoubtedly special. The Crucial Catch-themed game was even more meaningful however, for Bills Season Ticket Members Sue Purpura and her daughter Cassie Kilian.
The dynamic duo has been coming to games together since Kilian was a little girl and have formed a lasting tradition --- one that started with Purpura and her mother.
"I had season tickets back in the 80s and 90s with my mom," explained Purpura. "I was young then – I was in my 30s, probably early 30s. My mom and I had them for like eight years, I believe, and then she became too ill to go to the games. So, I just went to them individually and not as a Season Ticket Member. Now Cassie and I have them. This is our sixth year going together but we were going before that also but not as Season Ticket Members."
Spending quality time with her daughter has made the game day experience at New Era Field truly unforgettable.
"Yes, absolutely [I love the mother-daughter bonding]," she said. "This means everything to me having season tickets with Cassie. It's everything."
Born and raised in Buffalo, there's not much that Purpura and Kilian love more than the Bills. Over the course of their time as Season Ticket Members, the two have attended iconic games like the 2017 "Snow Game" against the Colts.
"The best one was the 'Snow Game' that Cassie and I went to against Indianapolis," said Purpura. "That was an awesome game."
"Tailgating, there was hardly any snow before the game, so we were really surprised," said Kilian.
Recently, outings to Orchard Park have been even more of a bright spot for Purpura, who was diagnosed with stomach and esophagus cancer. Despite undergoing surgery in September, she was determined to maintain her normal game day routine this season.
"Absolutely [games are even more special], because I have a really long road ahead of me. I'm having surgery on September 12th," she said. "I have 10 days to somewhat get somewhat healthy so I can make opening day. I'm not missing the home opener…It's just not happening...
"Pancho [Billa] was my inspiration. He was a friend of mine. We used to talk and stuff. We have pictures with him back three years ago maybe when he came to Buffalo…He was my inspiration and I used to talk with him about it. Now I'm fighting hard like him. You know?"
Her fun-loving spirit and unwavering perseverance have been noticed over the years by other fans.
"We have a nice little [tailgate] crew," said Kilian. "When we first started, it was just me and my mom but throughout the years we've met so many wonderful people. We all meet up off of California road since the [parking lots] …don't open until 9, we get our crew together and get right in when…[they] open at 9. We have everything Bills – Bills canopy, Bills tables, Bills gear – I even have cinderblocks that hold our canopy down that are all painted, which I touch up every year."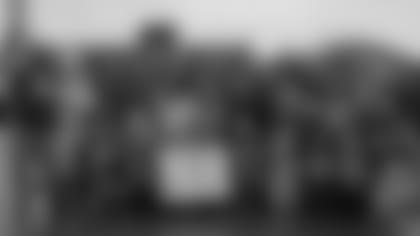 While watching the Bills stack up wins is always fun, both Purpura and Kilian find joy in keeping each other company.
"For me, hands down just making memories with my daughter [is my favorite part of game days]," said Purpura. "Obviously, a Bills win is always a bonus but right now it's tailgating with our friends and making memories with my daughter. That's to me the most important thing to me right now."
"I agree," said Kilian. "Even on away games I come up to my mom's house and we watch the games together. So, it's not just the home games that we're watching the team together, it's the away games."
"We don't allow to many people to come watch it with us because we don't sit," Purpura explained. "We stand the whole game. We don't want people talking. It's time to watch football…So, it's just me and Cassie."
The Buffalo Bills would like to thank Sue for her many years of being a loyal Bills Season Ticket Member and our Season Ticket Member of the Game. In addition to Sue being selected as a Season Ticket Member of the Game, she received a club seat upgrade to the Dolphins vs. Bills matchup, an autographed item and select Bills merchandise.
If you would like to submit a nomination for a Bills Season Ticket Member of the Game, please fill out the form located here.
Photos of Bills fans smiling during Buffalo's Week 7 home game against Miami at New Era Field. Say Cheese is presented by Yancey's Fancy.