Brandon Beane and Sean McDermott prioritized depth up front when they composed the Bills' regular-season roster, dedicating 11 of 53 spots to the defensive line.
Sunday's 23-16 loss to the Pittsburgh Steelers represented a first look at how Buffalo's rotation on the defensive line will take shape - albeit without defensive tackle Star Lotulelei, who missed the game with a calf injury.
The Bills dressed nine defensive linemen, leaving rookie defensive end Boogie Basham inactive. All of them were involved, as evidenced by the defensive snap counts:
2. Jerry Hughes – 33 (57%)
3. Greg Rousseau – 30 (52%)
4. Vernon Butler – 29 (50%)
5. Mario Addison – 26 (45%)
6. Justin Zimmer – 23 (40%)
7. Harrison Phillips – 21 (36%)
8. A.J. Epenesa – 19 (33%)
"I thought we did a good job of playing a lot of bodies in there," McDermott said Monday. "(Defensive line coach) Eric Washington did a good job with that, rolling the bodies. I think we were fairly well thought out in that plan, and I thought some guys factored into the game and it showed up."
Even without the space-eating Lotulelei, the Bills were largely able to stifle the Steelers run game. First-round rookie Najee Harris was held to 45 yards on 16 carries.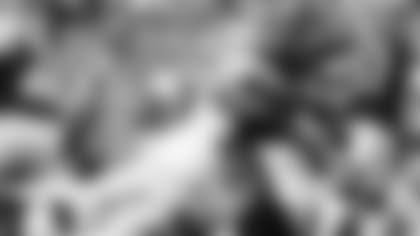 Addison recorded the defensive line's lone sack, but Steelers quarterback Ben Roethlisberger – continuing a trend from last season – was quick to get rid of the ball. His average time to throw of 2.3 seconds was the shortest in the NFL in Week 1, according to Next Gen Stats.
Oliver and Zimmer both recorded tackles for a loss. Butler, Epenesa, and Phillips were each credited with a hit on Roethlisberger.
"I really liked the way Jerry came out, really our entire defensive line," defensive coordinator Leslie Frazier said. "They really had things under control early in the game in particular and the rotation, we were working different groups together. … I thought our entire D-line did what we were hoping would happen, and that was control the line of scrimmage."
Here are more notes to wrap up Week 1 after hearing from McDermott, Frazier, and offensive coordinator Brian Daboll on Monday.
The RG rotation
The one other rotation going into Sunday existed at right guard, though it didn't last long. Cody Ford ended up playing 88 percent of the offensive snaps after swapping on and off with Ike Boettger to begin the game.
"Just going off of what Cody was doing in there," McDermott said. "Thought he was doing some good things and, you know, trying to go with at times the hot hand, if you will."
Daboll on the fourth-and-1
Daboll said the Bills were attempting to catch the Steelers off guard for a large gain with their fourth-and-1 pitch to running back Matt Breida, a play that has roots in franchise history.
Trailing 13-10 at the Pittsburgh 41-yard line, Josh Allen faked as if he were going to sneak up the middle before tossing the ball back to Matt Breida. It was the same concept Drew Bledsoe ran during a 2004 game in Seattle, resulting in a 30-yard touchdown for Willis McGahee.
Instead, Steelers cornerback Cameron Sutton kept his focus squarely on Breida, opting not to pursue Isaiah McKenzie as he faked a sweep from the left side. Sutton burst into the backfield and tackled Breida as he received the backward pass, resulting in a loss of seven yards and a turnover on downs.
"We motioned [McKenzie] across, and [Sutton] stayed, and they got us," Daboll said. "We were trying to be aggressive there. And, certainly, you'd like to have all those calls back that quite don't work out the way you hoped, but we're trying to be aggressive."
Turning the page
The Bills have an opportunity to right the ship against a divisional opponent with their trip to Miami in Week 2. The Dolphins opened their season with a 17-16 win over New England on Sunday.
"You have to establish yourself every week," McDermott said. "Do I feel like we have a good football team? I do. But we've got to play that way, we've got to coach that way. So, we have a good week in front of us to get ourselves ready to go and it starts with the mindset first of getting ourselves back and resetting where we are, getting ourselves ready for a great week of practice."