When the Bills make a move out of their original draft position in round one over the years it has typically been down in the order. Only once in their history have they moved up from their original draft position in round one (1982) when they moved up two spots in a deal with Denver from 21 to 19. Since 2000 they've moved out of their original spot twice and both times they moved back (2001, 2013) in an effort to stockpile picks. Now armed with a roster of arguably the deepest pool of talent that they've had since the late 90's could the Bills more apt than ever to make a bold move up the board to land an elite difference maker?
"It's got to be the right deal and it has to be a calculated deal that is beneficial to us and the other team," said Whaley. "It's going to take two to tango to get to a trade. We'll sit down with Russ (Brandon) and Coach (Marrone) and all these guys and (Senior VP of Football Administration) Jim Overdorf and we'll say, 'Does this make sense? Does this make us a better team? Does this get us to the playoffs?' If it does and we're all on board, we'll do it."
Whaley on moving up in the draft: "If we think a guy would help us make the playoffs, why wouldn't we make the deal?" #BillsDraft — Buffalo Bills (@buffalobills) April 25, 2014
Buffalo has some perceived positional needs like offensive tackle, a big wide receiver and defensive end. However, those aren't positions that have gaping holes like the team had four years ago. It's put the Bills in position to truly contend for a playoff berth, and what could help push the team over that postseason hump is an elite talent in this year's draft class.
As deep as this draft pool might be the truly elite talent is still a small group at the top of the board. A group that does not even stretch down to the Bills pick at nine as Buffalo sees it.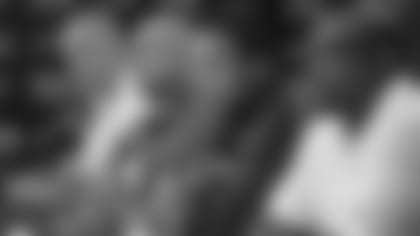 "I would say we're in the five to six range of elite guys that we would consider elite," said Bills Director of Player Personnel Jim Monos.
So if the best of difference makers are just out of Buffalo's reach at nine will they feel compelled to move up to be in position to take a Greg Robinson or Jake Matthews or a Sammy Watkins or Mike Evans?
"We're open to everything," said Monos. " Yeah, it's tempting."
Whaley has spoken often of providing his young franchise quarterback EJ Manuel with the tools to succeed. Offensive tackle or a big play target at wideout would certainly aid those efforts. Buffalo's GM was asked specifically about adding a talent like Evans and the advantages it would provide the Bills quarterback in the passing game.
Whaley: "It's a QB-driven league ... our main focus is to make sure (EJ Manuel) progresses." — Buffalo Bills (@buffalobills) April 25, 2014
"Sometimes you have to bring in a dimension that you don't have and a size receiver is a dimension that we don't have," said Whaley. "It would help EJ just because he can find that guy anywhere and also EJ can basically throw up the ball and you've got a 6-5 guy with 35-inch arms and 30-plus vertical, that's a big target that you can have down the field. So that's an exciting thing."
Obviously moving up even a few spots from Buffalo's position at nine would cost the Bills another high draft choice. Referencing the draft's trade value chart, which in some circles is seen as outdated, if Buffalo made a move up to six in a trade with Atlanta it would require Buffalo to part with a third-round pick, a pretty valuable commodity this year in one of the deepest drafts in recent memory.
The natural argument against such a move is that a team is mortgaging its future for the sake of trying to make a big splash now.  
"It depends on what you mean by mortgaging the future," said Whaley. "Do we give up our whole draft? Then you're mortgaging our future. If we give up a second round pick or a pick next year, again it's a calculated decision. I would say it all depends on the deal."
Whaley did counter his openness to a trade up by stressing the importance of this draft class in positioning Buffalo to be long term contenders for the postseason, something the Bills have not experienced in 14 seasons. And he did so in the plural.
"This draft is critical for us to add more pieces to get us over the hump," he said. "Now that the players are back in the building, you get a sense and a feel that they believe the same thing because they know what is expected of them when they come in the building. They know how close we were last year. They know what we're building. So I think everybody from top to bottom in this organization sees that this draft is important to take that next step."