After each Bills victory Buffalobills.com takes a closer look at the five most overlooked plays in the win. Plays that might not seem like much at the time, but had a much bigger impact upon further review. You can watch any play back from Sunday's game on NFL Game Rewind. Watch TV, condensed or All-22 coach's tape of the game. Subscribe now.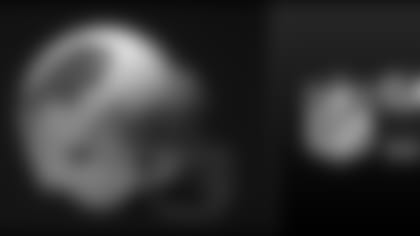 Play 1 – 6:33 left 1st quarter - 3rd-and-5 at Bills 27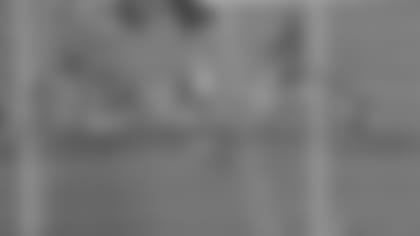 Mike Pettine sends nickel corner, Nickell Robey on a corner blitz off the left side between left end Mario Williams and defensive tackle Kyle Williams. Mario Williams takes an upfield edge rush, while Kyle Williams knifes to the right guard's inside shoulder to try to get penetration.
With the two defensive linemen heading in different directions on their rushes there's a cavernous gap in the protection for Robey to run through. Geno Smith spots Robey and tries to step up in the pocket, but by this time the pocket is collapsing on the front side where Kyle Williams gobbles up Smith for the sack.
The three-yard loss doesn't look like much until one watched Nick Folk attempt a 48-yard field goal in the blustery conditions. The ball took a hard right turn and never had a chance keeping New York scoreless.
Play 2 – 2:09 left 1st quarter – 3rd-and-4 at Jets 12
The Jets were trying to establish their run game with carries on first and second down. Facing a 3rd-and-4 they try to run a pitch play to the left with Chris Ivory. Tight end Jeff Cumberland is lined up on the left side of the Jets formation. On the snap center Nick Mangold and left tackle D'Brickashaw Ferguson both pull to be lead blockers in the left flat.
Mario Williams however, gets enough penetration to hold up Mangold, who never gets out of the offensive backfield. Cumberland elects to cut block a hard-charging Kiko Alonso, which leaves too much trash in front of Ferguson to get out to his assigned block on the edge. Bills safety Aaron Williams has a clean look at Ivory and takes Ivory's outside shoulder to force him back inside.
In the time it takes Ivory to stick his foot in the ground and try to turn up the field and get what he can, Alonso is back on his feet and takes Ivory down from behind after a one-yard gain. The Jets are forced to punt and it leads to good field position for Buffalo with the offense eventually putting the first points on the board.
Play 3 – 5:24 left 3rd quarter – 3rd-and-8 at Jets 36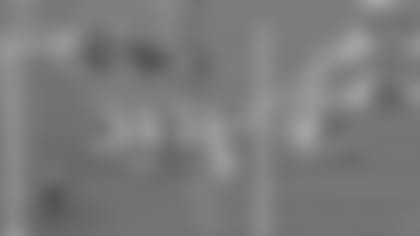 The Bills have seven defenders dancing up around the line of scrimmage. Every one of them is in a two-point stance. Two down linemen, two linebackers and three defensive backs are all shifting around prior to the snap. New York is in 11 personnel with Stephen Hill as the lone receiver on the right side. Geno Smith is already skittish in the pocket from all the pressure he's seen and radar locks on Hill, who runs an out to the right sideline at about 12 yards.
Leodis McKelvin picks him up in coverage and effectively trails Hill and is in position to deflect the pass away from Hill to prevent a third down conversion. The Jets punt leading to Buffalo explosive two-play 83-yard touchdown drive.
Play 4 – 1:20 left 3rd quarter – 2nd-and-10 at Jets 36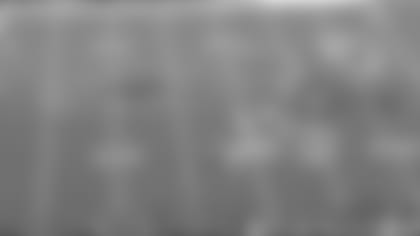 Again Buffalo's defensive front has seven players up on the line of scrimmage pre-snap. One defensive back drops in coverage at the snap. Mario Williams and Jerry Hughes are lined up at the nose tackle and right end positions. The Jets' offensive linemen give them both a pretty clean path to Geno Smith as they kick out to the left to set up a receiver screen to Santonio Holmes. But the screen is slow to develop. New York tries to get Williams and Hughes to bite on a read option play fake to Bilal Powell right after the snap, but they're not buying it.
Williams is bearing down on Smith, who has to throw the ball early and off his back foot to get the pass off before Williams arrives. His pass pressure leads to an errant throw, which Da'Norris Searcy promptly picks off. He then waltzes into the end zone for six points.
Play 5 – 8:13 left 4th quarter – 3rd-and-9 at Bills 21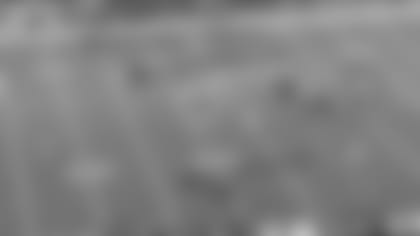 With a lot of time left in the game, the Bills are up 20 (34-14), but need to kill some clock. Facing a 3rd-and-9 Buffalo lines up in 11 personnel with Scott Chandler strong side right. The Jets bring four pass rushers allowing Chandler to get a clean release.
Chandler then gets good separation from linebacker David Harris making a hard in cut to the middle of the field. EJ Manuel immediately sees him flash open and delivers the ball before the pass pressure arrives. Harris is two steps behind and safety Ed Reed has taken a poor angle to the ball allowing Chandler to roll up 20 yards after the catch before Harris catches up and forces him out of bounds. The play extends the drive allowing Buffalo to not only kill another four minutes of game clock, but put another three points on the board with Dan Carpenter's third field goal of the game.