The NFL scouting world will again descend on College Station, Texas for the second time this month. Texas A&M had their pro day on March 5th, but QB Johnny Manziel did not participate. More interested in controlling the pro day environment, Manziel, and his quarterback coach George Whitfield, elected to hold their own separate pro day which takes place today (March 25th). But Manziel won't be the only potential top 10 prospect working out.
His top receiver Mike Evans will be catching passes from the former Heisman trophy winner along with teammates WR Travis Labhart, RB Ben Malena and WR Derel Walker.
"It was a great experience, playing with one of my best friends," said Evans of Manziel. "He's a great playmaker. It was real fun, being part of his success. I just love him to death."
Not only will the pair work out together today, but both have been working at Whitfield's pre-draft camp in San Diego, with Evans working closely with former Bills receiver James Lofton.
"He was a great receiver, he's in the Hall of Fame," said Evans of Lofton. "A great guy, he's been teaching me to be a better football player, but he's teaching me a lot of off the field things, too."
Evans, like Manziel, attended the A&M pro day earlier this month, but did not work out. After a solid NFL combine workout in which he ran a 4.53 40 time at 232 pounds along with a 37-inch vertical, a three cone drill time of 7.08 seconds and a short shuttle of 4.26 seconds, the big wideout doesn't have much left to prove.
"In terms of Evans there's not much else he needs to do," said ESPN NFL draft analyst Mel Kiper. "He's in the clubhouse with what he did. As a third-year sophomore and former basketball player with great ball skills and running a 4.53 at his size and testing out as an explosive athlete he can't do much more to show what he's capable of."
Coming off a 69-catch campaign in 2013 for almost 1,400 yards averaging better than 20 yards a catch with 12 touchdowns, Evans' stock is believed to have him in the top 10 already. Not turning 21 years of age until August, most scouts feel there is a lot of room left before Evans reaches the ceiling of his potential.
Bills GM Doug Whaley, who will be in attendance today, was also on hand at College Station back on March 5th. Appearing on the John Murphy Show earlier this week at the NFL annual meetings, Whaley was looking forward to getting another look at the talented wideout.
"Just going around getting more information on guys and anything that guys didn't do at the combine, we'll get," said Whaley.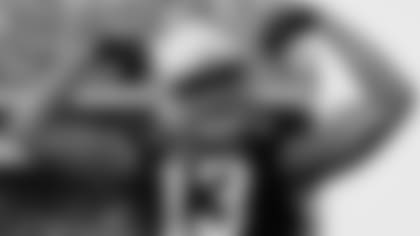 Evans will be part of what is expected to be a scripted 50 to 60 pass workout for Manziel. For Whaley seeing a prospect perform football drills holds more value than a combine workout.
"I see how they compete, how they interact with their teammates," he said. "We get a lot of information from the coaches, too, because they're not under the pressure. When you go during the fall, they're under pressure looking to win games. I'll give you this information but my mind is elsewhere. Now, they're a lot more relaxed so you can get a lot more information from the college coaches and you can get a lot more from the players because you get to interact with them."
As much attention as Evans might draw from NFL clubs in need of a big wideout, it's Manziel whose workout will be most critical for his draft stock.
"Manziel, you could put him at three, five or eight. I put him at eight to Minnesota," said Kiper. "It doesn't look like Houston will go that route right now, but he's very fluid between the third and eighth pick right now."
Kiper also has Evans cracking the top 10 in his latest mock draft.
"He fits perfectly with today's NFL," said Kiper. "I have him 10 to Detroit and they added Golden Tate and that's not going to be something that prevents them from taking Evans. He'd be a trade up option for St. Louis at 13. St. Louis knows they have to move up from 13 to get him. They need a big receiver a true number one and I can see them moving into the top 10 to get him."