Buffalo Bills Staff | Buffalo Bills - buffalobills.com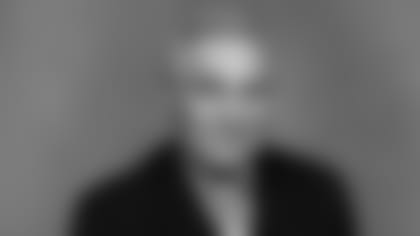 Terry Pegula
Owner/CEO
Terry Pegula is a self-made success story, rising from humble beginnings to become one of the most respected leaders in the energy industry, and one of very few professional sports owners to operate franchises in multiple sports.
Together with his wife Kim, Terry realized a life-long dream on October 8, 2014. The Pegulas received the unanimous approval of NFL owners to succeed Pro Football Hall of Famer Ralph C. Wilson, Jr. and become the second owners in the storied history of the Buffalo Bills.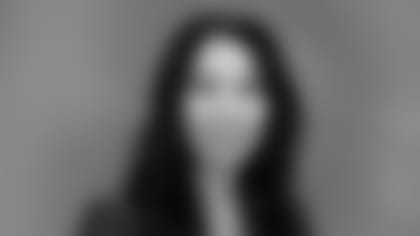 Kim Pegula
Owner/President
Kim Pegula is the President and CEO of Pegula Sports and Entertainment, and President of both the Buffalo Bills and Buffalo Sabres.
A native of Fairport, N.Y., she attended nearby Houghton College and graduated in 1991 with a degree in communications. Kim began her professional career with East Resources in 1991 and was involved with the company until its sale in 2010.
On October 8, 2014, Kim, along with her husband Terry, realized a long-time dream as they became only the second owners of the Buffalo Bills.
Front Office
Jim Overdorf

Senior Advisor to GM/Football Operations

Derek Boyko

VP of Communications

Chris Colleary

VP of Ticket Sales & Service

Josh Dziurlikowski 

VP of Finance

Dan Evans

VP of Information Technology

Gretchen Geitter

VP of Community Relations

Andy Major

VP Operations & Guest Experience

Jeff Matthews

VP Media & Content

Jordan McCarren

VP of Marketing

Kevin Meganck

VP of Football Administration

Toni Addeo

Executive Assistant to Owner/President/GM
Player Personnel
Brian Gaine

Assistant General Manager

Terrance Gray

Director of Player Personnel

Malik Boyd

Senior Director of Pro Scouting

Matt Bazirgan

Senior Personnel Executive

Lake Dawson

Assistant Director of College Scouting

Chris Marrow

Assistant Director of Pro Scouting/Team Advances

Curtis Rukavina

Assistant Director of Pro Scouting/Free Agency

Alonzo Dotson

College National Scout

Brian Fisher

Area Scout

Andrea Gosper

Player Personnel Coordinator

Pete Harris

Area Scout

A.J. Highsmith

Area Scout

Keith Jennings

BLESTO Scout

Doug Majeski

Senior College Scout

Asil Mulbah

Pro Scout

Tyler Pratt

Area Scout

Mike Szabo

College National Scout

RJ Webb

Pro Scout
Player Engagement
Mark Carrier

Director of Player Engagement

Len Vanden Bos

Director of Player Development

Kelsey Harkins

Coordinator of Player Services
Football Administration
Brendan Rowe

Director of Football Operations

Ryan Moore

Football Administration & Operations Coordinator

Gail Zielinski

Administrative Assistant
Analytics & Football Research
Luis Güílamo

Director of Analytics & Application Development

Dennis Lock

Senior Director of Football Research

Raymond Alonzo

Developer

Malcolm Charles

Data Analyst

Drew DiSanto

Sports Performance Data Analyst

Evan Weiss

Football Analyst

Warren Zorilla

Sr. Developer
Athletic Trainers
Nate Breske

Head Athletic Trainer

Denny Kellington

Assistant Athletic Trainer

Joe Micca

Rehabilitation Coordinator - Physical Therapist

Tabani Richards

Assistant Athletic Trainer
Strength & Conditioning
Will Greenberg

Assistant Strength and Conditioning

Hal Luther

Assistant Strength & Conditioning

Nick Lacy

Strength & Conditioning Assistant

Jason Oszvart

Strength & Conditioning Assistant
Performance Science
Joe Collins

Director of Sports Performance

Emma Beanland

Applied Sports Scientist

Christine Dziedzic

Team Dietitian

Dr. Desaree Festa

Team Sport Psychologist
Medical Staff
Dr. Leslie Bisson

Medical Director

Dr. Andrew Cappuccino

Team Orthopedist - Spine

Dr. Marc Fineberg

Team Orthopedist

Dr. Mark Kim

Team Internist

Dr. Tom White

Team Internist
Equipment
Jeffrey Mazurek

Director of Equipment Operations

Spencer Haws

Assistant Director of Equipment Operations

Kori Reblin

Equipment Assistant

Austin Skobel

Equipment Assistant
Video
Jeff Mueller

Video Director

Wesley Burnard

Assistant Video Director

John Sniegowski

Video Coordinator
Business Operations
Barb Evans

Sr. Director of Human Resources

Kathryn D'Angelo

Interim General Counsel

Jessica Fike

Manager of Legal Administration

Celinda Santiago Mathews

Administrative Assistant

Michelle Schrum

Human Resources Generalist
Communications
Kevin Kearns

Director of Communications

Xavier Jefferson

Communications Coordinator

Kaylee Woodward

Communications Coordinator
Community Relations
Michelle Roberts

Executive Director, Buffalo Bills Foundation

Brenna Bauer

Manager of Community Relations

Kalle Cooper

Community Relations Foundation Coordinator

Morgan Foss

Community Relations Coordinator

Andrea Turton

Administrative Assistant
Finance
Kris Gregory

Assistant Controller

Sondra Bridge

Sr. Payroll Manager

Jen Joslyn

Accounts Payable Manager

Alex Joss

Financial Accountant

Melissa Kulczyk

Payroll and Finance Coordinator
Information Technology
Shaun Handley

IT Infrastructure Project Director

Mathiew Harris

Information Security Manager

Crystal Jowdy

Manager of Technology Services

Cory Kostrzycki

Support Specialist

Bob Schumacher

Network Engineer
Alumni
Jeremy Kelley

Alumni Manager
Marketing & Events and Experience
Gregg Pastore

Sr. Director of Digital Marketing Strategy

Preston Teague

Sr. Director of Youth Football and Programs

Katie Jordan

Director of Events and Experience

Meghan Hess

Youth Marketing Manager

Emily Kearns

Manager of Events and Experience

Olivia Merrill

Digital Marketing Manager

Briana Rossi

Marketing Manager

Curtis Hemingway

Youth Football and Programs Coordinator

Gianna Ortolani

Events & Experiences Coordinator
Media & Content
Chris Jenkins

Sr. Director of Content

Brian Haberkorn

Director of Game Presentation

Andrew Meyer

Managing Producer

James Acton

Associate Producer

Jonathan Harkey

Associate Producer

Chris Matthews

Associate Producer

Josh Pohlman

Associate Producer

Alec White

Content Coordinator

Chris Brown

Bills Insider

Maddy Glab

Team Reporter

Steve Tasker

Co-host of One Bills Live
Guest Services
Zach Rutkowski

Director of Guest Services

Caitlin Brigham

Manager of Guest Services

Nicole Wurster

Coordinator of Guest Services
Security
Chris Clark

Sr. Director of Security

Paul Sortisio

Director of Security

Lisa Cudihy

Security Guard

Marty McLaughlin

Security Manager

Steve Zak

Security Coordinator
Stadium Operations
Matt Hunter

Sr. Director of Stadium Operations

Joe Frandina

Director of Construction Management

Aaron Ramella

Head Groundskeeper/Director of Grounds

Dave Boehm

Construction Manager

Erick Pierce

Manager of Training Center Operations

Kadin Austin

Cleaning and General Maintenance Associate

Jonathan Barone

Training Center Operations Coordinator

Sally Cataldo

Stadium Operations Coordinator

Bill Connell

Grounds Crew

Tanner Gregoire

HVAC & Plumbing Associate

Debbie Haley

Cleaning, Clubs and Suites Coordinator

Mel Jones

Cleaning and General Maintenance Associate

Bridget Kane

Operations and Events Assistant

Chad Laurie

Fields Coordinator

Cody Littere

Operations Associate

Rick Morrow

Mailroom Associate

Steve Mount

HVAC & Plumbing Associate

Joseph Selapack

HVAC & Plumbing Associate

Nick Shuskie

Cleaning and General Maintenance Associate

Jared Stockwell

Cleaning & General Maintenance

Andrew Wagner

Grounds Crew

Jim Willibey

Carpentry & General Maintenance Associate

Vince Zappia

Electrical Associate

Russ Zink

Maintenance Associate
Stadium Construction
Frank Cravotta

EVP of Creative Services, PSE

John Polka 

Executive Director of Stadium Operations

Todd Graci

Assistant Director of Stadium Construction

Kelly Seward

Manager of New Stadium Relations
Ticket Sales & Service
Debbi Cummins

Ticket System Director

Chris Holland

Director of Ticket Sales

Sean O'Brien

Director of Premium Sales and Service

Matt Patrone

Director of Ticket Sales & Service

Melissa Palgutt 

Assistant Director of Premium Service

Ricky Ferrell

Manager of Premium Service

Sara Beth Fisher

Ticket Sales Manager

Jessica Laudico

Manager of Premium Service

Zach Richards

Account Service Manager

Chris Roberts

Box Office Manager

Mike Carroll

Sr. Ticket Sales Account Executive

Greg Wright

Sr. Premium Account Executive

Nathan Coble

Ticket Sales Account Executive

Nicholas Forcucci

Account Service Coordinator

Sean Kaiser

Account Service Coordinator

Jordan Moore

Account Service Coordinator

Briana Ridge

Ticket Office Coordinator

Chris Smith

Customer Service Representative

Sarah Swagler 

Account Service Coordinator

Nadia Warren

Account Service Coordinator

Alexis Wilensky

Ticket Office Coordinator
Pegula Sports and Entertainment
Human Resources
Christie Joseph

Sr. VP of People and Business Administration

Erin Fierle

Director of Human Resources

Amanda Czajka

Human Resources Generalist
Business Development
Daniel Misko

Sr. VP of Business Development

Rachel Cappellino

Director of Partnership Activation

Rob Crean

Director of Live Events

Taylor Gahagen

Director of Corporate Development

Kyle Georger

Director of Corporate Partnerships

Neal McMullen

Director of Corporate Partnerships

Ashley Meganck

Director of Corporate Partnerships

Matt Dentinger

Sr. Manager of Partnership Activation

Emily Gaglio

Manager of Partnership Activation

Joe Schillace

Manager of Partnership Activation

Kate Schrum

Manager of Partnership Activation

PJ Anders

Associate Manager of Partnership Activation

Lauren Yurko

Associate Manager of Partnership Operations
Creative
Drew Boeing

VP of Creative

Aaron La Porta

Director of Design

Vicki Sitek

Creative Director

Kimberly Vara

Director of Operations

Bill Wippert 

Chief Photographer

Marc Davies

Lead Cinematographer

Melissa Gebhardt

Sr. Graphic Designer

Andy Quinn 

Lead Editor

Maggie Zuffranieri 

Production Manager

Mike Bahrenburg

Editor

Scott Balzer

Editor

Alex Odachowski  

Editor

Michael Califano  

Motion Designer

Ben Green

Photographer

Eric Heine

Motion Designer

Colleen Holmes

Traffic Coordinator

Nina Lindberg 

Cinematographer

Justin Lowe

Graphic Designer

Dylan Nowak

Graphic Designer

Grace Potzler  

Graphic Designer

Kyle Wittek

Graphic Designer
Analytics
Brennan DiChiara

Director Strategy & Analytics

Zach Bolotsky

Data Analyst

John Polimeni

Data Analyst

Nithin Reddy

Data Analyst

Ashley Wrean

Data Analyst
Media & Content
Steve Asposto 

Sr. Director of Broadcast Operations

Jay Harris

Sr. Producer

Anna Stolzenburg

Director of Social Media Strategy & Content

Michelle Girardi Zumwalt

Supervising Producer

Dean Angle

Library Manager

Jeff Coltoniak

Producer-Technical Director

Zachary Specht

Social Media Manager

Alexi Spector

Sr. Social Media Editor

Kelsey Sweet

Social Media Strategist

George Blas

Studio Production Assistant

Jami Cohen

Media & Content Coordinator

Kurt Haumesser

Social Media Coordinator

Thomas Hollander

Graphics Producer

David Rich

Assistant AV Engineer

Jordan Territo

Producer