I wanted to hear what some general managers and scouts had to say about some of the free-agency moves that were made last week.
So I polled a handful of them to get some of their thoughts on the moves, but the one rule was they couldn't comment on the signings made by their own teams.
Here's some of what they had to say:
• "The Bills got very good value on Corey Graham. Can play inside or out at a sufficient level. Had a pretty good year outside. He's always been very good in the slot and is an outstanding (special) teamer."
More Musings
• Getting Brandon Spikes on a one-year deal works for the Bills. They can now move Kiko Alonso outside and have a better run-thumper in the middle. Spikes is good against the run, but not great against the pass. Alonso should be able to make more plays now that he will be able to run more in space. I like the decision by the Bills.
NFL.com, Gregg Rosenthal – Best free-agent signings so far
Brandon Spikes to Buffalo
This is a two-part move. Kiko Alonso moves to weakside linebacker, where his speed will shine. Spikes takes over in the middle, where he is one of the most violent run-stoppers in the league. He wants to prove he can play all three downs, but he's worth a one-year try for $3.5 million just for his skills on clear running downs.
-- Gregg Rosenthal
MMQB, Greg Bedard – Free agency weekend notes
2. I like the decision by the Bills to move middle linebacker Kiko Alonso to weakside linebacker in their new scheme. As a rookie last season, Alonso was impressive at middle linebacker, but now he'll have the opportunity to make more plays. He has that kind of potential.
Alonso did some good things last year for the Bills as a rookie starter, but the more tape I watched the more concern I had with his size and his ability to take on blocks and shed them.
He did a nice job of jumping around them with his speed, but at times he would get caught out of position and surrender big gains. He seemed to have trouble with guards getting out on him and also when he had to take on the fullbacks in the hole.
While the Bills made a few solid moves, the biggest impact is in the player they didn't sign. All-Pro safety Jairus Byrd departed, signing with New Orleans. The Bills are yet to fill that void, but did remake their linebacker corps with the additions of Brandon Spikes and Keith Rivers. Spikes is expected to start in the middle while Rivers and Kiko Alonso will start on the outside.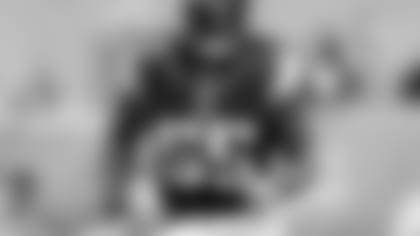 Pro Football Focus, Nathan Jahnke – 32 observations: free agent signings
Buffalo Bills: Inside linebacker Brandon Spikes has had his Run Stop Percentage increase from 2011 to 2012 and again from 2012 to 2013. Last year his Run Stop Percentage of 12.2% was second best for all middle/inside linebackers with at least 250 run snaps.
FREE AGENT ROUNDUP
A look at the players the Bills have signed and lost in the NFL's free-agency period, as well as their remaining free agents:
RE-SIGNED
TE Scott Chandler
K Dan Carpenter
TE Mike Caussin
FREE AGENTS SIGNED
CB Corey Graham (Ravens)
LB Keith Rivers (Giants)
OL Chris Williams (Rams)
LB Brandon Spikes (Patriots)
RB Anthony Dixon (49ers)
RELEASED
UNSIGNED FREE AGENTS
DL Alex Carrington
S Jim Leonhard
LB Arthur Moats
Pro Football Focus – Live blog reaction, day 4
23.10 SIGNING! AP's John Wawrow says the Buffalo Bills have now got the deal done with inside linebacker Brandon Spikes and per Adam Schefter it'll go on the books for one year at $3.25m. Sliding into the middle of the Bills' D that may or may not end up leaning even more toward a 4-3 look with Jim Schwartz now at the helm, Spikes' top-notch run-stopping skills will give balance to the young Kiko Alonso's work in coverage. Spikes is the reigning run D champ among the league's middle/inside linebackers, notching the top grade in that department in both 2012 and 2013.
21.50 SIGNING! The Buffalo Bills have a new player in their backfield in Anthony Dixon. He reported it on his twitter account this evening. In 2013 with the 49ers he played the role of goal line running back, backup fullback, backup kick returner, and general special teamer. On 30 carries he averaged just 1.9 yards per carry which in large part was due to his role, and he had three touchdowns. With C.J. Spiller, Fred Jackson and other fullbacks on the roster, it's unlikely Dixon will see too much playing time on offense unless there are injuries
Pro Football Focus – Live blog reaction, day 3
17.40 RE-SIGNING! The Bills bring back one of their own and give EJ Manuel a fighting chance of completing passes over the middle by re-signing TE Scott Chandler according to Adam Schefter. After a pretty impressive 2012, Chandler's play suffered with the quarterback switch last year but he was still able to demonstrate impressive hands with some highlight-reel grabs. Chandler's blocking isn't really his strength, but his run blocking improved last year while he still notched 655 yards and caught 67.1% of all targets sent his way. He's an important part of the offense.
Pro Football Focus – Live blog reaction, day 2
18.30: SIGNING! The Bills have been busy today haven't they? One time first round pick and most recently former Giant Keith Rivers has signed a two-year deal for $5m according to James Walker. Rivers has never quite grown into an every down role (or the player he was drafted to be) but his work in the run game is that of a person you can count on in a teams base package. He's earned a +3.9 grade in this regard over the past two years with 8 special teams tackles over the period.
11.00: SIGNING! The Bills are bringing back one of their own per Mike Garafolo. That man is kicker Dan Carpenter and it's on a four year deal worth a max of $9.9m with $2m guaranteed. The moment of truth now, how did he grade? He was our eighth ranked field goal kicker and plenty solid on his kickoffs. This deal was a no brainer.
DRAFT-RELATED LINKS
NFL.com, Daniel Jeremiah – Three draft needs after week one of free agency
9. Buffalo Bills
2013 Record: 6-10  
Team needs: RT, LB, WR  
Analysis: The Bills are set at one tackle spot with Cordy Glenn but they could use an upgrade on the opposite side. They added Keith Rivers in free agency but he's never lived up to his first-round billing, so LB still remains a position of need. If Sammy Watkins would somehow fall to No. 9, it would be difficult for Buffalo to pass.
Offensive Line Depth
Draft Answer: Billy Turner, North Dakota State
Utilizing physical pass blockers and mauling run blockers, the Bills need depth and long-term starters on the offensive line. Billy Turner isn't ready yet, but has the upside to be one of the better tackles or guards in this draft class. 
Free Safety
Draft Answer: Jonathan Dowling, Western Kentucky
After seeing Jairus Byrd walk, the Bills clearly need help in the back end. If they pass on a free safety in the first round, they likely won't find a clear starter at the position. However, in the later rounds, Jonathan Dowling can be had and could develop into a plus center fielder in time.