The first quarter of the season is in the books and the Bills have a winning percentage of .750. It's a strong start despite the shortcomings of Sunday's divisional tilt with the Patriots.
So where is it that Buffalo has excelled in their first four games?
We combed through some of the more productive areas of their game to see where they were among the top five in the NFL after four games played. Here are some of the most impressive figures.
73% = High red zone production
By no means has Buffalo's offense fully hit its stride yet, but when it comes to the red zone they've been very effective in finishing drives with touchdowns. The Bills are tops in the AFC in red zone touchdown percentage (8-11, 73%). Only Seattle and Dallas are better with both posting a 77-percent success rate.
That's helped by the fact that as an offense they rank eighth in yards per play in the red zone picking up 3.71 yards per play inside the 20.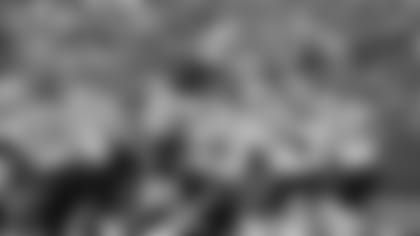 3-and-out often
As witnessed in their last game against the Patriots, Buffalo's defense has been exceptionally good at sending opposing offenses off the field after just three plays from scrimmage. The Bills lead the league in sending opponents three-and-out doing it almost a third of the time (32.7%).
5.1 = No fly zone
Buffalo leads the NFL in yards per pass play allowed at just 5.1 yards.
The Bills' pass defense was first in the league last year and they're again a top five unit in that category this season (currently 4th; allowing 196.5 yards per game). A key reason why the defense ranks among the top pass defenses in the NFL is Buffalo is allowing just 57 percent of passes by their opponents to be completed. That is tied for third in the league with the Packers and 49ers.
31.3 = High returns
He has only begun to make an impact in the return game, but Pro Bowl returner Andre Roberts has already helped to boost Buffalo's kick return game. He's averaging 31.3 yards per return, which is good for third in the league.
17% loss
Currently ranked seventh against the run, Buffalo's defense has a high ranking because they lead the league in forcing negative runs by their opponent. On 17 percent of opponent carries, the Bills stop them for a loss.
Pick 5
Buffalo's defense has been very opportunistic these first four games. They're tied for second in the league with five interceptions and tied for third in total takeaways with eight with the Bears and Packers.
16.3% = Low number of scoring drives against
Buffalo's defense has been stingy in allowing points all season. They're currently second in opponent drive scoring efficiency (16.3%). Opponents have scored on just eight of their 49 drives against the Bills.
Six of those eight scoring drives were touchdowns, good for third fewest in the league. This despite the fact that Buffalo's defense has been on the field to defend the second-most possessions this season (49).
36 years and 138 days
By now everyone knows that Frank Gore's 109-yard rushing effort last Sunday pushed him up and over the 15-thousand career rushing-yard threshold. But there are a few other statistical notes on Gore to come out of last week's game.
Gore became the second-oldest player in league history to ever rush for 100 yards in a game at 36 years and 138 days old. The only player who was older is former Kansas City RB MacArthur Lane who did it a 36 years and 199 days old.
In six career games against New England, Gore has averaged 95.2 yards from scrimmage. He now has 100 or more yards from scrimmage in half of his appearances against the Patriots including Sunday's 109-yard effort.
And finally, Gore's 273 rushing yards to start the season marks the most by a player 36-years of age or older in NFL history. The veteran back eclipsed the previous mark set by John Riggins (189) in 1985.
Other numbers to know
315 – John Brown's receiving yardage total this season makes him the second Bills player to ever post 300 receiving yards or more in his first four games with the club, joining Jerry Butler (417).
70+ - Buffalo's only touchdown drive on Sunday covered 75 yards on nine plays making it the ninth consecutive touchdown drive that covered 70 yards or more. This is the first ime that Buffalo has opened a season with nine straight 70-plus yard TD drives. It's the longest team streak since a 12-drive stretch between 2016 and 2017.
20+ - Both Cole Beasley and John Brown have 20-plus receptions through the first four games. It marks the first time since 2011 that two Bills players each have 20 receptions or more through a season's first four games (Stevie Johnson – 24, David Nelson – 22).
3 – The number of big plays given up by Buffalo's defense to New England this past Sunday, which is a small figure. In their four previous meetings with the Patriots under head coach Sean McDermott, the Bills gave up an average of almost nine big plays per game (8.8).
63.2% - Odds for a team that starts the season 3-1 to make the playoffs.