81 = Most negative plays forced in the NFL
It's a statistic that is not widely used in NFL media circles, so it may come across as somewhat arcane, but for NFL defenses, the negative plays stat is one a defensive unit can puff their chest out about.
Measuring the unsuccessful plays forced by a defense on both run and pass plays, plus sacks provides the negative play metric. And after 11 games, the Bills defense sits atop the league in forcing opposing offenses into negative plays.
Buffalo has racked up 81 negative plays, with 35 negative rush plays, 13 negative pass plays and 33 sacks. That total is one play better than San Francisco (80) this season.
Part of the reason for the success has been the increased aggressiveness of the front seven. With many of the starters now in their second or third season together, they're reading plays quicker and getting to spots faster to force negative plays.
"I think that's a big part of it," said defensive coordinator Leslie Frazier. "The guys have been executing in this defense, and the familiarity allows you to anticipate some things. When a call comes in you know what the strengths and weaknesses are and it enables you to play a little bit faster."
Two players that have taken a big step forward in this regard are Matt Milano and Tremaine Edmunds.
"That's what happening with the both of them," Frazier said. "Their communication is so, so good at this point they can anticipate things before they happen by down and distance and by call and that's really where you want to be."
In Week 11, Buffalo logged 11 negative plays against Miami. This past Sunday, the Bills tallied six more negative plays, thanks largely to their four sacks in the game.
"It's about the guys playing fast and fundamentally sound football," said head coach Sean McDermott. "It starts up front and then it goes into the back seven. The better we play up front, the better we play as a defense."
69 = NFL-lead in tackles for loss
Buffalo's defense is also tied for the league lead in tackles for loss on the season with 69. The other defense with that same total is San Francisco, currently the number one defense in football (Buffalo ranks 3rd).
Jordan Phillips currently leads the team in tackles for loss with 10, due mainly to his team-leading seven sacks this season. But he's getting plenty of help as the tackles for loss by the Bills has been evenly spread amongst Buffalo's defenders.
Tremaine Edmunds, Shaq Lawson and Matt Milano are all tied for second with seven each, and there are two others tied for the third-most tackles for loss in Jerry Hughes and Trent Murphy. They have five apiece.
As encouraging as the figures might be, Edmunds doesn't want the defensive unit to get complacent.
"We've just got to keep working and maintain the same attitude," he said. "We can't be laid back. This game is about big emotions and being locked in and doing the things that have got us to this point. Nobody has to do anything extra. Just do your one-eleventh and everything will take care of itself."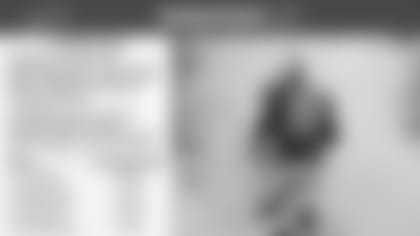 611 – Frank Gore not only passed Barry Sanders on the all-time rushing list Sunday. He now has 611 total yards from scrimmage on the season, giving him 15 consecutive seasons with at least 500 yards from scrimmage. That ties him with Hall of Famer Terrell Owens (15 seasons from 1996-2010) for the third-longest streak in NFL history. Only Larry Fitzgerald (16 seasons) and Hall of Famer Tony Gonzalez (16) have longer streaks.
60 – Buffalo's total number of pass breakups on defense currently ranks fifth in the league. Not surprisingly, Tre'Davious White leads the team with 13 PBUs this season with Lorenzo Alexander second with eight.
15.7 – Points allowed per game by Bills, which ranks third in the NFL (NE 10.6, SF 14.8).
1,018 – Josh Allen's career rushing yards. His 56 rushing yards Sunday pushed him over the 1,000-yard plateau for his career. Allen did it in 23 games, tying for fourth fastest to 1,000 rushing yards by a quarterback in league annals.
76.8 – Buffalo's passer rating allowed is third-best in the league with only the 49ers (72.7) and the Patriots (50.5) with better marks.
43 – Number of passing touchdowns allowed by the Bills under Sean McDermott since 2017, a league best over that span.
82% - Bills chances of making the playoffs per the New York Times playoff calculator.