1. Why are you excited to be the Leader of the Charge?
Buffalo is probably one of, for me, the favorite cities that I played in due to the fan participation [and] the tradition of the Buffalo Bills. When I lived there, I actually lived right in Orchard Park, so just being around the community, no matter how the team is doing – whether it's a winning streak or a losing streak – the fans always supported [us]. They came out, paid their respects. So, just being in Buffalo, being around the tradition is awesome. I was actually there for the alumni ceremony when Thurman [Thomas] got his jersey retired. Being around all those guys was amazing, so I'm just excited to come back and Lead the Charge against the Jets.
2. What have you been doing since you retired?
Oh, I've been doing a lot – mostly playing golf [and] growing my business down here in Jacksonville. I own a cryotherapy full body rejuvenation business down here in Jacksonville…I started that about two years ago. I also have some real estate projects that I'm invested in that are going well, so just trying to stay busy and keep myself focused on reinventing myself [and] continuing to do things in the community through my non-profit as well. [I'm] just trying to stay busy.
3. What was your most memorable performance as a Buffalo Bill? Was it the 2011 game against the Patriots where you ended up on the cover of Sports Illustrated?
Yeah, that's probably the most exciting moment of my career there. I think we were on an 11-game losing streak against the Patriots at home. To snap that and have the crowd erupt after that pick-six against Tom Brady and you know we end up winning the game, was pretty amazing. I still get people emailing, Twitter, Facebook, saying that that's the best moment of their career as a Buffalo Bills fan, that they haven't heard the stadium that loud in quite a while. So, that's probably my most interesting play and time as me being a Buffalo Bill.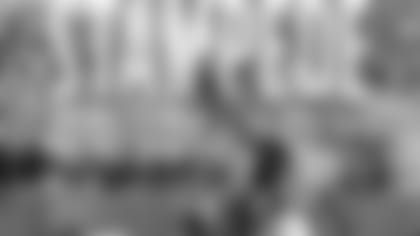 4. What do you miss most about playing in the NFL?
So, for me, the game planning, the strategic aspect of putting together a game plan and then executing it on Sunday [and] the preparation [is what I miss the most]. I don't miss the physical aspect at all. Being sore after games, running into 300-pound linemen and hitting running backs, I don't miss that at all. But, the strategic aspect of the game, breaking down film, breaking down offensive coordinators with their tendencies, kind of knowing what's going to happen before it happens on the field, is probably the part that I miss the most.
5. When you played here, who was your favorite teammate?
I had so many. It's hard to pick one. Marshawn [Lynch], [Ryan] Fitzpatrick, Eric Wood, I mean I could go on and on. I was good friends with everyone in the locker room. Marshawn was actually my locker mate, so we spent a lot of time together off the field in the locker room, so I got to know him real well. I really had a good relationship with everyone.
6. Do you still keep in contact with any of those guys?
Yeah, so Fred Jackson, Marshawn [and] Eric Wood [are guys that I still talk to]. I actually caught up with Eric when I was there. George Wilson, Marcus Stroud [I keep in touch with too]. I mean I keep in contact with a lot of the guys that I played with. It's awesome.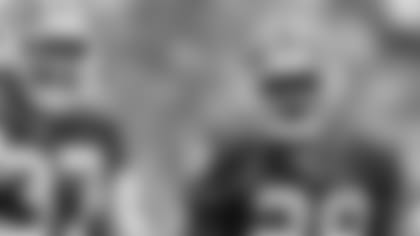 7. Who was the toughest person you played against?
I get that question all the time and just to be honest, they're all tough. No one on that level is a slouch. You know, if you don't study and prepare, the third string backup that you don't know could come out and expose you just as easy as the starter. That's one thing about the NFL. I mean I respected everyone that was there because everyone put in hard work to get there. So, when I get that question, who was the toughest, to me they were all tough.
8. What lessons did you learn from playing in the league for so long?
There's a lot of lessons that I learned. Particularly, one of the lessons was time management. You know, being able to juggle basically a year-round job, being able to impact your community, have a family life, have your own quite time that you need for yourself, being able to juggle all those things [is something I learned how to do]. So, that really helped me transition into the business world. Dissecting plays in split seconds, processing and making decisions at the drop of a hat and then transitioning to the business world, it just makes things so much easier and slows things down so much. So, for me, I would say time management and decision-making skills.
9. Do you have a motto that you live by?
I mean I have several. Just, 'Do unto others as you want them to do unto you' is probably one that sticks with me a lot just because I try and treat everyone with respect and expect the same from them. So, if I had one to pick, I would choose that one.
10. What is your favorite hobby?
Golfing is the number one.
11. What is your favorite vacation spot?
Well, I'm actually going to Vancouver for Christmas. It's a place that I've always wanted to go. I'm usually a warm weather guy – South America, Belize. Anywhere in the Caribbean is good with me, but I'm interested to see how this Vancouver trip turns out.
12. If you could invite anyone from history to a dinner party with you, who would you invite and why?
I would say, Samuel Jackson [and] Barack Obama. But at the dinner party, I would actually want to get out and golf with them.
13. What is one thing people don't know about you?
Well, if I answer that then everyone's going to know. My life is pretty public [but] I'm coaching flag football this year. I'm going to be coaching my son's flag football team. I think it's going to be about 10-12 kids. I'm looking forward to that.