Diehard Bills fan Ken Johnson, or "Pinto Ron" as he is more commonly known as in Buffalo, recently hit a milestone in his Bills fandom when his streak of attending consecutive games hit 400 – that's 25 years for those keeping track! In celebration of his accomplishment, buffalobills.com caught up with him to find out more about his life and his passion for Bills football.
1. How did you become a Bills fan?
I'm from Buffalo. Everyone from Buffalo should be a Bills fan. If you're not a Bills fan when you're from Buffalo, that's bad parenting. So, I was just born into it. It's hereditary.
2. How long have you been a Bills Season Ticket Member?
I think I got my season tickets in '87 but I've been going to all the home games long before that, but it was really easy to just get a box office ticket at the time. When Jim Kelly and the crew started coming in '86 and '87, attendance started going up, so we pulled the trigger and got a season ticket at that point.
3. What do you do for a living?
I'm a software developer. It gives me a lot of flexibility.
4. How did your streak of going to Bills games come about?
That started coming about in the late '80s. You know I think I was 27 [or] 30 [years old] and started getting a good job. So, me and my brother started to go to one road game, I think it was the Jets. The next year, we did Jets, New England and then we were into the Jets, New England thing for a few years. It was about '88 or '89 that me and my brother started going to Jets games [and] New England games, really quick ones. So, '90, '91, '92, I started adding a few. I think '92 I went to three road games, '93 I went to four road games and '94 I just went for it to see if I could do all of them and I did.
5. Did you go to all four Super Bowls that the Bills appeared in?
I went to all four Super Bowls. I only got into three Super Bowls…I was actually at the last one but didn't have enough money…That's actually the last game I missed, that I didn't actually see live, even though I could hear the roar of the crowds, before the streak started.
6. How did you feel on your 400th game?
Well, the tailgate I threw in New York City, is the same one I always throw – all the same people. It was just routine. I always tell everyone, 400 games in a row, before it was 300, it was 200 before that. I don't really have a goal anymore. My goal was 16 games in a row and I got that in 1994. What last Sunday represented was overachieving my goal by 384 games. The 400 games in a row meant more to everyone around me than it did to me.
7. Were there ever any obstacles that came up that almost prevented you from attending a game?
No. I have a lot of safety locks in place for that. For instance, I always make sure that for a road game I always have to be at the stadium 24 hours ahead within…drive…If it's a West Coast flight, the plane has to leave early enough such if the plane doesn't leave, I can still drive there on time. I always have secured tickets. I always have enough cash…I have a lot of silly rules to make sure that nothing is going to go wrong.
8. Were you ever sick and thought you shouldn't go?
Yes, I was sick, and I went. There's actually been three times in the last 25 years that I was actually sick. I went into Lambeau Field in December, the frozen tundra, with 103 fever one time. There was no issue that I was going into the game. I was sick, but there was no issue. There was another time, I think it was game 28 of my streak, and I had all the symptoms of a silent heart attack in the parking lot. Turns out it was just an intestinal blockage. That didn't stop me from going into the game.
9. What's your favorite place to travel to games?
I like to call it my favorite experience actually, not my favorite stadium because there's a lot of good Bills Backers groups around the country. My favorite experiences are where the Bills Backers group will step up and have a Friday night party, a great Saturday night thing, [and] a great tailgate. Some of the better ones are San Diego, unfortunately that might not happen for a while, Denver's got a good group, Houston's got a good group [and] Carolina's got a good group. In fact, I shouldn't name too many because I'll leave some out…I think San Diego's been my best overall experience if I had to pick one.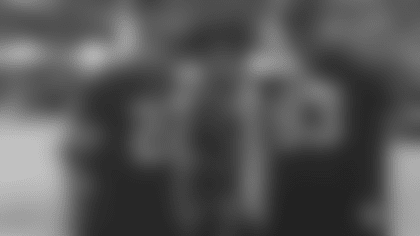 10. Where did the nickname "Pinto Ron" come from?
That came about 20 years ago when some member of the media got my name wrong in an article. We did actually have a guy named Ron at my tailgate party at the time, so they started kind of ragging on me about that or picking on me about that. They just wouldn't let it go. Then, it sort of spread around and I fought it for a few years and finally gave up. You can call me what you want. Pinto Ron, Pinto Kenny, Kenny, whatever. I'll respond to any name.
11. What are some of your favorite moments as a Bills fan?
Actually, my favorite moments are when we're just crushing some team. You know, when you're in the third or fourth quarter and you know you've won the game. There's no tension and you can just sit there and have a good time and watch it knowing you've won the game – those are always my favorite moments. And whenever we beat New England…