The third episode of Buffalo Bills: Embedded, presented by Pepsi, airs tonight, Aug. 29, at 8 p.m. on Facebook Watch. One of the players highlighted in this week's episode is defensive tackle Kyle Williams, five-time Pro Bowler and 13-year Bills veteran.
Buffalobills.com caught up with Williams to find out more about his life on and off the field. 
1. What are your pregame rituals from the time you wake up on game day to the time you take the field?
On game morning, one of the trainers brings me my favorite coffee. I eat breakfast, usually eggs, one piece of toast and a pear. I eat light before games. Then I get dressed. I go out on the field and I listen to music and watch their quarterback warm up. I watch to see how he's throwing the ball in whatever kind of weather conditions it is. After that, I get up and take a walk, probably eight maybe 10 lengths of the field back and forth. Then 30 minutes before the game, I go in and get dressed. It's the same every game, every time. 
2. What do you think about when you're walking the field before the game?
I just kind of space out a little bit because the next four hours are going to be mentally and physically on the red line. So, for that 20 or 30 minutes or whatever it is, I just space out and listen to my music.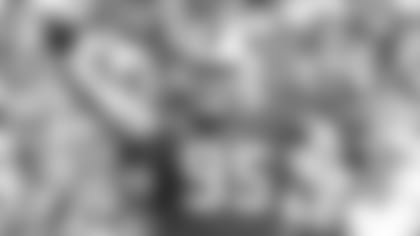 3. What is the most mentally exhausting part of the game?
I think for me, I handle a lot of what we do on third down, and I think it's the added pressure of wanting to put everyone in the right position. It's not just worrying about me and what I do but trying to see the big picture and trying to put all of the guys up front in the best position to be successful. So, I worry about that a lot because that's a lot to handle. 
4. What's on your pregame playlist and how often do you change it?
Some things will get added in here and there but I just click on my songs and shuffle all. I have all kinds of music in there. I've got it all from Sinatra to Tupac. I have a lot of Tupac. 
5. Do you have any superstitions?
I don't know if this is a superstition or if it's just sort of become a habit, but I put my left sock on first, right sock on second. Left shoe on first, right shoe on second.
6. You are known for your locker room speeches. You've heard a number of people give locker room speeches over the course of your career. What is the most meaningful speech you've heard and who said it?
I don't know if I can specify a person, place or time. I try to take pieces from a lot of things, whether it's coaches talking, guys talking, a team meeting, a pregame speech, or just eating breakfast and we're talking about something. I pick little things up as I go along. 
7. Describe what happens in your position group meetings.
Depending on the day, we'll go over different things. We may go over third down, first or second down, different personnel packages the team may be going through. We're going to talk about the plays they like to run, how we're going to attack those or defend those. And then as we get into the season, we're going to talk about individual players, as well as those things – what does this guy do well? What does he not do well? Does he give us a run pass key with his foot position or his hands? There are a lot of different things we look at to try to give the guys in the room an edge.
8. What is one word to describe some of the guys in that room?
Harrison Phillips – quiet; Star Lotulelei – funny, a lot of people won't see that but he's really funny; Trent Murphy – committed; Lorenzo Alexander – consistent; Jerry Hughes – energetic. 
9. How would your best friends describe you?
Fifty-percent the best time you'll ever have and fifty-percent go to bed early grouch. 
10. What is the first professional sporting event you ever attended?
It was probably a Rangers baseball game with my parents. I never went to an NFL football game until I played in one. Carolina Panthers my rookie year, first preseason game in Carolina was the first NFL game I ever went to. 
11. At what age did you start playing football?
I started playing in seventh grade. I played tight end and running back and linebacker. I played a bunch of different stuff. I didn't play defensive line until my sophomore year of high school. 
12. What other sports besides football did you play when you were a kid?
I was a swimmer from the age of seven to 12 or 13, whenever I started playing football. I also played baseball in high school. I pitched some and played third and first bases. And then I gained 40 pounds between my freshman and sophomore years from lifting weights for the first time and then my arm wasn't quite what it used to be after that. For track and field, I [competed in] all the throwing events [and] played basketball until high school.
13. Once you retire from football, what are you most looking forward to about coming back to a Bills game?
I think tailgating would be fun. I'd just kind of take a lap, go to a tailgate, watch the beginning of the game in the stadium and then go watch it on T.V. somewhere. It would be less noisy watching it on T.V. 
14. What is your favorite social media account that you follow?
Josh Brolin on Instagram. 
15. Who do you fangirl over?
Like a celebrity? Josh Brolin. I have a man crush on Josh Brolin. I've been in on him since he was "Brand" in "The Goonies."