The second episode of Buffalo Bills: Embedded, presented by Pepsi, premieres tonight, Aug. 22, at 8 p.m. on Facebook Watch. In anticipation of the episode, which features Tremaine Edmunds, Buffalobills.com caught up with the rookie linebacker to find out more about his life on and off the field. Here are 14 answers to questions you might not know about the 2018 first-round pick.
1. What was it like to grow up with a father who is a former NFL athlete?
It was great. Just getting advice from him, learning from things he saw out there [and] applying them to my game. Like I said, just getting advice. I think that's the biggest thing about how to get me through this process.
2. What was the best part of your dad being in the NFL?
I guess, just getting that extension of 'Your dad played in the NFL' [and] stuff like that. Just the way he provided for the family – I think that would be the biggest thing. We were blessed to have that opportunity.
3. Did he help you with your career in high school and college?
Definitely. He taught me to have a strong work ethic, but nothing is going to come easy in this game. He put this [strong work ethic] into my life at an early age and all my brother's lives. It carried me for the rest of my life.
4. What was it like growing up with athletic brothers? Did it make you better?
Yes, it definitely made us better. We competed with everything that we did. From the smallest things to the bigger things that you can think of, we competed all the time. That's why we're so competitive now.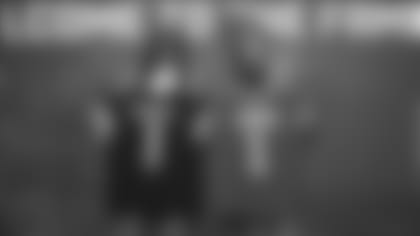 5. What was draft night like for you with your brother Terrell?
Man, it was amazing. Just looking back on it now, you never know what's going to happen on draft night, as everyone always says, but it was amazing. It was an experience that I'll never forget. I'm just thankful for that opportunity.
6. How is that [having your brothers Trey, who is on the Saints, and Terrell, who is on the Steelers] helping you now?
It's helping me out a lot. Just talking to them, seeing the way they handle things when adversity comes their way [is great]. Just seeing their thought process and trying to apply it to mine. We all know it's not easy. It's going to be stressful at times. Just having those guys that I can look back on and talk to is always good.
7. Did you ever play any other positions?
[I played] anything besides offensive line. I played everything else…
8. Did you play any other sports when you were growing up?
Yes, everything. I played baseball, soccer, basketball, football of course [and] track. I tried to make my way around.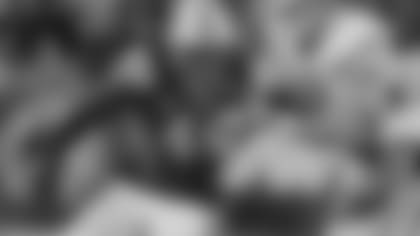 9. Why did you choose Virginia Tech for college?
I think they have a good tradition there. Coach Foster, I felt in high school, he was one of the best out there and I still feel like that to this day. He really pushed me to want to go there because of his mindset and a lot of people know what he did there. It's a tradition there and a tradition that I wanted to be a part of.
10. Do you listen to any specific playlists or types of music?
I put it on shuffle. I have a pretty decent playlist, so just a little bit of everything. Hip hop for sure but a little bit of everything.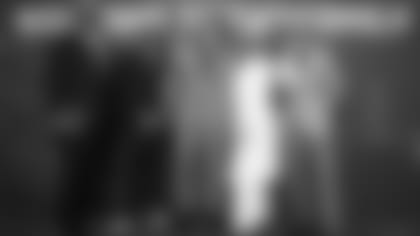 11. What has your transition been like from college to the NFL?
I think it's going good. You know, of course, there's going to be a lot of things that you have to adjust to but I think I'm doing pretty good with that, communicating with my family, communicating with my brother [Trey to find out] how he did it – just learning more and more every day.
12. What's your favorite thing about Buffalo?
My favorite thing about Buffalo has to be the fanbase. Every time I go somewhere, the fans always show love. I think that's a big part of being a player, just receiving that fan love. I think a lot of players want to experience something like that but, in my little bit of time here, I can already tell that the fanbase is second to none.
13. What are you most excited about for the season?
I'm just excited to see where it takes me, where it takes this team. We've been working hard since the day I got here and I can see the work that everybody puts in every day. I'm not sure how it is around the league, but I can just tell that we're really working here and I'm excited to see what happens.
14. What about the snow [in Buffalo], are you ready for it?
We're getting ready for it. You know at Virginia Tech, we had some pretty bad weather there too. It won't be my first time experiencing snow, so I'll be ready.