NFL history has proven that the first season under a new coaching staff for a team that had a losing record the year before is always one of transition first, progress second and consistency third. Doug Marrone and his staff in the first half of their first season have seen more than their share of hardships at key positions like quarterback, running back and defensive back.
They've navigated those setbacks all while instilling a sense of accountability and mental toughness that hasn't existed in Buffalo's locker room in a collective fashion in quite some time. It should lead to more success in the win column in the season's second half, but there are some areas in all three phases of their game that must be cleaned up if the Bills are to win more games in 2013 than they lose.
"We're at the halfway point. We're 3-and-5," said Marrone. "We've been through adversity, but we've got to keep going."
Here's a look at all three phases of Buffalo's performance through the first eight games of the season.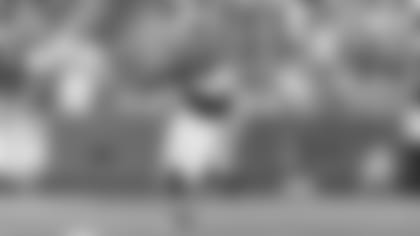 Offense
The good:Run game, scoring, possessions
The not so good:3rd down, passing, penalties, turnovers
With a rookie starting at quarterback, running back C.J. Spiller was to be the focal point of Buffalo's offense. Spiller did not get off to the start that even he expected. He then sustained a high ankle sprain injury in Week 4 and has not been much of a factor in Buffalo's offense. Nevertheless the Buffalo rushing attack has been buoyed by a rejuvenated Fred Jackson and Tashard Choice. That along with a steady offensive line has helped to keep the Bills run game a top 10 unit for the entire first half of 2013.
Despite some obvious limitations Buffalo has also been able to put up points on a weekly basis. Their Week 8 loss at New Orleans was the first game this season in which they did not score at least 20 points. Through the first seven games Buffalo and league-leading Denver were the only teams to score at least 20 points in each of their games. The Bills are averaging 22 points per game, just one half point lower than their average at this time last season (22.5).
Helping Buffalo to put up 22 points per game is their league leading 109 possessions. The Bills defense has done a good job of getting the ball back to the offense. That has provided the offense with plenty of opportunities. They just need to improve their scoring percentage, which sits at just under 30 percent.
Among the persistent problems through the first half of the year are primarily tied to the quarterback position. EJ Manuel was demonstrating progress in some area of his game with each passing start, but his Week 5 knee injury has kept him sidelined and thrust former practice squader Thad Lewis into the lineup.
The passing game has been a struggle as a result. Although Lewis has shown an ability to work the middle of the field and is not afraid to take a hit to make a play Buffalo is still ranked 30th in passing yards per game at less than 200 yards per outing (195). Part of the reason why is the inconsistent execution on third down. The Bills are converting their third downs just 36 percent of the time, good for 22nd in the league.
Poor down and distance situations have been a culprit in the difficulty to move the chains. Almost a quarter of their third down opportunities have been 3rd-and-10 or more (24%).
Perhaps the most troubling issues on offense have been penalties and turnovers.
Buffalo has drawn the third-most yellow flags in the league with 58 in eight games (7.25 per game). It's often set the Bills in those aforementioned poor down and distance situations. That's partly why Buffalo has gone three-and-out on almost a quarter of their possessions (24.8%).
The Bills 13 turnovers rank fifth-most in the AFC, but more importantly it's where those giveaways have taken place. All but one of their turnovers has occurred on their half of the field putting a lot of stress on the defense to get holds.
With a pair of inexperienced quarterbacks who have run his offense, coordinator Nathaniel Hackett has likely had to play things a bit closer to the vest than he'd prefer. Once Manuel returns to the lineup Buffalo may be able to steadily expand their arsenal of play calls over the final quarter of the season.
Defense
The good:Red zone defense, sacks, takeaways
The not so good:Big plays, run defense, third and long
As mentioned above Mike Pettine's defense has had to defend a lot of short fields so far this season. To their credit they've been pretty stingy after the offense has a turnover. Of the seven offensive turnovers inside Buffalo's own 30-yard line this season, the defense has given up just two touchdowns and two field goals.
It's an example of how effective their red zone defense has been this season. Buffalo ranks fifth in the AFC and 10th in the league in red zone defense allowing opponents to reach the end zone just 48 percent of the time. The Bills allow just 2.44 yards per play when defending the red zone, which is eighth-best in the NFL.
The defensive unit's pass pressure has been well documented so it's no surprise that their 27 sacks stand second-best in the league. To put their success rate in perspective they're on pace to eclipse their 2012 season total of 36 sacks by Week 11.
Buffalo's pass pressure has helped create takeaway opportunities for their back seven. Up until this past Sunday, the Bills led the league in interceptions with 12. They now stand second in the NFL. That figure is a big reason why they're still on the plus side of the takeaway-giveaway margin at plus two.
Where the Bills need to improve on the defensive side of the ball is defending the big play. Part of the issue there has been all the moving parts in their defensive backfield. Their two best defensive backs, Jairus Byrd and Stephon Gilmore have only appeared in the last three games and number two corner Leodis McKelvin has also missed time due to injury.
Through the first eight games the Bills have surrendered 36 plays of 20 yards or more. Twenty-seven of those have come through the air, with the two long touchdowns by the Saints last Sunday being the most recent examples.
Buffalo has been trying to shore up their run defense for years. Through the first eight games this year they've only stifled opposing rushers in a couple of games. The Bills run defense ranks 25th in the league. In their defense Buffalo opponents have had a league-leading 111 possessions so they've been on the field for an awful lot of plays over the first half of the season. They've also surrendered just two rushing touchdowns this season, but the overall success opponents have had on the ground has led to their other problem area.
Third down conversion percentage for Buffalo's opponents has come down since the early portion of the season, but third and longs in particular continue to be troublesome. The Bills rank 29th in the league in stopping opponents on 3rd-and-10 or more allowing a conversion rate of close to 30 percent (29.7%).
Those figures should improve as Byrd and Gilmore get their legs back underneath them now that they're back in the lineup.
There's no question that Pettine has brought a healthy aggressive nature to the defensive unit and the players have followed suit with sacks and interceptions. Getting more third down stops and slowing the opponent's run game are on the to-do list.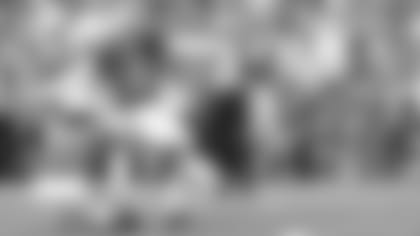 Special teams
The good:Place kicking, kick coverage
The not so good:punt coverage, kick return
Buffalo's specialists have seen some change at the kicking positions. The punter and kicker slated to man those roles at the close of training camp are not on the active roster right now. Dan Carpenter replaced I-R'd rookie kicker Dustin Hopkins and has been deadly accurate for the most part. The veteran kicker has connected on almost 89 percent of his attempts and had a streak of 15 straight before missing a 50-yarder at New Orleans.
He has also improved his touchback percentage on kickoffs since joining Buffalo. Over the last three games it's increased to 57 percent.
Danny Crossman's kick coverage unit has ranked in the top 10 for almost the entire first half of the season. They currently sit sixth in the NFL. Marcus Easley has been the stalwart on coverage teams. He has seven of the unit's 11 tackles inside the 20-yard line this season.
Where Buffalo's specialists are trying to improve is on punt coverage. After the 179-yard return day that Travis Benjamin had in Week 5, it's going to be hard for them to shave down their punt return average allowed the rest of the way. But Brian Moorman was a step in the right direction. In his three games since rejoining the team his net punting average is a full seven yards better than his predecessor, and he's provided more consistent hang time.
Buffalo's kick return unit was expected to enjoy a boost in production with the addition of Marquise Goodwin, but he suffered a broken hand in Week 1 and did not return until Week 6. Still, the Bills lack of production on their 29th ranked kick return unit has been due more to a lack of opportunity than lack of performance.
Opponents have compiled the second-highest touchback percentage against them in the league. More than 75 percent of Buffalo's kickoffs have gone for touchbacks. Only a dome team, the Atlanta Falcons, have had to accept touchbacks more often than the Bills this season (82.5%).
Conclusion
Year one under Doug Marrone and his staff has been a work in progress. That progress has been slowed by injuries at critical positions. Collectively it's clear the team has a newfound accountability to one another and has developed a perseverance not witnessed in this team through what has been a lengthy stretch of non-playoff seasons. What must accompany those positive traits over the last eight games is an improved level of consistent play and the development of a killer instinct.
"I'm excited to go into the second half of the season—I'm excited to coach them, I really love the guys I'm coaching," Marrone said. "I think they're playing  as hard as they possibly can. We have to do a better job all around. We've got to put them in better positions, we've got to keep getting them better, develop them. We keep going the way we're going, it's going to start falling our way and we're going to start winning football games."