Bills defensive coordinator, Leslie Frazier, has been generally pleased with the work his defensive unit has accomplished in this training camp. A lot of the starting roles are locked up at this point, but there are a few that are still there for the taking with three preseason games still on the schedule.
Frazier provided an update on a couple of the position battles and where things stand with a couple of key rookies.
Trent Murphy is the starting left defensive end on Buffalo's unofficial depth chart. Murphy has missed about half the camp practices as well as the first preseason game. Frazier mentioned that Murphy's availability for Friday's game against Cleveland has yet to be determined.
In his absence, Shaq Lawson has performed admirably. In the best shape of his life, Lawson is quicker off the line, getting around the edge more consistently and has been particularly adept at batting down passes.
"I thought he did a really good job with the snaps that he had in the first preseason game," said Frazier. "Shaq should have more of an opportunity in this next preseason game with the starters expected to play a little bit longer. We're not sure about Trent's availability at this point. But he's handled things well with all the conjecture about what this year means for him. It seems to me that he's blocked the noise out. He's focused on this opportunity that he has, and he wants to do the best he can. He's had a good camp at this point."
Murphy is a proven NFL player, however, Lawson doesn't look like a bad backup plan right now.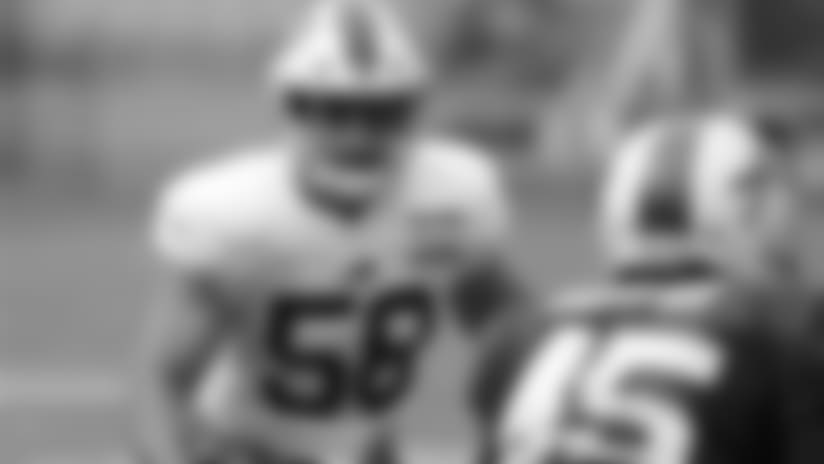 Matt Milano has seen the lion's share of the reps with the first unit, but Ramon Humber has been rotated in with the starting unit of late. So too has veteran free agent signee Keenan Robinson on occasion.
Knowing there will be a rookie running the defense in MLB Tremaine Edmunds, might there be a prevailing thought to have him flanked by a pair of veteran linebackers?
"There is value (in that), but also you have to consider if it makes the team better," said Frazier. "Does the talent equal what you gain with more veteran leadership on the field with him?
"In Lorenzo's case he provides tremendous leadership with Tremaine. He's constantly talking to him about situations. He stands on the sidelines and talks to him as well. We feel real strong that Lorenzo is out with him a majority of the time. If we had another guy with veteran experience on the other side of him as well, that would embolden his play as well. But at the same time, you want to get your best 11 on the field."
It sounds as though Frazier and the defensive staff see Milano as the most athletic option for the position with Humber not far behind. More preseason games will likely bring the starter for the job into clearer focus.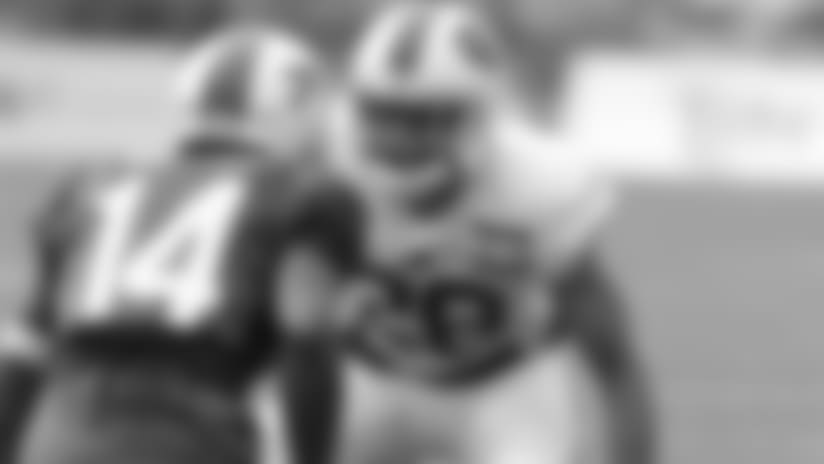 The nickel corner role is one that still has not been settled. Phillip Gaines and Taron Johnson are the two candidates vying to land the role. Gaines has seen more time with the first unit, but Johnson has been sprinkled in from time to time.
Johnson's task is trying to shorten his learning curve to prove he can handle all that goes into playing nickel corner at the NFL level.
"There are many challenges when you're a rookie playing that position because when you're on the field, you're really a starter," said Frazier. "You're getting a lot of different looks from a different vantage point from what he experienced at Weber State as an outside corner. Now you're in the slot and you've got play the run a lot more than you would have at corner. You have to be able to drop in zones and play man coverage. There are a lot of variations to the position. I think he's come along really well to this point.
"We still have a lot of football before our first regular season game. So, we've just got to keep putting him in situations and keep challenging and see how he responds before we can really say where he really is. We'll continue the process and see how he develops over the next few weeks."
4. BACK-UP MIDDLE LINEBACKER
While Edmunds will be the starting middle linebacker, there has been a good battle going on for the right to be his backup.
The battle has chiefly been waged by free agent signed Julian Stanford and second-year player Tanner Vallejo. Vet Keenan Robinson has also been rotated in for some looks.
"Tanner is doing a good job. We're getting Keenan (Robinson) some work as well," said Frazier. "We'll take a look at Julian, which we've been doing. So that's kind of still up in the air. We still have some time in the next few days to continue to make that evaluation and into the rest of the preseason. Those guys are working hard and trying to give us a good look."