1. Defense brimming with confidence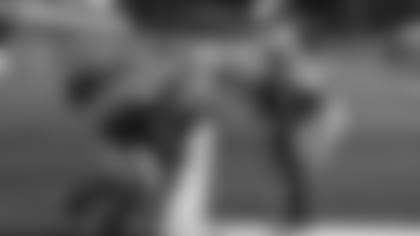 It seemed like a night when everything was going right for the defense. Whether it was stuffing run plays, batting passes out of the air or wreaking havoc on each of Buffalo's four quarterbacks, Jim Schwartz's unit was bringing it big time.
The highlight of their evening came in an 11-on-11 segment when they registered eight sacks in a span of 17 plays from scrimmage. Sacks are recorded based on officials blowing the play dead when a defensive player taps out the quarterback before the ball is thrown.
Among those turning in sacks were Mario Williams, Manny Lawson and Jerry Hughes, who look like they will all be big factors in Buffalo's pass rush this season. The defensive unit was feeling it so much they couldn't contain themselves. They were bouncing up and down at the line of scrimmage in between plays.
"Coach Schwartz is telling us to pin our ears back and just get after the offense and whoever has the ball," said Hughes. "When you have all 11 guys flying around to the ball like we're doing it's fun."
Nigel Bradham, who got double duty getting first and second team reps Saturday night, is excited about the fast track Buffalo's defense appears to be on.
"We're just doing a good job of playing defense and being one. We're all flying to the ball," Bradham said. "We're all covering and have great coverage. Guys up front are doing great pass rush and the linebackers are just making plays. So anytime you get your defense clicking on all cylinders like that… we're going to be solid. I feel like it's going to be a good year for us."
2. Offense looking to rebound
Often times in camp when one side of the ball has the better of the play the other side returns the favor in the very next practice. Buffalo's offensive players sounded determined to do just that after a good night for the defense.
"We're putting a lot in and we have some individual breakdowns right now where we might have ten guys doing the right thing and one guy not," said Eric Wood. "I think in regular down and distance we're doing a good job of understanding situations, but when we do all third downs and third and longs,  we're not executing well right now. Hopefully that's where this extra week will be beneficial to where next week we won't be doing that as much."
"It's early in camp and you can't get flustered," said C.J. Spiller. "Obviously we come out here and each and every day to get better.  The thing we can do is correct the mistakes and try to have a better day. We can't get too high or too low. We know we still got a lot of practices.  We'll look at the film, correct it and keep moving forward, that's the only thing we can do. We understand that we have to be better as a unit." 
3. Running back rotation
With Fred Jackson sitting out Saturday's practice session the way in which Buffalo's backs rotated through the offense was worth noting.  Jackson sustained a lower body injury in Friday night's practice.
To no one's surprise C.J. Spiller was first in the rotation during the team segments of practice. Spiller was followed in the rotation by Anthony "Booby" Dixon. Dixon has had a strong first week of camp practices proving to be far more nimble than some might've expected. He also put his power on display Saturday night when during a four-minute drill he took a carry into the secondary and pounded on a pair of defensive backs who tried to work together to slow him down without much success.
Next in the rotation was Bryce Brown followed by Ronnie Wingo. Brown relished the extra work.
"Yeah, I got a chance to get a lot of work in.  With Fred being down it was just an opportunity to get more plays and get a better feel for the offense," he said. "I think every rep matters, every rep counts.  The more times you get in, the more times you get a feel for the offense and I think that's important going into the season."
Fullback Frank Summers also got a couple of carries here and there in the practice.
4. Easley easily inspired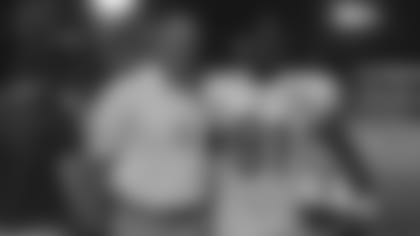 Marcus Easley was limited in the spring due to an undisclosed injury, but is back full go now in training camp. After turning in a couple of quality plays in the pass game on Friday night, Easley came back and made more on Saturday night.
A couple of his better receptions came in 11-on-11. One he expertly shielded a defender from the ball to make a catch in traffic on a throw from Thad Lewis. The second came late in practice during 7-on-7 red zone when Easley got separation and Lewis found him in the front right corner of the end zone for a score.
"Everyone knows my physical intangibles with me being a bigger bodied receiver. I'm just trying to provide another target for EJ and the other quarterbacks," Easley told Buffalobills.com. "We've got Sammy, Rob (Woods) and speed as well and I'm just trying to factor in as a big-bodied receiver."
Easley may have also been inspired by the presence of his former college head coach Randy Edsall at training camp practice Saturday.
"I got to talk to him earlier and tried to show him how much I've improved since my UCONN days," Easley said.