The Bills made Alabama's Cyrus Kouandjio their second round pick in the 2014 NFL draft. Here are five fast facts on the Crimson Tide offensive tackle.
1) He's a long way from home.
Kouandjio was born in the African nation of Cameroon, and moved to the United States with his family when he was four-years old. He's proud of his heritage but knows the kind of opportunity moving to America provided him.
"When you think of America, a lot of guys especially back home in Africa, they look at America as somewhere where you go and you get an opportunity to make something of yourself," he said at the 2014 NFL Combine. "Because there's no oppression here, there's democracy. There's no funny business going on here. So everybody has a good chance of being what they want in life. I feel as if me and my brother have taken advantage of this as much as we can. God bless America."
He speaks often about how much his past and the past his family's had motivates him to be a better person and tougher worker.
And it's worth noting that because of his roots, he speaks fluent French.
2) He grew up playing a different kind of football.
Kouandjio grew up playing soccer, but stopped playing after his massive size even as a youth often landed him in the net as a goalkeeper so he wouldn't hurt the other kids his age. He was six feet tall at age 12.
"I got tired (of it) in middle school," he said. "I just got frustrated, because they always put me in at goalie or just take me out of the game because I kept hitting kids, accidentally."
But he thinks his soccer skills helped him transition to football when he enrolled in high school with limited knowledge of the game. 
"I think (soccer) helped me with my footwork a lot," he said. "I think it made my footwork what it is right now."
3) He keeps it in the family.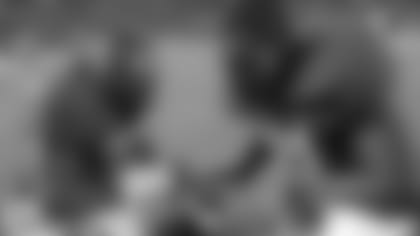 Though he says he at first refused to admit because he wanted to be different, he's taken after his big brother Arie from day one. He followed Arie to DeMatha Catholic High School instead of public school, and then despite intentions to play defensive end, found his sweet spot at offensive tackle just like his brother.
"He'd chip his front tooth, I made fun of him and two weeks later … I'd chip the same tooth," he said.
Before they hit the college ranks, they made DeMatha Catholic High School a Maryland football powerhouse. And then when Arie went to Alabama, Cyrus followed him a year later. They made up the left side of Alabama's offensive line during their shared time with the Crimson Tide.
4) He measures up.
Put simply, he's enormous. Kouandjio had the second longest arm length at the Combine among offensive linemen. His arms measured 35 5/8ths inches. He's 6-7 and weighs 322 pounds. His size, strength and wingspan make him incredibly difficult to move back.
5) It's not his first time in Buffalo.
The Alabama product was the Bills final pre-draft visitor last month.
"It's a great environment for me to master my craft," Kouandjio said. "I love a lot of those guys over there, I love the coaches...I thought they were really down to earth. We went to a dinner and it was like the whole table filled with the coaching staff, so we had a good time."