It's been 10 years since Bills Legend Eric Wood got the call that would change his life forever. A standout at Louisville, Wood was selected by the Bills in the first round of the 2009 NFL Draft, with the No. 28 overall pick. Flash-forward a decade, and Wood will return to the place that started it all when he announces a Bills second-round pick live from Nashville. In celebration of his nine-year career in Buffalo and the upcoming 2019 NFL Draft, buffalobills.com asked Wood to reflect on his big moment.
1. Can you remember how you felt in the moments leading up to the draft?
Yeah, it was pretty nerve-wracking because you've got 32 different teams and cities you can go to and there's so much uncertainty with it. I was a first-rounder but you know, I wasn't definitely going to be a first-rounder. So, there was uncertainty in the air with that and so I was definitely nervous. And then to get my name called at 28, [that] was a dream come true. Little did I know at the time how lucky I was to be going to the Buffalo Bills.
2. What was your reaction?
You know, it's pretty wild. You get a call from the GM and then you talk to coaches and there's just a lot going on. We had family and friends over at my mom's that day. So, there was just so much going on I couldn't really internalize my true feelings on going to Buffalo. My first thought was, 'Man I'm going really far away.' Little did I know that Buffalo was so close to Louisville and Cincinnati – only probably a six-hour drive from Cincinnati. It's just sitting on the Lake up there. In my mind, it was so much farther away. I guess I pictured all the snow and how cold it was and all that – like a traditional outsider. I truly didn't realize how close of a spot I would be going to.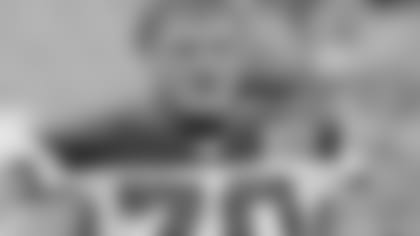 3. Could you ever have imaged that you'd be playing for the Bills for 9 years and that you'd spend your whole career there?
That's always your plan. You always think it's true and then when you see how much the roster gets shuffled, then you truly appreciate how incredible the stability of being with one franchise the entire time [is]. For me, the city of Buffalo was perfect. The people embraced me from the second I got there. I just kind of fit in up there. That's why Buffalo will always be a home to us, and we always look forward so much to going back. But you know, at the time you get drafted and think, 'Man I'm going to spend my whole career here,' and I truly appreciate now how lucky I was to be able to sign two contracts to make that possible.
4. Ten years later, you're going on stage at the draft, but this time you're making a pick. How does it feel to get the chance to do that – to represent the team, but this time in a different way?
It's an honor to represent the Bills anytime you do something like this nationally and then at the draft is really cool. I'm really excited to get down to Nashville. It will be a quick drive for me from Louisville but [it's] always fun to get down to Nashville…I know a bunch of other guys who are heading down there to make picks as well. It will be a lot of fun to connect [with them], but it is an honor to represent the Bills and the Bills have traditionally, these last few years, done really well in the draft. So, I'm looking forward to seeing who they select in the first round. I'll be announcing the second-rounder.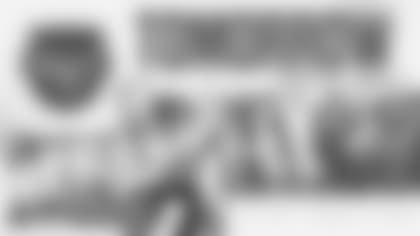 5. Do you have any advice for guys who are draft eligible this year?
I have a lot of it. Actually, one cool thing the NFL is going to do this year is they're pairing up all the former first-round picks with the guys that'll be in Nashville for the draft getting their name called – hopefully all in the first round. But, my first bit of advice is you're going to be showing up in a new town, at a new NFL facility here in the next couple of weeks and to put your nose down and get to work because you're behind the eight ball. The guys are up there working out already and you've got to go in and earn the job. And this isn't like college where you get to stick around for four years or maybe five, with a redshirt. Every day you're evaluated in the NFL and the sooner you realize how much work goes into it, the longer you're going to play in the NFL. For rookies coming in, that needs to happen quick.
6. Can you speak to how much the game and the draft has changed over the last 10 years?
In the last 10 years, there's been rule changes, there's been new draft sites [and] they've changed the date around with the draft. There's so much that has changed with the draft but ultimately, the draft is the carrot when you're in college. You want to win the national championship and you want your team to do really well, but it's an investment. You want to get to the NFL and what the NFL Draft is, is so many guys' dreams coming true and it's such a rarity and in the moment, you probably don't appreciate it as much as you should because you're working so hard and you kind of expect it at that point. But it is such a really neat deal and I suggest these guys take a second, either before or afterwards, just to appreciate how much work went in them getting to that point.