There's still six weeks until the draft and we're four months away from the opening of training camp. But after the first week of free agency, it's pretty obvious the Bills roster is going to look a lot different in 2018.
Here are the top seven ways the Bills 2018 roster will be different than it was at the end of the 2017 season:
1.     CHANGE UNDER CENTER
For the first time in three years, the Bills will have a new quarterback at the helm when the season opens. Tyrod Taylor is gone to the Browns, and the Bills are down to two passers on the roster for now.
Nathan Peterman and A.J. McCarron are fifth round picks drafted three years apart. Peterman got two starts last year, McCarron has four in his four years with Cincinnati. Both are candidates for the Bills starting job this fall. But most fans expect at least one other candidate – a draft pick.
With six picks in hand for the first three rounds, the Bills have the ammunition to draft a quarterback. But GM Brandon Beane cautioned reporters late in the week that he may not move up in the draft to select a high-profile rookie quarterback.
"I know everyone assumes that we're going higher than 12; I don't know what we're doing, I honestly don't,' Beane said. "We'll see. We've got, I think, six weeks from yesterday until the draft. Over that time, I'm really going to get to know every player, not only the quarterbacks, of who we're going to consider."
For the first time in 10 years, the Bills will have someone other than Eric Wood starting the season at center. Veteran Ryan Groy is expected to compete for a starting spot in the middle of the offensive line, returning to the position he handled so capably for seven starts in 2016.
Groy started seven games in 2016 after Wood got hurt in Seattle. And he told The John Murphy Show he's already prepared to be a starter.
"Being a backup in this league you have to prepare as a starter because you never know what's going to happen,' he said. "I'm going into this season preparing as a starter, like I did last year. "
Free agent signee Russell Bodine will add competition for the center position.  He has started all 64 games he played in Cincinnati since being drafted in the the fourth round in 2014. His active streak of 64 starts ranks as the second-longest among centers in the NFL.
Right now, the rest of the Bills starting offensive line looks like last year's unit, with second year man Dion Dawkins getting the nod at left tackle after Cordy Glenn was traded. Dawkins started 11 games at LT last year, including the last eight games of the season.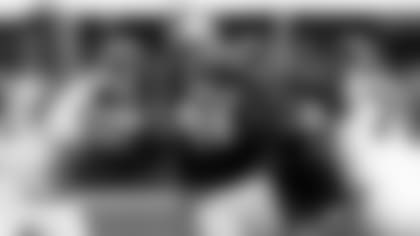 With his background on the defensive side of the ball, you have to believe Sean McDermott went into the offseason looking to beef up on that side of the ball. The 2017 Bills gave up 125 yards per game on the ground, fourth-worst in the NFL. They were second from the bottom in sacks, finishing with a team total of 27.
Enter DT Star Lotulelei and DE Trent Murphy, two key free agents the Bills signed right away. Brandon Beane says he and McDermott learned with the Carolina Panthers that building the defensive line is key.
"I* *think you saw how we did in Carolina: we believe that's the way it works," Beane told the media Friday. "I want to be strong up front and Sean does as well. Our staff all understands what we're looking for. We're looking to protect on the offensive line and wreak havoc on the defensive line. That was the moves with Star [Lotulelei] and adding Trent Murphy."
Lotulelei and Murphy will add to a defensive line rotation that right now includes newly resigned veteran Kyle Williams, Jerry Hughes, Shaq Lawson, Adolphus Washington, Eddie Yarbrough and others.
4.     MORE LINEBACKERS ON THE WAY?
The Bills signed linebacker/special teamer Julian Stanford on the first day of free agency but they're likely to add a few more LBs.  They let Preston Brown get away to sign a one-year deal with the Bengals. And they only have three linebackers currently on the roster (Lorenzo Alexander, Matt Milano, and Tanner Vallejo) who played significant snaps for Buffalo last year.
Right now, Milano and Vallejo figure to have much more prominent roles in the Buffalo defense than they did in their rookie campaigns. But look for the Bills to add more candidates at LB in free agency and the draft.
5.     DEPTH ON THE BACK END
The Bills safety corps was solid last year with Micah Hyde and Jordan Poyer. But they've added depth and some special teams' acumen behind them. The team signed veteran Rafael Bush when free agency opened. He's an eight-year veteran who has played with five other teams. Back in January, Buffalo signed veteran Kelcie McCray to a contract. He's made seven starts over the last two years with Seattle.
And at corner, free agent Vontae Davis was added to the roster three weeks ago. He's going into his 10th year in the league and is likely to start opposite Tre'Davous White.
6.      ON THE HUNT FOR PASSING GAME TARGETS**
Buffalo's new passer will be looking at new targets in the passing game this season. The search for viable options at wide receiver has been ongoing since the Sammy Watkins trade last August.
Kelvin Benjamin will be back to start the season after his offseason surgery on his knee and conditioning work. Second year man Brandon Reilly should get plenty of looks during the offseason workouts. But the Bills are probably expecting much more from second year WR Zay Jones, who finished with just 27 catches last season, two for touchdowns.
"I think year two will be better for Zay," Beane said Friday, in an appearance on The John Murphy Show. "He's working that shoulder getting it back. He'll be ready to go by camp. I look for him to take the next step. He's a pro, and I think the sky is the limit for Zay. "
Jones and the rest of the Bills WR corps should benefit by having veteran receivers coach Terry Robiskie now with the team.
7.     NEW DEPTH BEHIND SHADY
Can LeSean McCoy play all 16 games, play 68% of the offensive snaps, and lead the team in rushing and receiving again in 2018?  Why not, right?
He'll be 30 years old when the Bills go to camp in July, so just in case Shady needs more of a breather, the Bills have added a more than capable backup RB.
Veteran Chris Ivory is going into his ninth year in the league, after successful stints with the Saints, Jets and Jaguars. He's a punishing, physical runner who'll provide dramatic counter point to McCoy's quick, "cut on a dime" style.
Buffalo also re-signed two of last year' backup RBs, Travaris Cadet and Taiwan Jones, to compete for the number three RB spot.