1 of 4
The Bills exciting 3-0 start can be attributed to a lot of factors. From the run game to red zone touchdown efficiency to pass defense to points allowed. The overall picture thus far this season gives strong indication that the front office's efforts to bolster an offense that was lacking in several areas in 2018 have yielded some promising signs.
Buffalo is one of just four NFL clubs that currently rank in the top 10 in both total offense and total defense.
The Bills rank eighth in total yards on offense and sixth in total yards allowed on defense. The only other NFL teams that hold top 10 ranks on both sides of the ball are Atlanta (10th and 8th), New England (1st and 1st) and San Francisco (4th and 2nd).
Buffalo is also one of four teams in the league that rank in the top 10 in rushing offense and run defense. Currently fifth in rushing yards per game with 151.3, the Bills are also eighth against the run, allowing just 88.
It's a welcome balance for the Bills, which did not previously exist for a team that largely leaned on its defense in recent years.
"They've been able to complement one another," said McDermott of his offensive and defensive units. "We continue to work on playing good complementary football. Taking care of the football and good fundamentals are big parts of that. There are some areas we can still improve on. But I thought the offense when we've needed a drive, they've put together a good, solid drive. And when we've needed a stop on defense they stopped them."
Dallas (3rd and 10th), San Francisco (4th and 7th) and Tampa Bay (8th and 6th) are the other clubs with this distinction.
Even though the offense has made clear strides in their production and efficiency in their second year under coordinator Brian Daboll, the defense remains the team's linchpin.
Buffalo's defense is one of just three in the league currently ranked in the top 10 against the run and the pass. The Bills stand eighth in run defense and ninth in pass defense.
They're only bested by New England, which ranks tops in the league against the run and the pass and San Francisco, which ranks seventh in both run and pass defense.
Finally, the Bills and Patriots defensive units are the only ones in the NFL to rank in the top 10 in run defense, pass defense and third down defense. Buffalo ranks eighth while New England again ranks first in the league.
400
After holding the Bengals to 306 total net yards this past Sunday, Buffalo extended their streak of holding their opponents under 400 yards to 15 games. That's the second-longest active streak in the league with only the L.A. Chargers ahead of them at 16 games.
That span goes back to Week 5 of the 2018 season and over that stretch Buffalo does lead the league in yards per pass attempt allowed at an anemic 5.83 yards per attempt. Chicago is second at 5.94.
The Bills defense also has the second-most interceptions over that length of time with 18 after Tre'Davious White added two more to their total Sunday.
Only Chicago and New England have more INTs since Week 5 of last season with 20 each.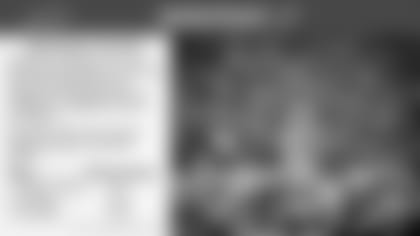 8 – The number of consecutive games in which Josh Allen has thrown for 200 yards or more.
8 – Number of 70-plus yard touchdown drives to open the season. It's the first time in team history that has happened. The longest team streak of 70-plus yard touchdown drives is 12 (2016-17).
125 – Josh Allen's fourth quarter passer rating this season, good for third-best in the league for QBs with at least 10 pass attempts.
73.8% - The odds for a team starting the season 3-0 to reach the playoffs since 1990 (104 of 141).
36% - The three-and-out percentage of opposing offenses against Buffalo's defense. The Bills lead the league in this category.
78.3% - John Brown's catch percentage, which ranks 10th in the NFL among receivers with at least 15 targets.