On Dec. 31st, 2017 the Bills league-long playoff drought was over. Buffalo under then first-year head coach Sean McDermott defied the odds and reached the postseason for the first time in the 21st century. Fans thought it was only the beginning, but those inside the walls at One Bills Drive, knew what was put together that first year under McDermott was not sustainable.
There was a salary cap mess on the Bills books. There was a tenuous quarterback situation and there were many other holes to fill.
Culturally however, the Bills locker room was as healthy as it had ever been. Buffalo's 9-7 record was good enough to earn an AFC Wild Card. It was 'Playoff Caliber.' But Sean McDermott's goal in building the team's culture was 'Championship Caliber.' He knew it would take some time.
To the outside observer, evidence of that growing culture wasn't as readily apparent as the 2017 playoff berth, but it was being built.
The rewards that come with building a strong foundation aren't always realized or achieved during the construction phase. And that proved to be the case in 2018. The win total fell off a bit, but again the way the team operated on a daily basis and the camaraderie amongst the players and coaches not only remained strong but grew stronger in the face of adversity last year.
Buffalobills.com spoke with eight Bills who have played each of the past three seasons under Sean McDermott to find out how the team and organization has grown and changed over that span.
1. Firmly rooted team culture
"In 2017, it was about laying down the foundation and trying to establish it," said Zay Jones. "From that point to this point, it's the way we walk, live and eat around here. That's who we are now. Weeding out the old habits and ways that this team or organization used to be run to a way that McDermott and (Brandon) Beane envisioned from the top down."
"I think the culture and just the type of guys that they bring in, it's such a unique group of guys," said Jordan Poyer. "No prima donnas. No egos. It's guys who work really hard. I think to me that's the biggest change. Not to say we didn't have the culture in 2017, but we were building it.
"I had dinner with Kevin Johnson the other night, one of our new guys and he feels the type of culture when he came into the building. He can sense the type of culture we have within this organization."
With a culture that's already firmly ingrained into the way the players conduct their daily business, new players on the roster simply step in and follow the model they see being carried out by the players who have been here.
"Our culture is pretty strong where guys now know what's expected in terms of the time you need to put in and the way that we have to operate every day to get where we want to get," said Tre'Davious White. "And the new guys coming in, it's clear to them how we work because they see it from us who have been here and they just kind of fall in line."
"The culture here… it's expected," said LeSean McCoy. "Before they were trying to change it and now it's automatic."
But how did it take root and become a living and breathing way of conducting yourself at One Bills Drive in just three years' time?
Simply put, it was the players the organization chose to invest in that fostered the growth of the mindset McDermott wanted every one of his players to embody.
In the 2017 offseason, the Bills took a calculated gamble on a hungry young safety named Jordan Poyer, who was a backup in Cleveland. They also signed a versatile defensive back out of Green Bay in Micah Hyde.
Putting their faith in two virtual unknowns on the NFL landscape inspired them to prove the Bills right.
"It meant everything," said Poyer. "The biggest thing that it gave me was confidence. It was the first time in my career that I felt wanted. I felt wanted by this organization. I didn't feel wanted in Philadelphia or in Cleveland at all. I was just scraping to stay in the league. When I got that call it gave me a lot of confidence and motivation to get better.
"Obviously, with this being my third year here, my role has expanded. Both Micah and I and Tre' (White) in our DB group we understand the standard and what people expect from us. So we work extremely hard. The way we work together is really cool."
McDermott also was decisive in determining who fit their vision going forward and who didn't, and there were no exceptions.
"They either traded or released people they felt didn't fit this scheme whether it was from a character or athletic standpoint," said Lorenzo Alexander. "And that happened over time because you can't do it all immediately. Some of those guys you're trying to count on and see if they will adapt to what you're trying to bring in. Since I have been here in '16 there are only four of us left, so it just shows you how much turnover we've had, especially when they're trying to find guys who fit what they want to do."
One of those four remaining players is former first-round pick Shaq Lawson, who had to prove he was willing to buy in.
"McDermott and his coaches told me what it was and kept it real with me in terms of what I have to do to stay around here," Lawson said. "I love being in Buffalo. So I had to do certain things off the field, like changing my eating habits and committing to the process. So I committed myself to the process and each year that coach has been here I've improved by doing that."
3. Practicing what you preach
McDermott pushed a message of daily self-improvement and commitment to team.
What reinforced it all the more was McDermott practiced what he preached. Most NFL clubs have their coaching staff review player performance at each position for the entire season. After the 2018 campaign, McDermott asked his players to critique his performance in 2018 as well as that of his staff.
"It says a lot about their character, especially coach McDermott," Jones said. "He's been open with us and vulnerable. He tells us, he's just a 5-10 college safety who never played at our level. So he's open to hearing from us because we're the athletes. In the same way he demands that same respect and vulnerability from us, to be open with him. So it's a two-way street. Even though he is our leader and boss, it's an open environment where we can communicate because we all want one common goal and that's to win a championship."
"I just think that's smart. That's the way the system should work," said Hyde. "I trust the fact that whatever I say to coach or my position coach that it's going to get relayed to the top. Therefore we have a great understanding of what's going on from the top to the bottom. From the head coach to the last person on the roster. We all have an understanding on what our job is, what our role is on this team. That's how it should be. It's smart."
In an effort to make the bond even stronger between players, McDermott insisted that love had to be part of the equation. It may run counter to how many outside observers view football players knowing the physical demands of their sport, but the Bills have seen the benefits of genuinely caring about the guy next to him and his family.
"Sean has done a great job of trying to develop men because he understands the better men you have the better football players you're going to have," Alexander said. "And if he has talent he's going to be really good. Those are the Hall of Famers you start getting into. Love is a part of that because I'm going to be accountable because I love you so much I don't want to let you down. I'm going to be accountable and do all the little things because of the respect and love I have for you as a person because I know your family. He's big on that. I think people should understand that.
"You're willing to go a lot further for a person you know respect and love than for a stranger you see on the street. So when things get tough in this business I'm willing to go the extra mile for somebody or stay in my gap. Or maybe your wife is sick, so let me come over and get you dinner that week. All those outsiders make fun of that culture we talk about all the time, but it's a tangible thing and it does matter."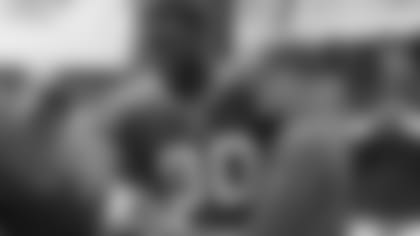 5. Building confident winners
Now with a team culture that has firmly taken root in his first two seasons, and effectively transformed how the team goes about its business every single day, the task in year three for the Bills is to have an unwavering belief and confidence that they are not only capable of winning but will win.
"In terms of our mentality the way mine has changed, and I'm trying to get everybody on this page, and I think this is how the Patriots think," said Lorenzo Alexander. "They expect to be in the playoffs and they expect to compete for a championship. Here, 'Can we get to the playoffs?' has been the mindset of the past.
"Seeing how we have changed the culture and how Sean works and the things that he has done and the guys they've brought in and the relationships that have been built over that time, my mindset has shifted from, 'Maybe we can get in the playoffs,' to, 'We should be in the playoffs,' provided we put in the work and do all the things we need to do to ready ourselves for that journey and expect to compete for a championship. My role as a leader this year is to have everybody thinking that same way."
"It's the attitude," said McCoy of how things have changed in McDermott's two-plus seasons. "Guys want to win. They look forward to winning and doing whatever it takes to help their teammates out. That doesn't exist everywhere. You've got to trust the process and see where we end up."
6. Driven to return to the postseason
So where does an ingrained culture of hard work and dedication combined with a closely-knit locker room and the most talent the roster has had under McDermott position this team for 2019?
"It just gives us a chance. Just a chance," said Dion Dawkins. "As long as we do things right we'll have a chance to be 1-0 every week. Football is football and we have to put ourselves in a position to win. We have to do everything right to prevent us from losing. So we're going to keep that approach and keep stacking days until the regular season."
"That's what's so special and unique about this league," said Jones. "This is the highest you can go in football. All of those elements we've built together only gives you a chance, but it positions us to make it happen. Now it's up to us to take it in our hands and make it happen."
"We know we have talent. We know we can count on each other because we all work hard. We all sweat the details and we're all committed to the standard," White said. "We also know that no season is perfect in football. But the way we're built we know if we have a rough stretch somewhere we'll be able to handle it and move forward toward that goal. I think that's going to push us over the hump this year and we're going to win a lot of ball games."