It was an area that head coach Sean McDermott felt was good but could be improved. Getting the incoming rookies acclimated to the daily approach of how things are accomplished at One Bills Drive required a lot of time and investment. Time that the coaching staff didn't always have at their disposal.
So McDermott, with the assistance of Terry and Kim Pegula, has been able to put together an onboarding program that gets them up to speed quicker and helps them adopt the pro mindset required to succeed more effectively.
Everything from leadership panels, where older players on the roster speak with rookies, or former NFL players are brought in to warn of the potential pitfalls through their own personal stories, Buffalo's rookies quickly come to understand the requirements if they intend to have a successful NFL career.
"After going through a tough year last year of just onboarding new players, a new approach had to be undertaken," McDermott said. "I think the best teams, businesses do it well, but I'm not sure everyone does it. We're all trying to find the competitive advantage."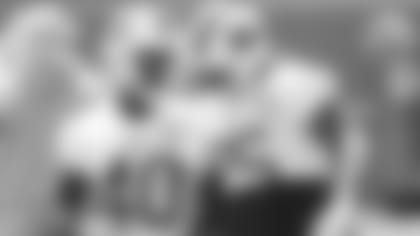 After seeing some rookies make some decisions last season that didn't adhere to the daily growth mindset McDermott preaches, the Bills head coach was determined to put a program in place to get young players to recognize the importance of staying on the right track.
"Some guys would rather go to the mall and buy cool sneakers or the latest addition to their wardrobe instead of being here and watching film," said McDermott. "That's real. That's an example of the challenges we face, to get people to drop all that and adopt the habits that lead to winning."
Undrafted rookie Robert Foster almost slipped through the cracks in 2018, when he was cut from the active roster and re-assigned to the practice squad, before getting a wake-up call from LeSean McCoy.
McDermott felt they had to assemble a team of advisors to provide the rookies with all the knowledge and information they need to change their daily regimen so it was more in line with what leads to success for both the player individually and by association, the team.
"The first piece of that is educating them on getting focused. Dropping the culture that they came from and the standard they were around at the schools they were at and do things our way and adopt our standard," McDermott said. "Entitlement is huge in our society and a lot of these players come in and think that they're owed something. That is one of the biggest obstacles in terms of getting them to learn and be coachable. You'll hear them say, 'I got it. I got it.' No, you don't got it. You're going to find out you don't have it and it's going to cost this person his job if you take that approach."
There to reinforce that message are players who almost made that mistake, like Foster.
Quarterback Matt Barkley, who in his six NFL seasons has been with six different NFL clubs, is a much different example. Largely a victim of circumstance, Barkley never changed his routine to becoming a success no matter how many times he was cut. Now he's firmly entrenched on Buffalo's roster as Josh Allen's backup.
Barkley was part of a veteran-rookie panel where he spoke on the importance of preparation. Whether it was getting personal stuff addressed before training camp or getting the required film work in leading up to a game to be certain he was ready to play, it was the kind of messaging he never got when he was a rookie.
"I just addressed my daily approach to coming to work," said Barkley. "Other guys talked about different things. I know I would've benefited early in my career if I knew then what I know now, so being able to get tidbits of knowledge from us it helps a lot. It also helps us to get to know some of the rooks that we haven't talked to yet."
Foster's message was how he was less than a year removed from almost having to learn the hard way that if you're not prepared you can be out of the league in a hurry.
"Hopefully it prevents somebody from going through the same thing he did," said Lorenzo Alexander, who also spoke to his younger teammates. "Robert's story is real. It happened. I think sometimes you can take playing this game for granted because you've been blessed with a certain talent level, but at some point everybody is talented. Everybody is gifted, so what habits and what things are you doing that has nothing to do with how blessed you've been to take your game to the next level? I think that's what Sean is trying to do with hitting these guys with all these different nuggets."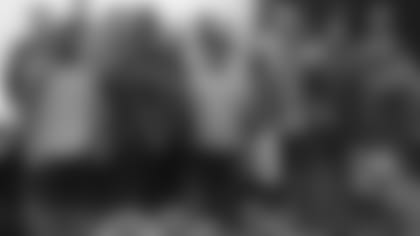 Part of the reason why an enhanced program was a must is now more than ever NFL clubs needs their rookies to perform on the field sooner rather than later.
"These guys come in now and they're expected to play and the younger you are in your career, the more these guys need to play," said McDermott. "The roster we have now is more competitive so the harder it becomes for draft choices and undrafted guys to make the roster."
That's why he had Tremaine Edmunds address the rookies as well. At age 20, Edmunds was entrusted with playing middle linebacker for the first time in his career and run a defense at the highest level of football. Fortunately, his character combined with his ability, and perhaps some fear of failure, helped him put together a successful rookie season.
That's what McDermott and his staff are after with each new class of rookies that arrive each year. Put players, no matter their draft status, in the best position to put their best foot forward in securing a spot on the squad and contributing in their first year as a pro, not their third.
They've even going beyond using their own veterans on the roster. This offseason former NFL players like Steve Smith and former Bills London Fletcher and Kyle Williams have come in to cover a range of topics that can impact young players.
Topics like family influences once you're a professional athlete, playing with a purpose and the 'Bills way.'
"I speak to the rookies and talk to them about where they're going," said Smith. "In 48 months the team will decide if they're going to pick up their fifth-year option. In 52 months they will either be a free agent or re-signing a new deal. It just puts into terms, a time frame that they can see and understand this is not high school. It's not college. They have to earn the right to be here. But also kind of tell them what it takes to get to this point. It takes a lot of hard work, a lot of due diligence and it also takes a vision.
"They need to understand why they're doing it. They need to have a 'why.' It's not my place to tell them what their 'why' is or how important it is. They have to have a 'why.' They have to be dependable and reliable because this team will only be as strong as the man next to them."
"Having a guy like that who we all looked up to as kids. A guy I watched my whole life and have him come in and share some insights on his mentality and how he thinks and approached the game. It was incredible," said undrafted rookie receiver Nick Easley. "He's a living example of the value of being a professional and what that entails. It really was a unique opportunity to hear that perspective."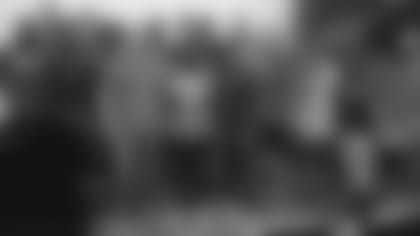 Kyle Williams incorporated his own experience into explaining why the Bills preach taking care of one's body, something that wasn't always strictly enforced.
"I told them if I could do it again how I would try to get a jumpstart on body maintenance," said Williams. "And from the beginning of my career to now things have changed so much. So, obviously I didn't have everything at my fingertips these guys have now just the different kinds of therapy the different products available to them. But I said 'Hey, don't wait until you feel this or that. Start preparing your body and taking care of your body in a lot of different ways, even if you're just 22 years old.'"
London Fletcher's calling card is the 250 consecutive games played streak in the NFL. Doing that at a high-impact position like linebacker takes an enormous amount of commitment, not only to be there every week for his teammates, but to do the right things every single day.
"I tell people all the time, God's blessing," said Fletcher of his rare consecutive games streak. "I listened to my body, took care of my body, preparation. I was a film junkie and I stayed in the film room and took care my body. I didn't burn both ends of the candle. I believed in getting my rest. And I stayed healthy. I didn't have any major injuries."
The Bills rookie development staff has made sure these forums aren't just a one-way street. The young players are able to ask questions and get more specific if necessary.
"They're asking questions. They're interested," said Barkley. "A few guys are quiet, but there's a healthy back and forth."
"Hopefully young guys will be impacted by this and say, 'Ok, this is another level. I can't just sit back and rely on my talent. This has to be my craft so I have to pour some energy and time into this if I want to be great. So it's my actions and words matching up,'" said Alexander. "That's what I hope is gained by having those these guys speaking to them as well as myself."
In the eyes of McDermott, the uniform commitment in this year's class of rookies in the wake of these forums has been evident.
"We've gotten so much better," he said. "That development team that we have, A, it's one of the biggest in the NFL and I appreciate the investment from Terry and Kim in that. B, the program that we have in place has just grown exponentially. To me there is such a competitive advantage you can get from that. It programs the players. Yes, it's about life skills, but it's also about getting them acclimated to life in the NFL."