1. Defense shuts the door
In a battle of top five defenses, Buffalo's unit emerged superior in the Bills 20-3 victory Sunday. With just 94 total net yards at the half, the Broncos offense began the second half with a 10-play 48-yard field goal drive in which they secured three first downs to put their first points on the board to make it a 13-3 game.
Little did Denver know those would be the last first downs the Broncos would get for the remainder of the game.
Buffalo's defense locked it down sending Denver's offense three-and-out on each of their last five possessions. On those five series, the Broncos managed just two total net yards, with two of those drives going for negative yardage.
"We've got a great defense," said Shaq Lawson, who logged a pair of sacks in the win. "We've been challenged the last couple of weeks like I said. The coaches wanted us to step up and play more physical. I feel like we've been doing that. We start with our leader, Tremaine has been leading us great on defense. So that's what we've been doing."
Matt Milano proved to be an early spark plug for Buffalo. On Denver's first possession, after a solid tackle in space on Phillip Lindsay on a 2nd-and-8 to hold him to a two-yard gain, the linebacker had back-to-back plays to get the defense off the field.
He batted down a pass at the line on 2nd-and-19 and then followed up with a pass breakup downfield on a throw intended for Tim Patrick.
On the next series, Milano had a tackle for loss on Lindsay, which was followed by a sack by Star Lotulelei and the defense was off the field after four plays.
Milano was also effective on the flanks as he made an open-field tackle on Noah Fant to hold him to a three-yard gain. By game's end he was tied with Tremaine Edmunds for the team lead with six tackles, had a quarterback hit, a quarterback pressure and three pass breakups. Only Tre'Davious White had more with four.
"These past three or four weeks we've just been letting it loose and flying around," said Milano. "I'm not worried about making mistakes. I think that's been the biggest thing for us. It's just not worrying about making a mistake because anytime you worry about that you're playing tentative and not making plays."
The Bills' third-year linebacker believes he and Edmunds have reached a level of on-field understanding where they know how to play off each other no matter the situation.
"I think me and Tremaine are on the same page," Milano said. "We have a good feel for each other going into our second season together. And then the coaches just let us roll out there. As far as them putting in work for us during the week, we have a great understanding of what's going on as far as formation. So that's helping us a lot."
Buffalo also got a key interception from Tre'Davious White just before the half. After a Josh Allen interception set up Denver at midfield, the Broncos moved the ball down to the Bills 26-yard line.
But on a 2nd-and-9 from the Buffalo 25, Tre'Davious White read Denver QB Brandon Allen and broke on the ball, while intended receiver Courtland Sutton broke to the sideline. White's interception foiled the Broncos best shot at a touchdown in the game.
"They had a drive going. We just pride ourselves on taking the ball away," White said. "Anytime you can take the ball away on the fringe or in the red zone that's a big deal for our team. We were able to get one to pop up today and I was able to catch it."
Brandon Allen's second half must've felt like a nightmare, as he went 3-14 passing for four yards, and came within a whisker of being sacked in his own end zone for a safety by Ed Oliver. Allen was marked down at the half-yard line.
The last time the Broncos touched the ball was with 7:02 left on the clock as they had just 10 possessions and set season lows for total net yards (134), yards per play (2.9), rushing yards (17), passing yards (82) and points scored (3).
"We just did a great job of playing team defense and just running to the ball and doing the things we're coached to do," said Milano. "Everybody in this locker room believes in the schemes that we're taught and what coach is preaching. We just do a good job of playing together and playing good football."
2. Cole Beasley, Devin Singletary pick up the slack
On a day when the Broncos were determined to take Bills leading receiver John Brown out of the game, Buffalo needed other playmakers on offense to pick up the slack. The Bills leaned most on two of the shortest players on the team in Cole Beasley and Devin Singletary.
Beasley led the team with nine passing targets and delivered with six receptions for 76 yards and a touchdown. Meanwhile Singletary posted the first 100-yard rushing day of his career going for 106 yards on 21 carries (5.0 avg.).
"They played zone mostly," said Beasley of Denver's coverage scheme. "There really wasn't much man. When teams play a lot more zone there's a lot more voids and holes in the middle of the field, so I'm probably going to get the ball a little bit more just from my feel in there. It's kind of how our offense is built. The way they played defense it's hard to win outside. (John) knew it was going to be that way."
Beasley continuously found the soft spots in the zones to help move the sticks and keep the offense on the field. By halftime he had five catches for 58 yards in helping to stake Buffalo to a 6-0 lead at the break.
Singletary was also contributing as the team's lead back with a hard-fought 62 yards on 12 carries to average better than 5.3 yards per rush against the league's 11th-ranked run defense. By game's end, he had his first 100-yard rushing day with 106 yards on 21 carries.
"He's no longer a rookie, and he's never really played like one," said Josh Allen of Singletary. "He sees things especially when he's running the ball, I mean his vision is fantastic. You know he's one of those guys that just again doesn't talk doesn't really care about anything but helping this team win football games and you love being around guys like that."
Singletary was also important when he picked up the blitz on the 3rd-and-6 touchdown pass from Allen to Beasley to essentially put the game out of reach for Denver.
Allen still took a hit, but Singletary helped to give him enough time to get the ball off to Beasley who did the rest on the 18-yard scoring play.
"I told him it was a hell of a job taking a shot," said Beasley of his comment to Allen after the play. "I told him I appreciate him hanging in there and waiting on me. That was really good by him."
All told Buffalo's offense rolled up a season-high 244 rushing yards, and tied their season best 424 total net yards, and did it against the league's fourth-ranked defense.
"We had a mindset coming in and it was to run," said Dion Dawkins. "Everybody who is in that O-line room knew it. We just came out and we executed. We said we were tired of all the chit-chat and put our foot down and hit the ground running."
And to see other offensive playmakers step up when John Brown was the focus of Denver's defense made it all the better.
"That's what a team is for. If one guy is having a hard time, then the next guy has to step up," said Dawkins. "If they had a game plan to cloud (John Brown) up then someone else is going to be free. We took advantage of it because we have great players all over the field. They're like little daggers. You've got to watch out for them."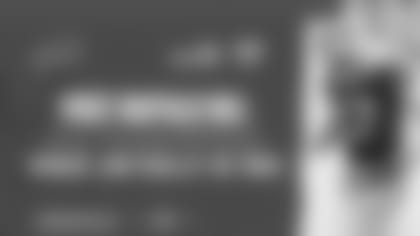 3. Josh Allen has the answers on third down
It was tough enough that the Bills offense was facing the fourth-best defense in football. The Broncos also came in with the league's seventh-best third down defense, but on Sunday, more often than not Josh Allen had the right answers to keep the Buffalo attack on the field.
Early in the game, Allen converted a 3rd-and-11 with a pass to Cole Beasley for 12 yards. Allen's 3rd-and-1 sneak went for two yards to again move the sticks. Then on a 3rd-and-12, Allen scrambled out of trouble for 14 yards to stretch for the first down marker and another fresh set of downs. It was good enough to get a field goal on the board to start the game, the first points given up by Denver in the first quarter in four games.
On the next series, Allen converted a 3rd-and-5 with another scramble with no one open with an 18-yard run. It led to another short field goal by Hauschka.
"Early on, we were moving the ball and we came away with six points there and we want six or seven," said Allen. "So we didn't do a good enough job there, but again, we gave ourselves a chance there to get the sticks moving on third down."
On the first series of the second half, Allen hit Robert Foster in stride on a short pass to the right and Foster took it up the sideline for a gain of 24 and another conversion.
Then on 3rd-and-10 from the 18-yard line, Allen took a shot hanging in the pocket, but got the pass off in time to Beasley who beat his man inside and scampered to the end zone for an 18-yard score.
Allen converted six of the team's first nine third downs (66.6%) against a defense that ranked seventh in the league in third down defense (35%). After the game went final, the Bills had made good on half of their third down situations going 8-for-16.
"I thought overall, we adjusted well throughout the game," said head coach Sean McDermott. "Some really good communication going on and the players again executed. Good to see Josh do that. He's remained confident through it all. He's a mentally tough competitor, and he's well respected by his teammates and that's good to see."
Allen completed 60 percent of his passes including a 34-yard touchdown pass to John Brown to seal the victory with 11 minutes left. His two touchdown passes matched a franchise mark for most consecutive games with a pair of TD passes with seven (Jim Kelly, 1991).