When Greg Roman was hired as Buffalo's offensive coordinator, a multitude of roster alterations followed, confirming a changed offensive philosophy. An essential part to Roman's offense is the significant utilization of multiple tight ends, as evidenced by his time in San Francisco that featured both Vernon Davis and Delanie Walker.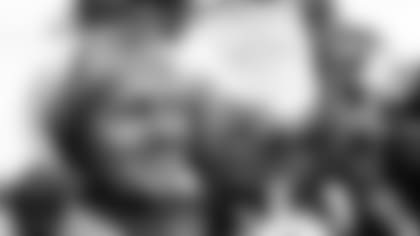 After the departure of Scott Chandler and Lee Smith, Buffalo added Charles Clay, a versatile threat that will likely be used all over the field. In the sixth round, Buffalo added yet another Seminole and proven champion in Nick O'Leary. Buffalo believes that he has the capability to become an ideal complement to Clay.
"That's what we talked about," said Bills Director of Player Personnel Jim Monos. "He's still going to give you the effort blocker but he can obviously be a receiver too. Now we have so many weapons."
A three-year starter, O'Leary totaled 114 career receptions and was named an AP First Team All-American as a senior. As a junior he led all Division I tight ends in yards per catch (16.9), while also performing a vital role in the Seminoles national championship run. Throughout his career, O'Leary was used all over the field and proved to be a trusted target for both E.J Manuel and Jameis Winston. His collegiate production excited the Bills, who were thrilled to find him remaining on the board in round six.
"He's been productive his whole career," said Monos. "Everybody tells you that he's not the fastest, not the tallest, or most athletic but then you watch him and all he does is make plays for one of the best teams in the country."
Projected to go earlier than the sixth round, O'Leary was surprised to slide as far as he did. With a chip on his shoulder, he vows to give his all to the Bills organization.
"I'm going to go in there and show all these teams what they missed out on," said O'Leary.
O'Leary is recognized as a smart, technically sound run blocker and pass protector, areas he improved immensely while at Florida State. He demonstrated extreme determination throughout the duration of his last game as a Seminole, as he played in the Rose Bowl despite a grade one hamstring tear suffered in warm-ups. His toughness may be attributed to his championship bloodlines. His grandfather happens to be golf legend and 18-time major champion Jack Nicklaus. As he keeps a close relationship with both of his grandparents, O'Leary is reminded daily on what it means to be a winner both on and off the field.
"No matter what I do, they are going to be supportive of me," said O'Leary.
O'Leary figures to play a role on special teams while competing with MaQueis Gray and Chris Gragg at the tight end position.