ORCHARD PARK, NY – The Pro Football Athletic Trainers Society, in conjunction with the Ed Block Courage Award Foundation, named the Buffalo Bills athletic training staff as the National Football League Athletic Training Staff of the year for 2014.
The Buffalo Bills athletic training staff will receive its honor at the 37th annual national Ed Block Courage Awards Foundation ceremony on March 16, 2015 at The Hilton Downtown Baltimore in Baltimore, MD.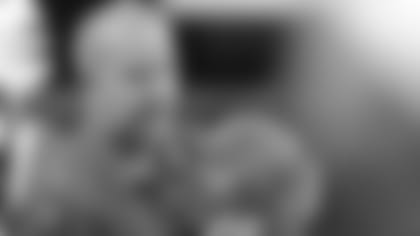 This season marks the second occasion Buffalo has been honored as the staff of the year. The Bills athletic training staff also won the award in 2007. The honor is voted on annually by NFL athletic trainers and has been awarded since 1985. PFATS recognizes one athletic training staff for their distinguished service to their club, community and the athletic training profession.
"Bud, Greg, Chris, Shone and Jon are among the most professional and highly trained certified athletic trainers in the National Football League," said Bills General Manager Doug Whaley. "Day-in and day-out they provide excellent support to our players and our football staff throughout the year. It is great to see them recognized for their excellence."
The Buffalo Bills training staff consists of head certified athletic trainer Bud Carpenter (30 seasons, pictured above) and assistant certified athletic trainers Greg McMillen (19, at right), Chris Fischetti (13, far right below), Shone Gipson (11, far left below) and Jon Hernandez (1).
Carpenter has served as Buffalo's head trainer for the past 19 years. He first began working with the Buffalo Bills in May 1985. He is a native of Allegany, NY and attended St. Bonaventure and SUNY Fredonia. He also served in the United States Air Force for four years. In addition to his work with the Bills, Carpenter is a dedicated volunteer within the Western New York community. He is the President of the Ilio DiPaolo's Scholarship Fund which has raised almost one million dollars for WNY student athletes and he also dedicates his time with D.A.R.E., Kids Escaping Drugs and the Center for Handicapped Children.
McMillen joined the Bills as a full-time assistant in March 1996. In 2013, McMillen was named the AFC Assistant Athletic Trainer of the Year for his commitment, dedication and high level of integrity brought to the profession. He is a native of Elizabethtown, KY and received his bachelor's degree in physical education with an emphasis in athletic training from Eastern Kentucky in 1988. He earned his master's degree in physical education with an emphasis in athletic training from Syracuse University in 1990.
Fischetti joined the Bills on a full-time basis in July 2002. Fischetti currently serves on the board of the PFATS. He received his bachelor's of science in health and physical education from Penn State in 1984 and a B.S. in physical therapy from New York University in 1988.
Gipson joined the Bills in 2004 after serving two seasons as the assistant athletic trainer at Texas A&M. Gipson serves on the board at PFATS along with the boards of the National Athletic Trainers Association and the New York Athletic Trainers Association. He earned his bachelor's degree in kinesiology from the University of Houston in 1999 and is a native of Bay City, TX.
A certified athletic trainer/physical therapist, Hernandez joined the Bills in 2014 after completing his graduate work at the University of Southern California. Hernandez earned his bachelor's degree from the University of Delaware and is a native of Paramus, New Jersey.