Whether you live in Western New York or elsewhere, it's common to hear about the close bond that exists among the people that call the region home. This innate, familial like, connection, has also become a staple in Buffalo's locker room, which is why on a Monday night, when they could have spent their time elsewhere, Bills players came together to support one of their own.
At Micah Hyde's third annual IMagINe for Youth Foundation Thanksgiving Dinner on Nov. 17, not only did his teammates show up to offer their support, they fully immersed themselves in the heartwarming event.
When asked why, veteran safety Kurt Coleman said it was "simple."
"The decision to make it important was very simple," he said with a smile. "Micah said, 'Hey can you guys come?' and we said, 'For you, absolutely.' I think that's just the way it is. When you have a family member and they say, 'Hey can you help me out?' …because it's family you're going to do it and I think Micah is a part of our family. We're a part of his family. He asked to be able to come help him do something great here in the community and it was a no-brainer for us."
In celebration of the upcoming holiday, Coleman joined Hyde and fellow defenders Jordan Poyer, Matt Milano, Dean Marlowe, Jerry Hughes, Tre'Davious White and Jaquan Johnson in serving 100 kids from various community groups, through the United Way of Buffalo & Erie County, a delicious meal.
For Hyde, who, with help from his wife Amanda and family members back home in Ohio, hosts outreach initiatives around the country through his foundation, the backing from his Bills family means the world.   
"It means a lot. It really does… I tell them thank you. I'll probably tell them thank you 1,000 times. They probably get annoyed by it, but it really comes from the heart," he said. "We put on these events and it only works because the guys continue to show up. The kids want to come here, they want to see the players, they want to see all that. So, it's good that the team continues to support the foundation and that's why anytime guys put on other events, we try to also show up to them…I can't say enough about the guys showing up for it."
Although just one example, the work that Hyde and his teammates do in the community does not go unnoticed – especially by the kids who look up to them.
"It's nice that the players are involved with the community," said Lori Overdorf, director of development and youth services at the Valley Community Association. "…Micah is just the epitome of what people should do [when] giving back to them. They've been given so much and that they're giving back, it means a lot. People appreciate that. It's not just a name on the field. They associate his face and his personality [and say], 'Oh Micah Hyde talked to me.' That becomes their favorite player. It really bonds kids to the team in a way that I don't think would normally happen."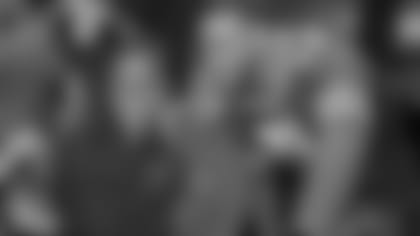 Overdorf, who brought 15 boys and girls out to New Era Field for the special night, has witnessed firsthand on more than one occasion how impactful events like the Thanksgiving dinner can be for youngsters.
"Micah is probably one of the most generous Bills players I've ever come across," she said. "I've been doing this a long time and he's really one of those athletes that I think others should emulate – no matter what. Hockey, football, basketball – no matter what it is. He did donate his suite…[to] us for a preseason game. We were able to bring a bunch of kids who had never been to a game before. So, they started out pretty big in a suite, but they had the time of their lives.
"…So, it's nice to be able to have that personal relationship with players and see that they're real people and…something that they can aspire to for a positive adult role model."
Hyde, who draws upon his own background to relate to the kids, sees his off the field work as the least he can do.
"When we came here in '17, the community of Buffalo and Orchard Park and the surrounding cities, just did a good job of welcoming us with open arms. So, as soon as we felt that love and respect, we wanted to give back as soon as possible.
"…But it's not just about myself. It's IMagINe for Youth. Everyone knows it's my foundation, I'm the one that started it but there are so many people [involved] – my wife, my family back home, the board members, the staff. Back in my hometown of Fostoria, Ohio, they do such a great job of putting on these events…but there are people behind-the-scenes that are putting everything together. So, it's good to have this platform and kind of a be a mentor to kids and come and hang out for a few hours every time we have an event."
As Hyde gets set for upcoming IMagINe for Youth holiday events and his second annual Charity Softball Game in the spring, he knows that he will have the unwavering support from his extended family.  
"I think Sean McDermott does a great job of making sure the culture feels that presence that Buffalo is one," said Bills newcomer Kurt Coleman. "I see that all around and it is true. I say this, as jokingly as it is, to be able to bear these winters, you have to be a tight-knit family or tight-knit community, but you've got to love it…It's just a wonderful experience that we as players get to embrace the community and the community embraces you."