If you talk to John Brown's teammates, they'll tell you he's one of the most selfless players on the team. A player who puts the team first. The antithesis of the diva receiver.
Well on Sunday in Miami, offensive coordinator Brian Daboll called his number like he was a diva receiver who needed his touches, and for the Bills it paid off big time.
Targeted a game-high 14 times against the Dolphins, Brown pulled in nine receptions for a season-high 137 yards and a pair of touchdowns. It was his most prolific outing since a 10-catch 144-yard performance for Arizona in 2016.
According to Next Gen Stats, Brown accounted for 66 percent of the team's air yards in Sunday's victory.
"We wanted to try to feed him the ball and it didn't really matter who was out there," said Josh Allen of Miami's cover assignments. "We didn't care. We were just trying to find a way to get our playmakers the ball. We did a good job of that. Coach Daboll called an amazing game, so I'm happy for him and happy for how we performed."
Before Sunday's game, John Brown had just one 100-yard receiving game in his first season with the Bills. For the Homestead, Florida native it was a heck of a homecoming. Especially knowing that Brown had 40 south Florida youth in attendance courtesy of the tickets he purchased for the game. All of the kids had made the honor roll at their respective schools.
"I had about 40 kids in the stands of all ages," Brown said. "The kids were from all over Miami. Anybody I had that was friends on Facebook with me. We had kids of all ages. I got about 40 tickets to the game. I'm just trying to give them motivation. I'm just glad I was able to play well and give them hope."
Brown gave those kids a show beginning with his 40-yard touchdown reception down the right sideline for Buffalo's first touchdown of the game.
"It was zone coverage and the safety got out of his area," Brown said. "Josh did a great job of looking him off and hit a nice hole shot."
"Doing some film work and understanding what the safety was doing back side in cover two," said Allen. "He was getting a little nosy, so I looked the other way and gave a little pump fake. Cover two, John ran a great route and we hit on it."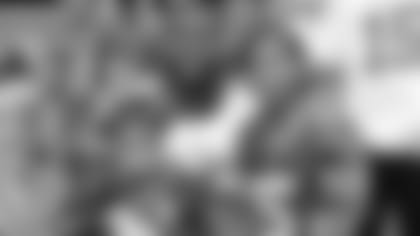 The Bills top wideout got consistent separation no matter which Miami cornerback was assigned to him. Undrafted rookie Nik Needham was his main cover assignment, but he left the game with an injury and did not return.
"After that they kind of changed their coverage scheme," said Brown.
But it didn't stop Brown's level of success. Though the Dolphins made a point of keeping Buffalo's top wideout in front of them, he bookended his performance with the team's final touchdown to put the game away.
On a first-and-goal at the nine-yard line, Allen found him running left to right in the middle of the end zone.
"I had an over route and the defender tipped the ball, but I concentrated on it and made the catch," said Brown.
Six of Brown's catches came against press coverage, including his second touchdown reception and 70 of his 137 yards.
For Buffalo's offense, Brown has been a model of consistency. Sunday's performance made it 10 straight games with at least 50 yards receiving to set a new team record to start a season.
He's now just a game from tying Eric Moulds' team record of 11 games with such numbers.
With 817 receiving yards thus far this season, Brown also set a team record for most receiving yards by a receiver in their first 10 games with Buffalo, surpassing Bill Miller (687 yards in 1963).
"He's been fantastic for us," said Allen. "Just how he goes about each and every day. He goes and attacks. An all-time teammate. Nobody can say anything bad about him. Just a guy who goes in and works and wants to get better. He doesn't care about stats or scoring touchdowns. He cares about the 'W' and when you care about that it's a recipe for success."