After months of quiet, Highmark Stadium was bumping for the Return of the Blue and Red practice hosted Friday night. The crowd of over 35,000 let out a roar when the players took to the field, with many making a lap around the field to sign autographs for eager fans.
The Bills hosted a multitude of fans for special experiences that resulted in exciting moments and plenty of permanent marker use. Here are some of the groups that got an opportunity to go behind the scenes at the Return of the Blue and Red.
Josh Allen and Co. were not the first players to step onto the field at Highmark Stadium Friday. A few hours before practice, roughly 100 kids participated in a flag football clinic hosted by the Bills.
Boys and girls ages 11-14 passed, punted and juked through nine different stations under the direction of coaches like Chris Monaco, a flag football coach at Sweet Home High School.
"Great chance for them to keep playing, learning the game, and any time we get to come to the stadium and do something with the Bills, they always get super excited for that," Monaco said. "[Flag football] just keeps growing and getting more and more legitimate … When these kids are moms and grandmas someday, their kids are gonna just play, it's not going to be a novelty anymore."
Flag football groups from G7, Cheektowaga, Sweet Home, Orchard Park, Youth Advantage and LA Sports Club all took to the turf, receiving gift bags, meal vouchers and three tickets to Friday's practice.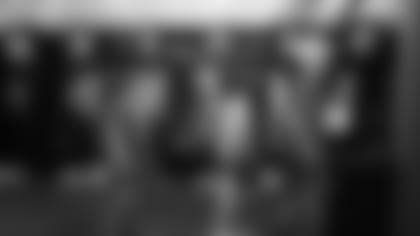 Three children had their wishes granted when they spent a day at One Bills Drive, touring the locker room, training facilities and viewing the Bills' practice from the sideline. Before practice kicked off, Allen came over and greeted the kids. The 6-foot-5 quarterback greeted the children and smiled as they slapped his hand.
"The Bills are a great partner with us, they do great wishes for our kids so we're very appreciative of everything they do for us," said Stephanie Kowalski. "So we were able to do a lot of things prior to the practice."
Allen wasn't the only visitor the children received, as Billy Buffalo made his way over to sign autographs and snap some photos. The kids, all three from different states, cheered when each player got close as they prepared to watch their favorite team in action.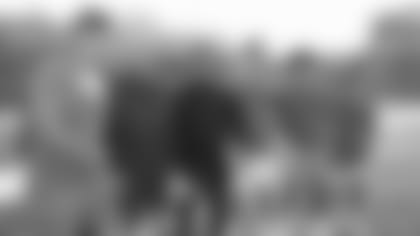 Scranton Preparatory School
Terry Pegula, owner of the Buffalo Bills, invited a group near to his heart to the sidelines for the evening.
The Scranton Preparatory School football team, Pegula's alma mater, was hosted at the team facilities Friday. The team tossed a football around on the indoor practice field and stood on the sidelines at practice, taking in the spectacle of the Return of the Blue and Red.
"My favorite part was being out here with my teammates. I just feel like this is a good thing for us seeing everybody on the Buffalo Bills come out here and practice," said senior Nyeem Gonzalez, who said his favorite players were Stefon Diggs and Josh Allen. "They look like they're having fun … My team is enjoying it while we're here."
Getting autographs from the likes of Diggs, Allen and Bills legend Fred Jackson — all while taking in a professional football practice— the Scranton Prep team had quite the day at Highmark Stadium.
"I mean, it's pretty awesome for our kids that Mr. Pegula was able to invite them up … some of these kids would never have access to something like this growing up," said head coach Terry Gallagher.
Pegula spoke to the team before the beginning of practice about his experience in high school and beyond.
"A lot of it was, I think [Terry] appreciates his experience at Scranton Prep and was trying to tell them to appreciate that as well. He's a great example for our guys, just to see some of the incredible things he's been able to do," Gallagher said.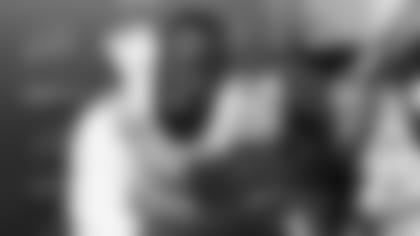 In an effort to make attending the Return of the Blue and Red more accessible for all communities in the greater Buffalo area, the Bills partnered with M&T Bank to invite 19 community organizations to the practice. The Bills distributed over 800 tickets complete with a meal voucher and round-trip transportation. Guests viewed the practice from the M&T Club in Highmark Stadium and had the opportunity to meet Bills Legend Fred Jackson, who was a member of the Bills from 2006-14.
"Just to be up there and to see how appreciative they were to watch me be around them, it was a lot of fun," Jackson said. "Anytime you get a chance to [talk football] with some guys like that, with young kids that love it, it's a tremendous opportunity."
The invited groups were: Aspire of WNY, Autism Services, Buffalo Police Athletic League, City Swim Project, Community Services for Everyone, Compass House, Cradle Beach, Delevan-Grider Community Center, EPIC - Every Person Influences Children, Girls Sports Foundation, G7 Girls Flag Football, Lackawanna Sports, Native American Community Services, Niagara Falls PAL, Peace of the City Ministries, SABAH, Special Olympics NY, Summit Academy and The Belle Center.
"Any time I get a phone call to come be a part of something like this, to come out here and shake hands and take pictures, sign autographs for kids, I mean that's what I'm all about," Jackson said.
While Jackson certainly enjoyed his time at practice Friday night, he did admit that it was strange to be on the sideline.
"I want to put some pads on and go out there and run around with these guys," Jackson joked.