Andre Reed sharing football knowledge abroad
![](http://bufbills.co/WL9fRz)
Bills Hall of Fame wide receiver Andre Reed joined 15 other NFL players, including Oakland Raiders running back Marshawn Lynch and Los Angeles Rams cornerback Marcus Peters, to teach men, women, and children of all ages football in Algarve, Portugal. Reed and the group teamed up with American Football Without Barriers to provide a free camp that gave participants an opportunity to learn about American football. The trip also allowed the players to experience a new culture in a personal and meaningful way.
Throughout the week, Reed guided the children in attendance on more than just running, passing or rushing skills.
"Obviously the kids are great to be around," stated Reed. "For them to learn about American football is a chance of a lifetime with the cast of players we had from the NFL. We talked with them about everything from being a kid to wanting to go to college and beyond."
 It's no surprise that Reed ran into a Bills fan abroad. United States Ambassador, George Glass bonded with Reed over reminiscing on the Bills four trips to the Super Bowl
"By the end of the trip I became great friends with Ambassador Glass because of his involvement with our group," stated Reed. "We were hosted at his place for the night and had dinner with him during the week. Although Glass is a Portland, Oregon native, he remembered the Buffalo glory days."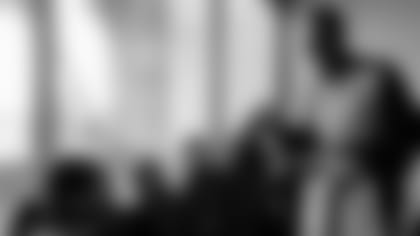 Reid Ferguson and his brother are tackling Capitol Hill.
Each year, the American Diabetes Association teams up with current and former NFL players, as well as college athletes, to raise awareness for a disease that impacts many Americans. The program, Team Tackle, aims to advocate for change and provide hope for the millions of families and individuals affected by diabetes. This year, two Buffalo Bills joined the cause. Defensive tackle Cedric Thornton, who spent the 2017 season with Buffalo, and long snapper Reid Ferguson are attending the annual Team Tackle meeting in Washington, D.C. There they will sit in on seminars and will have the opportunity to speak before members of Congress.
Increasing awareness about diabetes is something that is important to Ferguson and his family. Ferguson's brother, Blake, was diagnosed with Type 1 diabetes seven years ago at the age of thirteen. Since then, both Ferguson brothers are on a mission to gain more funding for diabetes research. As they attend the conference in Washington, D.C, they hope that sharing their personal stories will resonate with members of Congress and eventually lead to more federal funding to help find a cure. Prior to the trip, Ferguson expressed excitement for the opportunity to spend quality time with his brother.
"It's special," stated Ferguson. "To be able to spend a few days with him [Blake] going on this trip, advocating for something that is one of the top priorities in his life and to be able to help out and hopefully make a difference, that makes it more special to me."
![](http://bufbills.co/VORVNg)