The last seven games of the 2018 season provided encouraging signs for Buffalo's offense heading into the offseason. Averaging almost 25 points per game over that stretch (24.7) was a significant improvement from where the offense was in the first half of the season.
It has created a positive outlook for Buffalo's offense from outside observers going forward even though the prime opportunities to improve the level of personnel has yet to arrive on the offseason calendar.
"I like (Bills offensive coordinator Brian) Daboll a lot," said Pro Football Focus analyst Zac Robinson in a recent appearance on Bills flagship station WGR Sportsradio 550. "With the personnel he didn't let it hinder what he wanted to call, whether it was misdirection or the core concepts he had from New England."
Robinson, who is also a former NFL backup quarterback (2010-13), was impressed with the way that Daboll worked his scheme around the strengths of the players he had at his disposal to improve their rate of success as an offense. All the while, Daboll was still able to keep the Bills attack at the forefront of NFL play-calling trends.
"He's keeping up with the times with the play actions, the jet sweeps, with the tight bunch formations to give his receivers two-way gos to free them up on the outside," said Robinson. "So he's blending his core concepts from the drop back pass game with the new age play-action, Los Angeles Rams style of stuff to really get some creases. It's some really good stuff. There's a ton of space behind the linebackers on play action. It was a good mesh and you've got to be excited about what he's doing."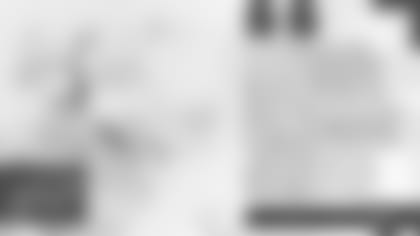 Daboll's ability to bring the Buffalo offense to the cutting edge of scheme concepts in the league proved critical in 2018. The Bills play-caller made heavy use of a three-receiver, one back, one tight end look (11 personnel) through the course of the season. Right now, 11 personnel is the most popular grouping for most successful offenses in the league for a variety of reasons.
But it was evident that Daboll tapped into his extensive experience of making in-game adjustments from his time on Bill Belichick's staff in New England, while also blending the influence of his year running the offense at the University of Alabama.
Perhaps even more important than Daboll's 'X's and 'O's was what he gave Buffalo's offense going forward. An identity.
"I think we kind of found ourselves and who we are in the last six, seven games," said QB Josh Allen. "Coach brought up some analytical points with us and I'll keep those in house. It's pretty promising and exciting to think about what we could've done and what we can do and what's in the future."
Daboll made it clear to his players from the start that the only way to improve is with a nose-to-the-grindstone approach to practice so when they get to the game their execution is routine.
"These guys worked hard," said Daboll of his players on offense. "I appreciate the way they gave everything they had during practice. That's a young, hungry group. We have a long way to go, but I appreciate their effort, and all the guys buying in and doing everything they can do to help us be as successful as we can be."
Naturally, the improvement of Josh Allen as he gears up for his second season in the NFL will be of paramount importance to where the offense goes in 2019. All the signs were encouraging, particularly in the final third of the 2018 campaign.
Among his individual statistics Allen made improvements in passing yards per game, passer rating and touchdown percentage. Those helped to lift the team's red zone touchdown percentage with him at quarterback by 11 percent over the final six games (61%) and the team's points per game average (+9.4 ppg).
As GM Brandon Beane said at the outset of the offseason, Allen has not arrived yet. There are still areas of his game in need of improvement and refinement but communicating those to Buffalo's young QB has never been an issue.
"That's the good thing about Josh, you can have candid conversations about what he's doing well and where he has to get better," said Beane. "I know Brian (Daboll) and his staff did a really good job of continuing to utilize the things he does well and watch him grow. You saw it with his play. He got more comfortable as the year went on. He's got a lot of work to do and we have a lot of work to do before we get back in 2019."
For the here and now, that work lies at the feet of Beane, who has stated publicly that he knows he must improve the collective level of talent around Allen.
"I've got to do a solid job this offseason to improve our offense," he said. "We know where we need to get stronger, and we'll look to address all those, whether it's bringing certain players back, paying attention to guys that get cut elsewhere for salary cap reasons prior to free agency. Obviously, free agency and hopefully fill some holes in the draft."
The good news for Beane, and head coach Sean McDermott, is the two most critical pieces needed to have a successful offense are in place in Allen and Daboll. Now it's a matter of filling the supporting roles around them.
"We have a good measuring stick of what we've seen so far, and there are a lot of things that we can all improve on," Daboll said. "That will help us leading into the offseason, no question about it. We're going to have to stay hungry and keep after it and keep getting better."
"Coach [Brian] Daboll has been awesome for me," said Allen. "I love the guy and he's got some good stuff planned for us (going forward). I'm ready to follow what he and Coach McDermott want us to do and the direction that Coach McDermott set for this team. I'm excited to see where it can go."