Miami Dolphins WR Mike Wallace was brutally honest last Sunday after his team dropped a 19-point decision to the Bills. He freely admitted that his team could not match the start to finish intensity of the Bills, and it had a significant impact on the outcome of the game.
"Those guys were fired up on every single play. Every single play," said Wallace. "You heard them screaming and yelling. They were fired up and we were quiet. You're not going to win like that. When those guys are fired up like that, you have to show emotion back and take it to the same level as them.
"That's why they won the football game. They did a good job of playing football, but their intensity was so much higher than ours that I think that's why they won the game honestly."
Visible passion for the game has not always been seen in Bills teams in recent years on game days, but through the first two weeks of the 2014 campaign Buffalo's players have been emotionally invested in each and every play.
"We're a team that's fighting for respect, and when you're fighting for respect you get like that," said RB Boobie Dixon of the emotional edge the team has displayed. "You feel some type of way and you have a chip on your shoulder. We still feel like we haven't got the respect we deserve and you've got to earn it. We're just trying to hit the field and get the respect we deserve. You've got to keep the intensity high to do that."
"They were riled up," said Wallace. "Telling each other, 'Let's go!' Talking crazy to us. Some people feed off that. Even if it was a guy not making the play, but he's fired up and he's getting his teammate fired up. I think you might've had to be on the field. It was crazy."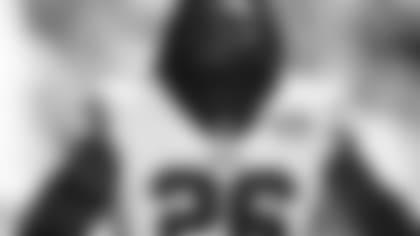 Linebacker Nigel Bradham believes their collective approach is different this season. He senses a different vibe in Buffalo's locker room where every player is committed to doing his level best for his teammates every second he's between the lines.
"It's pretty much just the passion that we all have as a unit, a brotherhood we have," he said. "It's a different camaraderie this year. We all feel like we're brothers and we're playing for each other. We all have the same passion and the same goal."
"A lot of guys in the locker room have had enough of not winning," said Da'Norris Searcy. "So we just always want to come out with a chip on our shoulder that we've got to get better and go out there and perform."
The players point to their team leadership as the genesis of the new found passion and determination to be jacked up to win every play in every game.
"I think a lot of the credit goes to Kyle Williams and EJ (Manuel)," said Dixon. "They've been having some awesome speeches before the game, especially Kyle, he's pretty much our general. He set the tone in the locker room before we came out (last Sunday). He felt a little disrespected. We all fed off that. He gave a great speech. EJ was the same way he was in Week 1. When you see your quarterback get like that, you're like, 'Aww man it's time to go.'"
They also credit the coaches for developing an environment that demands accountability from one player to the next from the top to the bottom of the roster.
"The coaches set a tone for us and we pretty much follow," said Bradham. "Marrone has done a great job with this team and as long as we follow his plan we'll be fine. He's really a passionate guy about this game and I think it comes from him."
"Every time before we go out on the field we talk about playing for the guy next to you, playing for one another and leaving it all out there on the field," said Searcy. "You never know when you'll get that opportunity again so we just always want to go out there and do it to the best of our ability."
Through the first two weeks the Bills have made more plays than their opponents. A lot of it has to do with their preparation and execution, but their intensity is directly related to the collective focus they've been able to demonstrate. That in turn has led to fewer miscues and smarter play.
Sustaining that level of intensity might prove to be the most difficult task over the 15 weeks of the regular season that remain, especially if and when adversity strikes. At this point the players are confident they have the collective fortitude to bring their best to the field both physically and emotionally every week.
"I believe so, absolutely," Searcy said. "As long as we stay together and keep holding each other accountable I believe we can get that done."