The Play 60 Challenge is back and officially starts on October 3.
Each year the Buffalo Bills, Independent Health Foundation, and Buffalo Niagara American Heart Association partner together to offer year-round opportunities for local elementary school students (K-5) to be more physically active and make healthier eating decisions in school and at home by participating in the Buffalo Bills Play 60 Challenge and Independent Heath Foundation Fitness for Kids Challenge. The challenge involves over 40 local schools and 550 classrooms, and encourages elementary school students to be physically active for 60 minutes a day throughout the Month of October.
To celebrate the start of the challenge, the Bills welcomed classrooms from six participating schools to Highmark Stadium on Tuesday morning to meet some players and exercise on the field for 60 minutes. Prior to taking the field for some football-related drills, the students and players had a conversation about how to stay active and eat healthy at a young age.
Wide receiver Jamison Crowder and defensive tackle Brandin Bryant got involved in the conversation by discussing their protein and carb-filled pregame meals/snacks that ensures they're energized for the game, the importance of hydration, and how they remembered to stay active as a kid.
Bryant and Crowder also shared some words of advice with the group of students on how to fit daily activity and eating healthy into their schedules.
"Always play outside and be active as much as you can," Crowder said. "That helped me get to this point. Have fun, be a kid, and enjoy life."
"And do a couple of push-ups here and there," Bryant added.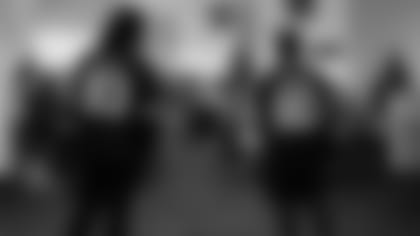 Once the Q&A wrapped up and the weather cleared up outside, the kids were quick to run to the field to start their 60 minutes of exercise that was led by players including defensive ends A.J. Epenesa and Shaq Lawson, CB Ja'Marcus Ingram, and DT C.J. Brewer. They practiced scoring touchdowns with tight end Tommy Sweeney, throwing accuracy dills with WR Isaiah McKenzie and TE Quintin Morris, kicking skills with cornerback Cam Lewis, and a 40-yard dash with Crowder.
Sweeney shared that seeing how excited the kids were on Tuesday is what his job is all about.
"It gives a little more tip to what we do," Sweeney said. "This is not just about us. We were these kids not too long ago, so we know exactly what it's like. I'm sure we get as much enjoyment out of it as they do."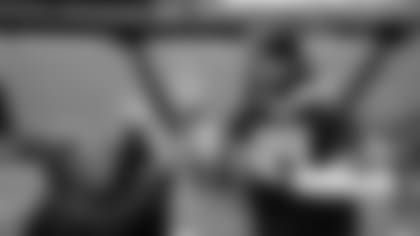 It was incredibly heartwarming for Crista Maghrak, a teacher at Hoover Elementary in the Ken-Ton School district, to see the smiles on her students' faces and their excitement while participating in Tuesday's event.
"It was an amazing experience for children who would not normally have an opportunity to make it down to the Bills stadium and to meet some of the players, while also getting some exercise in," Maghrak said.
It was extra special for Maghrak and other teachers at Hooverville to see Kaila, a third-grade student at Hoover Elementary, interacting with the players and running through the football drills with her classmates. Kaila was diagnosed with cancer when she was in kindergarten and was the first to ring the bell at the new Oishei Children's Hospital when she was officially cancer free.
And before the students headed back to school, WR Isaiah McKenzie made sure to meet Kaila and told her that she's strong just like a Bills player.
"I'm having a lot of fun today and it's really awesome to spend time with the Buffalo Bills players," Kaila said as she gave a thumbs up to her day at One Bills Drive.