Colden native, Marilynn Calhoun-Allen is the November honoree of the 2022-23 Buffalo Bills Season Ticket Member of the Month Program.
Since 1966, Calhoun-Allen has experienced a fair share of Bills games from Super Bowls to AFC East Championship games. The die-hard fan has followed her favorite NFL team around the country, and has been in the stands at almost every home game played at "The Rockpile" and now Highmark Stadium – but Calhoun-Allen will forever remember this stadium as "the Ralph."
"My sister (Sharon) and I would always bring a sign with us to games about being Bills Mafia before everybody else and that goes to show how long I've been a fan for," Calhoun-Allen said. "I would save my money every year to buy season tickets because that was my life, and the Bills have been part of my life for a long time now."
Going to games with her sister became a tradition and when they both got married, they added two more seats to their season tickets so their husbands could go too. The sisters were fortunate enough to go to Super Bowl XXVI in Minneapolis, MN when the Bills faced the Washington Redskins in 1992. And despite falling short of the title, Calhoun-Allen will never forget the excitement of cheering on her hometown team – and that was the case even when she wasn't in the crowd.
"My poor kids, when we would watch games on the TV at home, I would tell them to be quiet and not talk during plays, especially during those Superbowl years," Calhoun-Allen said.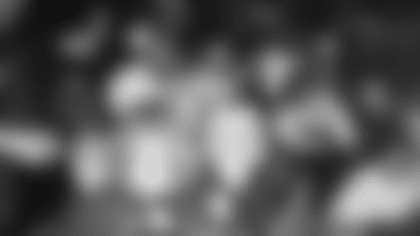 When Calhoun-Allen's daughters, Missy and Becky, got older, they transitioned from watching the Bills on TV to going to games with her. While Becky goes to most of the games with her mom now, Missy was picked to go to a game that turned out to be one of the greatest comebacks in Bills history – the 1993 playoff game between the Houston Oilers and the Bills, who came back from a 32-point deficit to win 41-38.
"I felt bad for her because I yelled at her and said you better stand up and watch because you won't believe you'll be able to say you were here one day," Calhoun-Allen said. "Now, she talks about that day a lot after I made her stand on the seat so she could see because everybody was going crazy."
Calhoun-Allen's love for the team, especially for Bills quarterbacks, is just as strong as it was 56 years ago when she started following the team.
"My favorite used to be Joe Namath, then it went to Jim Kelly, and I think you can see a trend here," Calhoun-Allen said. "Now, I just love Josh Allen. I also love Von Miller and Stefon Diggs too because they all just gel together so well on the field."
But her appreciation for the fans, especially the ones who have seats surrounding hers, has grown even stronger when they showed nothing but love and support after her husband suddenly passed away.
"Nobody could believe it, but we all became a family at the stadium," Calhoun-Allen said. "I wanted to keep my seats because that was my time, so that's really when I started bringing my two girls Missy and Becky. I just needed something, so the Bills and the people around me were like family through everything."