It's been a long time since Buffalo's offensive line has had all five of their starters return for a second consecutive season. Twenty seasons to be exact. The 2016 season will mark the first time since the 1996 campaign that the offensive line returns with all five starters on the roster, whomever you choose to pencil in at the right tackle position. And it's that kind of continuity that has Buffalo's offensive players confident that they'll be able to execute more effectively and consistently in year two of Greg Roman's scheme.
Keeping Buffalo's offensive line together was no easy task. With a tight cap situation and the starting left tackle and left guard set to become free agents, the club admittedly had to make re-signing Cordy Glenn and Richie Incognito job one. Though it took until the 11th hour both are now under contract. Restricted free agent Jordan Mills was also tendered making it likely that he returns to compete with incumbent right tackle Seantrel Henderson.
It was clear that the men up front wanted to stay together knowing it will benefit the offense as a whole.
"I'm just excited to come back and see our growth from year one to year two," said Incognito in a recent interview on Bills flagship station WGR Sportsradio 550. "Give these coaches time to sit back and assess what we did well and what we didn't do well. Now we come back as a group and we're all together for another year and we can all grow together and take that next step and get to the playoffs."
In 1996, the Bills returned RT Glenn Parker, RG Jerry Ostroski, C Kent Hull, LG Ruben Brown and LT John Fina after the group started together in 1995. The 1996 season was also the last time Buffalo's offense returned their top running back, wide receiver and quarterback from one season to the next. That is again the case here in 2016 with LeSean McCoy, Sammy Watkins and Tyrod Taylor back in their roles. Center Eric Wood sees that kind of personnel carry over as vital to their success.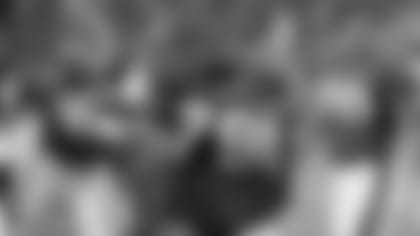 "I'm really excited for this offense," said Wood. "We've got a lot of work to do. Talking about it doesn't do anything, but I'm excited about this offense and Ty heading into the offseason as the guy and really stepping into that role as the number one quarterback."
"I think this year with Tyrod coming as a starter it's going to give us an opportunity to build that kind of cohesion throughout the spring," said offensive coordinator Greg Roman. "We'll get more time on task."
Just the approach when OTAs roll around for the offense will be that much smoother. Everyone will have a firm working knowledge of the offensive system and players won't be looking to memorize Roman's voluminous playbook. Instead they'll be refining the plays that made them successful last season with some changes and new additions.
"I expect just a more focused offense," Incognito said. "We came in last year and we were all new. We had a ton of new pieces. We got to OTAs and we didn't have a starting quarterback. We had a new running back. We had a new offensive line.
"We got to OTAs and I started at right guard and then moved to left guard. We were all trying to fit as pieces of the puzzle. At that point you're just trying to learn G-Ro's system. It's huge and so complex the run game, so you're in learning mode and just trying to survive and get to the next day."
"Hopefully we'll be able to build a lot this spring instead of installing and learning new plays we're building on what we already have," said Wood. "We can be more of a complete offense."
"I think we're really building something special on the offensive line," said Incognito. "We led the league in rushing last year and there's so much more we can do to make this team better. To come back and play next to a guy like Cordy and Eric Wood is exciting. I love those guys and I'm really excited that we get to play together again. We can really grow and learn in Greg Roman's system."
While the familiarity with Roman's scheme undoubtedly has its merits, Buffalo's offensive play caller also wants his players to understand that there's a process of understanding the urgency of situations in games when there are no excuses and precise execution is the only acceptable result.
"Their experience last year has to really weigh in to us maturing as an offense and understanding what it takes to win games," Roman said. "Whether it's starting faster and getting up on a team and keeping that pedal to the metal, and then sometimes you're going to have to go down the field at the end of the game to win the game. That's something we have to be able to do. It's just collectively understanding what we need to do in that given game. We've got to really hone in on those situations.
"We've got some great guys who want to win and put the time in. We're going to press them in that direction. We're going to put the pressure on them to develop and understand that."
And with almost everyone returning to the fold on the offensive side of the ball the odds are good that such a step will be taken.
"When we come back now they will have it finely tuned," said Incognito of the offensive staff. "We're going from a Honda Accord to a finely tuned Indy car now. They know exactly what they're trying to do and exactly they want to get a look at us doing. Now we just take that jump forward. Year one to year two is when you see the most growth. That's what I'm excited for – to get back to work and start putting in the work on the division and start laying the foundation for next season."