Longtime Bills fan Mary Ellen Rickard has been a dedicated Season Ticket Member since 1987. Her love for the team has allowed her to make many lasting memories. One of her most memorable Bills games was the 1988 matchup against the Jets that she attended with her brother. During the legendary game, "Fandemonium," as it was so famously referred to by Wall of Famer Van Miller, ensued when the Bills defeated the Jets 9-6 in overtime and clinched the AFC East title.
However, for Mary Ellen, the best part of Sundays at New Era Field will always be the time she shares with her siblings. The special bonding experience has even been given the nickname "Sibling Sundays." Nowadays, Rickard and her sister Anne, who nominated her for the Season Ticket Member of the game award, attend each game together.
"It's a Sibling Sunday with my sister," said Rickard in recalling her favorite thing about Bills games. "Her and me go to the games now and it's a time to be just with my sister. It's great. We used to go home, and my husband would make us dinner."
While the dynamic duo enjoys tailgating, their game day routine is more focused on getting to New Era Field early so that they are in their seats and don't miss any of the action.
"It's just the thrill of being there with 60,000 people," she said. "It's just fun. It's a different experience – I love it…I love to go. I go with my sister and it's a ball. We never leave…We stay until it's the end."
As a Season Ticket Member, Rickard has come to enjoy the perks associated with her membership, especially the items that come in her ticket package each year. As any proud Bills fan would, Rickard saves everything. What makes Rickard's story unique, though, is where she puts the items.
"I like getting the stuff at the beginning of the year…I love the flag I got this year," she said. "It's something I look forward to every year…I have a 'she suite' in my basement instead of a man cave in my basement and I have the Bills flags, I have the Bandits flags. It's where I hang most of my stuff…. My sister made me a sign [that says] 'Mary Ellen's She Cave.'"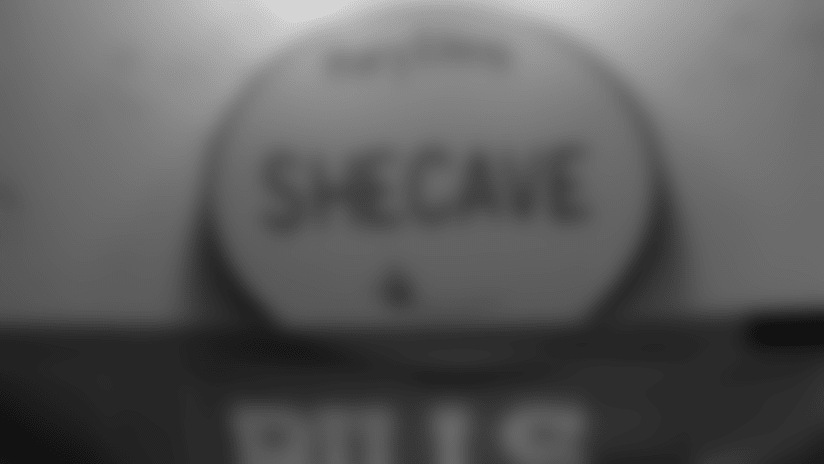 Congratulations, Mary Ellen!
The Buffalo Bills would like to thank Mary Ellen for her many years of being a loyal Bills Season Ticket Member and our Season Ticket Member of the Game. In addition to Mary Ellen being selected as a Season Ticket Member of the Game, she received a club seat upgrade at the Bears vs. Bills matchup on Sunday, Nov. 4, an autographed item and select Bills merchandise.
If you would like to nominate a Season Ticket Member of the Game, please fill out the form located here.