COMPLETE STATS (pdf)](http://prod.static.bills.clubs.nfl.com/assets/pdf/nyjvsbuf-111713.pdf)
The Bills were not the beneficiary of too many breaks over the past six weeks, but on Sunday it all turned for Buffalo. A relentless defensive front and opportunistic secondary forced four turnovers leading to 17 Bills points, and a rejuvenated EJ Manuel tossed a pair of long touchdowns passes in a 37-14 blowout win over the Jets.
"It was great," said EJ Manuel. "I think it's a huge momentum swing for us and obviously it was a team victory for us. The defense played lights out as they usually do. The bigger thing was our offense, we just had to do our job and we did a better job executing."
Despite very windy conditions at Ralph Wilson Stadium Sunday, Manuel looked like a different quarterback than the one who took the field for the first time in over a month last week in Pittsburgh. The Bills rookie signal caller went 20-28 passing (71%) for 245 yards and a pair of touchdowns as Buffalo never trailed in the game.
For Manuel's rookie counterpart however, it was as bad a day as it could have been for Geno Smith. Smith completed just 35 percent of his passes going 8-23 for 103 yards with three interceptions and a lost fumble.
Bills defensive coordinator Mike Pettine turned up the heat on Smith blitzing him on third downs early in the game. It led to a batted pass for an incompletion and a pair of sacks and would foreshadow what would happen the rest of the afternoon.
Buffalo's defense in addition to their four sacks, knocked Smith down nine times and hurried him on several other pass plays. As a result New York's offense managed more than 40 net yards on just two of their 14 possessions. The Jets were just 2-for-11 on third down conversions. Pettine's unit also held an opponent to fewer than 20 points in a game for the first time this season.
"Obviously they outplayed us in every phase of the game," said Jets head coach Rex Ryan. "You win on third down in this league, and we were 18% conversion rate on offense, [Buffalo] was 42 percent on offense against our defense. The four turnovers were a huge part of this game. You turn it over four times, you're not going to win any games. We had a quarterback rating of 10, they had a quarterback rating of 120. Obviously, those things can't happen for us to be successful."
Down 20-0 at the half, the Jets didn't get on the scoreboard until midway through the third quarter. Taking advantage of a botched punt by Brian Moorman, which traveled two yards, Geno Smith connected with Santonio Holmes on a 38-yard pass play to set New York up 1st-and-goal. It took four plays, but Chris Ivory powered his way in on 4th-and-goal from a yard out to cut the Bills lead to 20-7.
Buffalo however, had an immediate answer. With the wind at their back, EJ Manuel went to the air and deep. On 1st-and-10 from his own 17, he hit T.J. Graham down the left sideline for a 40-yard gain. On the very next snap, Manuel tossed a 43-yard touchdown pass down the right sideline to Marquise Goodwin to blow the game open (27-7) with 4:46 left in the third quarter.
"We just trusted our receivers," said Manuel. "I think every team has played us very similar. I don't think it was just the Jets that didn't think we could throw the ball deep. It was something that we saw we could take advantage of and we did it."
Geno Smith took care of the rest. In an attempt to throw a wide receiver screen pass to Santonio Holmes, Da'Norris Searcy read the quarterback's eyes and picked off Smith's pass. He then returned it untouched 32 yards for a score to effectively close out the game before the third quarter came to a close (34-7).
"I saw the type of formation they were in and once [Santonio] Holmes motioned out, I thought they might be trying to run a quick jailbreak screen," said Searcy. "So when he did the hard play fake, I just drifted out and he threw it right to me."
Early in the game the Jets tried and failed on a 48-yard field goal attempt on their second possession with the wind pushing Nick Folk's kick wide right, Buffalo capped a drive with a field goal at the same end of the field in the second quarter. Dan Carpenter connected on a 40-yard try to put the Bills ahead early (3-0).
From there the Bills would score on their next two possessions. After a neutral zone infraction by the Jets' punt return unit led to a 4th-and-1, Buffalo elected to bring the offense back on the field and go for it on a 4th-and-1 at the Jets' 33.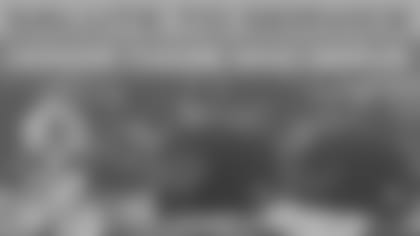 ](http://goo.gl/E0bWrB)EJ Manuel converted a successful sneak. Three plays later Manuel was hit and he tried to deliver a pass down the left side to T.J. Graham. The ball was underthrown and affected by the wind, but Graham adjusted, made the catch at the five and cut inside to reach the end zone for a 34-yard scoring play (10-3) with four minutes left in the half.
"It was an all out blitz so it was more just giving T.J. a chance and he came back for it and scored," said Manuel. "That was just T.J. making a great play on the ball."
On the ensuing Jets possession, Geno Smith was sacked on a 2nd-and-10 by Kyle Williams and fumbled. Manny Lawson recovered at the New York four-yard line. On 2nd-and-goal from the two, Manuel handed off to Frank Summers, who plunged into the end zone on a fullback dive to make it 17-0 Bills less than a minute later.
Geno Smith's day went from bad to worse on the next possession. Facing a 2nd-and-13 at his own 12-yard line, Smith's pass for TE Jeff Cumberland was low, but Jairus Byrd swooped in to intercept it before it reached the turf.
"I give a lot of credit to Aaron Williams on that," said Byrd. "We talked about the play beforehand. He kind of alerted me to it and it was something that I was kind of just right there for. I give a lot of credit to Aaron Williams. It did a great job of communicating back there to me." 
The Bills safety then returned it to the Jets 17, but a penalty after the turnover set Buffalo up at the New York 27. Manuel and the offense managed just three yards on four plays, but Carpenter picked them up with a 42-yard field goal to make it 20-0 Buffalo with just over a minute left in the half.
With the win Buffalo improved to 4-7 on the season while the Jets fell to 5-5. The Bills have the long awaited bye week before they resume their 2013 slate in Week 13 with a home game against the reeling Atlanta Falcons in Toronto at the Rogers Centre.