1 - Bills vets find extra motivation vs. Chargers
Buffalo Bills coach Sean McDermott likely doesn't think about Week 11 of the 2017 season all too often.
The Bills lost their Week 11 matchup with the Los Angeles Chargers last season by a score of 54-24. The loss, while disappointing at the time, would prove to be a small bump on the road to success, as Buffalo made the postseason in 2017.
Although the loss ultimately bared no impact on the season, McDermott hopes that last year's loss to Los Angeles will motivate his team when they host the Chargers this Sunday.
"We have a lot of respect for them, as I mentioned earlier," McDermott said. "That's probably a better question for them, but as a competitor, that would drive me and I hope it drives this football team."
A few of Buffalo's veterans are finding a bit of extra motivation from last year's contest. OT Dion Dawkins feel as though the team learned from the game, as they do from every matchup.
"Yeah," Dawkins said. "And of course, any loss, we're going to use to our advantage, and we're going to go in there with a kill mentality. We're just going to keep pushing and shoot for a win."
Buffalo's loss to Los Angeles last season extended a losing streak to three games. After dropping three straight games, the Bills didn't lose consecutive games again the rest of the season. Safety Jordan Poyer thinks that the team can look back on that stretch for motivation.
"Just know that it's in our DNA," Poyer said. "We're able to come back after something like that. You know you can do it. It's just a matter of continuing to work and continuing to support each other."
2 - Anthony Lynn thinks Buffalo fans will pose challenge to Chargers
Planning for an away game against the Buffalo Bills is never an easy task for opposing coaches.
Anthony Lynn is already well aware of this.
Lynn, the head coach of the Los Angeles Chargers, is no stranger to the loud and raucous Buffalo fans. The 49-year-old was a member of the Bills organization from 2015-2016, initially joining the team as a running backs coach before finishing his stint in Buffalo as interim head coach.
The Bills parted ways with Lynn after the conclusion of the 2016 season, signing Sean McDermott in his place. Lynn inked a four-year deal with the Chargers that same offseason.
Lynn's Chargers will travel to Buffalo this weekend to take on the Bills. The Week 2 matchup will serve as Lynn's first visit to New Era Field since 2016. He knows that the passionate Buffalo fanbase will be excited to see their Bills play, something that he thinks could pose a challenge to the Chargers.
"We just know going into Buffalo, that's going to be a hard place to play," Lynn said. "You don't just play the football team, you play 69,000 fans there, too, because they have one of the best fanbases in the National Football League. That's going to be a tough challenge for us."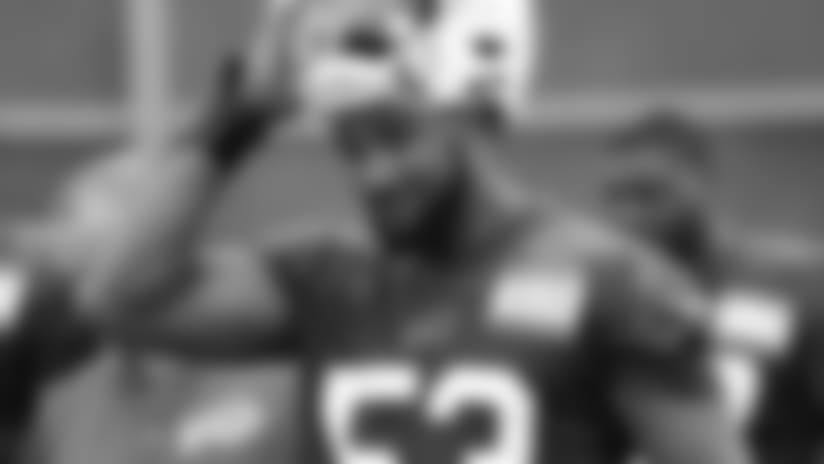 3 - New DE thinks he's a fit in Bills defense
Head coach Sean McDermott is "excited" to have him on the team, and defensive end Nate Orchard is ecstatic to be a Buffalo Bill.
Orchard, who signed with the Bills earlier this week, was selected by the Cleveland Browns in the second round of the 2015 draft. The 25-year-old, who has recorded 65 tackles and five sacks throughout his three years in the NFL, is excited for his opportunity with the Bills.
"An opportunity really to just showcase my skillset," Orchard said. "Preseason is one thing but to be a part of a team and a part of this organization, it's amazing. Just got to go out and show what I can do."
Orchard joined One Bills Live and explained that he's comfortable with Buffalo's scheme before praising McDermott.
"Really the scheme [made Buffalo a fit]," Orchard said. "The scheme, the defense, love the coaches. Coach McDermott is the man, met him and hands down just fell in love with the organization and being around the building and meeting some of the folks."
Although Orchard feels that he's a fit in the Bills' defensive scheme, he still has to learn the ins and outs. Still in his first week with the team, Orchard is working hard to master the defense.
"Right now, we're just taking it day by day," Orchard told Buffalobills.com. "Continue to slowly learn the scheme, but I think I'll be playing on Sunday."