The 2022 season marks the 21st season of the Buffalo Bills Toyota Rookie Club. This program gives the newest Bills players the opportunity to get involved, give back, and learn more about the Western New York community by participating in community outreach events throughout the season. 
To kick off this year's Toyota Rookie Club, the Bills Rookies hosted over 100 local youth football and flag football players from groups including the Buffalo Police Athletic League Flag Football program, GR8 Elite Youth Football in Buffalo, Boys and Girls Club Flag Football, KidsPlay Instructional Sports, WNY Jr. Bills, Youth Advantage Flag Football, WNY Amateur Football Alliance member tackle football leagues, Lackawanna Sports Flag Football, Town of Hamburg Flag Football, G7 Flag Football and the Bills YMCA Flag Football program inside the ADPRO Sports Training Center for a football clinic.
"I love coming out and doing things like this," WR Khalil Shakir said. "I remember when I was a kid their age doing football camps and seeing guys who are older than me, I just wanted to be like them someday. Seeing them and having them around was enough to give me motivation as a young kid."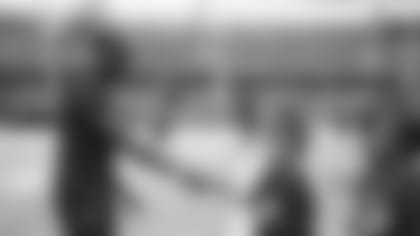 The Bills rookies led the kids through eight different football stations teaching the kids the fundamentals of football including WR route running, QB roll-out passing, RB agility drills, defensive line pass rush moves, kicking, LB vision drills, the 40-yard dash, and defensive back interception returns for touchdowns.
"It's just fun to get together and watch the kids come out here have fun, just play ball, and be around their friends," linebacker Baylon Spector said. "Nothing better than being at the Bills facility and being able to play football. So, it's fun just to see the smiles on their faces and come out here and have a good time."