There were two Gabe Davis' in the house this past Sunday afternoon during the Bills-Vikings game — one on the field and one in the crowd who was watching his favorite NFL player, who happens to share the same name as him.
Bills wide receiver Gabe Davis was greeted on the sidelines during pre-game warmups by 14-year-old Gabe Davis. The two met at Prosthetic & Orthotic Associates (POA) in Orlando, FL where the Bills receiver trains in the offseason and where the younger Davis received a set of prosthetic legs earlier this year.
"When he found out that in the offseason that (Bills) Gabe would go there to get some PT done, Gabe was relentless about if Gabe was going to be there that day and if anyone could text him to see if he could come in," Ryan Davis, Gabe's father said. "When it was confirmed that Gabe would be coming in the next day, Gabe was not able to sleep that night because he was so excited to meet "THE" Gabe Davis."
When the Gabes finally met, parents Ryan and Summer Davis said the incredible experience and the interactions between the two only made their son look up to the Bills receiver even more. An instant connection was formed through their time spent together at POA and the receiver wanted to make sure the Davis family made it to Buffalo for a game.
"It's been absolutely incredible to see how excited he's been," Ryan said. "He didn't sleep at all the night before the game, which means we didn't sleep at all. Every half hour he was like, 'What time is it, is it time to go yet?'"
Ryan and Summer told their son that they had tickets for the Bills-Vikings game, but he didn't know that he'd be reunited with No. 13 before kickoff. And when Davis ran out of the tunnel, he headed straight to one of his biggest fans who traveled from Cleveland, OH for the game.
"It meant the world to me and I know how much it meant to him," the Bills receiver said. "I know he wanted to meet some of the guys, so, fortunately, I was able to put him in front of (Stefon) Diggs and Von (Miller). But it's such a surreal experience to be able to have a kid like that be a big fan of mine, and I'm able to do what I did for him and I can't do nothing but thank God for that."
"I'm very excited and it's pretty cool to have the same name as him," the younger Davis said with a big smile on his face.
Even though he grew up in Cleveland, the young boy has been a fan of Davis since he entered the NFL. He has spent countless hours watching highlights of No. 13 and even pretends that he's in a Bills uniform catching passes from QB Josh Allen. But the Bills receiver and the sport of football had a strong impact on Davis before the two met in Orlando.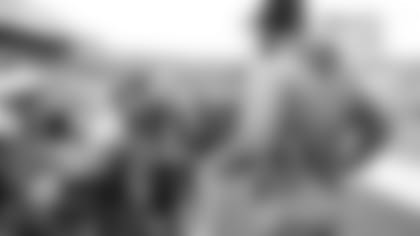 The 14-year-old Gabe Davis was born with a severe case of Proximal Femoral Focal Deficiency (PFFD) and when his parents adopted him from Ghana at the age of four, he was not able to hold a pencil or fork and had almost no fine motor skills. He had his first surgery to amputate his legs that same year and throughout his recovery, he would watch and play Madden Football.
"Even though he did not speak English at the time he was learning the language by repeating football terms and people's names," Ryan said. "This led him down a road where his love of sports continued to grow."
His father expressed that he has not let his disability be a disadvantage to him when it comes to his passion for sports — he uses it as motivation instead.
When he isn't watching the Bills, Davis plays catch with his brothers for hours on end until they have sore arms, and he would even ask a neighbor or anyone walking by to play catch. Aside from football, he finished second in the state of Ohio for the middle school push track 100 and 400-meter run, and he's currently playing wheelchair basketball for the Junior Cleveland Cavaliers.
"Even though he is not able to play football on a field he is an avid follower of the game and loves to watch replays of games so he can keep his own stats on teams and players he likes, like Gabe Davis and the Bills," Ryan said.
The Bills receiver never thought he'd meet another Gabe Davis. But now that it's happened, he's beyond grateful that POA brought him to not only one of his biggest fans, but another Gabe Davis.
"I see a ton of kids in and out of POA and something's amputated off them, and they don't have everything that everyone else has," Davis said. "I just try to be around those people as much as I can, encourage them, and support them because sometimes a lot of people look at them differently and they're not different. We have to try and look at them the same, and I'm glad I'm able to be around those types of people and inspire them as much as I can."