TELEVISION (CBS | 1 p.m. ET | Sunday, Dec. 22)
On the call: Spero Dedes (play by play), Steve Beuerlein (analyst)
BILLS RADIO NETWORK (click for complete listing of affiliates)On the call: John Murphy (play by play), Mark Kelso (analyst), Joe Buscaglia (sideline)
Flagship: Buffalo – WGR550 (550AM); Toronto - Sportsnet 590 The Fan; Rochester - WCMF (96.5) and WROC (950AM); Syracuse - WTKW (99.5/WTKV 105.5)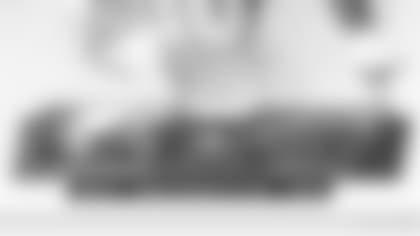 BILLS FAN PLAYBOOK FOR IPAD(FREE DOWNLOAD)
The official Buffalo Bills interactive experience for iPad is your definitive multimedia HUB for all things Buffalo Bills! Download it today and explore everything you, as a die-hard fan, need to know about the Bills weekly matchups throughout the season.
The Buffalo Bills Fan Playbook includes:
• A complete interactive Buffalo Bills team & coaches roster.
• Weekly Game Preview featuring countdown clock, opponent series info, Bills Focus video, up-to-the-minute season stats, animated depth chart and Bills All Access video.
• Bills Game Center Live for an all-in-one control center for fans' one-tap access to game-time relevant info, live Twitter and Instagram feeds.
• There's even a built-in Soundboard to entertain yourself, family & friends while enjoying the Bills game live from the comfort of your home.
• Browse and purchase the latest Bills Gear right from your iPad.
Whether your pre-game preparations start on the Thursday before or the morning of a Bills Gameday, don't miss out on downloading this essential tool that brings you closer to your team than ever before.
NFL.COM BROADCAST OPTIONS
NFL Game Rewind (for fans inside the U.S.) and Game Pass (available only outside of the U.S.) deliver to fans every play of every 2013 NFL Regular Season online in HD on a computer or tablet device.
Other features include:
• Commercial-free viewing
• DVR controls to let fans pause, rewind, and replay live and archived game action (after the game has aired on television)
• Condensed broadcasts that allow for viewing a complete game in approximately 30 minutes
• Telestrator functionality and the exclusive "All-22" coaches viewing angle
• Archived games from the 2009 season to present day, inlcuding playoffs and over 20 historic Super Bowl games
• Dual/Quad View: enjoy picture-in-picture or up to four videos simultaneously
• Big Play Markers: Instantly view the biggest and most pivotal plays of on-demand games
BUFFALO BILLS ENTERTAINMENT NETWORK (click for details)Bills All Access Live presented by Connors and Ferris, hosted by buffalobills.com Lead Journalist, Chris Brown and the Voice of the Bills, John Murphy, will be live in 2013 to get fans game-ready before every Bills game this year. Brown and Murphy will take an in-depth look at the upcoming opponent and provide fans with up to date information from the locker room, comments from Coach Marrone and a mic'd up feature that will give fans an inside listen to the sounds of gameday. Bills All Access Live presented by Connors and Ferris will air every Sunday at 11 a.m. across the Bills Television Network. Participating stations in the Bills TV Network include WKBW-Buffalo, WHAM-Rochester, and WBNG-Binghampton.
Bills Tonight presented by ECMC enters its second season in 2013, and this year will feature highlights from the game plus interviews and analysis. The show will kick off with highlights, comprehensive stats and Head Coach Doug Marrone's postgame interview. Lead Journalist for buffalobills.com, Chris Brown and the Voice of the Bills, John Murphy, will join WKBW Sports Director Jeff Russo from the locker room to talk with players and recap what happened during the game. Hosts Mike Catalana, 13WHAM-TV Sports Director, and Shawn Stepner, WKBW Weekend Sports Anchor, will provide game stats, analysis, and updates from the studio at Ralph Wilson Stadium.  Bills Tonight presented by ECMC will air at 11:35 p.m. following every Sunday Buffalo Bills game this season on WKBW-Buffalo and WHAM-Rochester.
From the Sidelineson Time Warner Cable will provide weekly pregame insight as buffalobills.com Lead Journalist, Chris Brown and the Voice of the Bills, John Murphy break down key elements and matchups of that week's game. Each week, viewers will experience what it's like to be part of the game through the sights and sounds of a player during the mic'd up feature. Buffalobills.com Journalist Hannah Buehler will go 1-on-1 with some of your favorite Buffalo Bills players and Jills cheerleaders to give a better idea of what they're like off the field, plus keep up with Bills in the Community during a segment dedicated to what players are doing to give back to Western New York. From the Sidelines returns to Time Warner Cable Sports in Buffalo and Rochester Saturdays at 10 p.m. and Sundays at 11:30 a.m., as well as in Syracuse at various times based on local programming.
The John Murphy Show, Presented by NOCO, broadcasts live from One Bills Drive throughout the year, Tuesday through Friday from 7-9 p.m., and at a new time on Monday from 10 a.m.-12 p.m. and preceding Monday Night football from 7-8 p.m. It can be heard on the local airwaves via WGR 550 (Buffalo) and Sports Radio 950 AM ESPN (Rochester), as well as on a mobile device through the Buffalo Bills Mobile App.
Sirius XM No Huddle, hosted by Bills legends Jim Kelly, Andre Reed and Steve Tasker, and named after their signature style of play, airs Wednesdays from 7-8 p.m. on Sirius XM NFL Radio (channel 88 for Sirius subscribers and XM premier subscribers). Throughout the season, Kelly, Tasker and Reed will cover the NFL's headline stories and discuss the NFL's past, present and future with listeners nationwide, with a special focus on Bills news through the lens of their long and illustrious careers with the team. For more information visit www.siriusxm.com/nfl.