TELEVISION: FOX-TV
ON THE CALL: Kenny Albert (Play-by-play), Daryl Johnston (analyst), Tony Siragusa (sideline)
BILLS RADIO NETWORK
On the call: John Murphy (play by play), Mark Kelso (analyst), Sal Capaccio (sideline)
Flagship: Buffalo – WGR550 (550AM); Toronto- Fan 590; Rochester - WCMF (96.5) and WROC (950AM); Syracuse - WKRL (100.9/WKLL 94.9)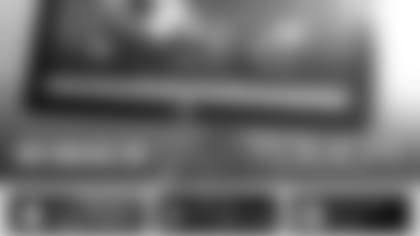 ](http://bufbills.co/ZL4Odq)
FAN PLAYBOOK FOR IPAD (FREE DOWNLOAD)
The official Buffalo Bills interactive experience for iPad is your definitive multimedia HUB for all things Buffalo Bills! DOWNLOAD IT TODAY and explore everything you, as a die-hard fan, need to know about the Bills weekly matchups throughout the season.
The Buffalo Bills Fan Playbook includes:
• A complete interactive Buffalo Bills team & coaches roster.
• Weekly Game Preview featuring countdown clock, opponent series info, Bills Focus video, up-to-the-minute season stats, animated depth chart and Bills All Access video.
• Bills Game Center Live for an all-in-one control center for fans' one-tap access to game-time relevant info, live Twitter and Instagram feeds.
• There's even a built-in Soundboard to entertain yourself, family & friends while enjoying the Bills game live from the comfort of your home.
• Browse and purchase the latest Bills Gear right from your iPad.
Whether your pre-game preparations start on the Thursday before or the morning of a Bills Gameday, don't miss out on downloading this essential tool that brings you closer to your team than ever before.
NFL.COM BROADCAST OPTIONS
NFL Game Rewind (for fans inside the U.S.) and Game Pass (available only outside of the U.S.) deliver to fans every play of every 2013 NFL Regular Season online in HD on a computer or tablet device.
• Commercial-free viewing
• DVR controls to let fans pause, rewind, and replay live and archived game action (after the game has aired on television)
• Condensed broadcasts that allow for viewing a complete game in approximately 30 minutes
• Telestrator functionality and the exclusive "All-22" coaches viewing angle
• Archived games from the 2009 season to present day, inlcuding playoffs and over 20 historic Super Bowl games
• Dual/Quad View: enjoy picture-in-picture or up to four videos simultaneously
• Big Play Markers: Instantly view the biggest and most pivotal plays of on-demand games
Bills All Access Live
Bills All Access Live, hosted by Bills Insider, Chris Brown and the Voice of the Bills, John Murphy, is live in 2014 to get you game-ready before each and every Bills matchup this season. Brown and Murphy take an in-depth look at the upcoming opponent and keep you up-to-date with all the pregame news from the locker room. Bills radio color man Mark Kelso breaks down game film, providing inside analysis and a look at what Bills coaches see when forming the gameplan. The popular Wired for Sound feature rounds out the Bills All Access Live lineup, giving fans an inside listen to the sounds of gameday. Catch Bills All Access Live every Sunday at 11 a.m. across the Bills Television Network, including WKBW-Buffalo, WUHF-Rochester and WBNG-Binghamton.
Bills Tonight
Bills Tonight presented by ECMC enters its third season in 2014, featuring highlights following each Sunday's game along with interviews, analysis and reaction from Bills coaches and players. Bills Insider, Chris Brown, and the Voice of the Bills, John Murphy, will join WKBW Sports Director Jeff Russo from the locker room to talk with players for a behind-the-scenes recap on what happened during the game. Hosts Mike Catalana, 13WHAM-TV Sports Director, and Shawn Stepner, WKBW Weekend Sports Anchor, will provide game stats, commentary, and updates from the studio at Ralph Wilson Stadium. Bills Tonight presented by ECMC airs at 11:30 p.m. following every Sunday Buffalo Bills game this season on WKBW-Buffalo and at 10:30 p.m. on WHAM-Rochester.
From the Sidelines
From the Sidelines provides a weekly recap from One Bills Drive, including an in-depth look at the team in the Bills Focus segment, a news-of-the-week summary in Bills Roundup, and the Wired for Sound video of the week. Hosted by Alexandra Vitale, buffalobills.com Multimedia Reporter, the show will also give viewers a look at how the Bills are impacting the WNY community. From the Sidelines airs on Saturdays at 7 p.m. on Time Warner Cable Sportschannel.