Whenever football players are asked what they enjoy the most about playing the game, many often say the camaraderie and bond they have with their teammates. Bills sixth-round pick Isaiah Hodgins is no different. One of those bonds for Hodgins is particularly special, since he's had one teammate by his side for 15 of the last 16 years.
Hodgins' brother, Isaac Hodgins is just 370 days younger than Isaiah, but the two have been joined at the hip throughout their childhood and their football careers.
"When I was young, I didn't talk very much until I was like four-years old," said Isaac. "The only person I would talk to was Isaiah. So if I was hungry or something I would ask him for some food and then Isaiah would ask my parents for the food. So, that was just our relationship. We walked to school together. We did everything together."
That included their first year in football. To be more specific, Isaiah's first year in football.
Isaiah was just six-years old. His father, former NFL and Super Bowl champion fullback James Hodgins, was his head coach. Isaiah also recalls that he was far from a success.
"I wasn't good at all and I'm pretty sure my dad, probably was mad on the inside," Hodgins said. "Being an NFL player and then seeing his son not be very good at football. I know it was probably rough for him."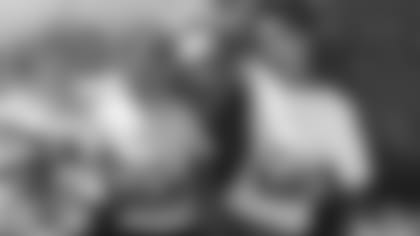 As difficult as his early playing days might have been, Isaiah did enjoy having his younger brother there with him at every practice. Isaac had good size for a five-year old, but he was below the required age to participate. Their father had other ideas.
"I was kind of involved in practices already," Isaac said. "They would kind of just sneak me in through the back gate and I would just practice with them, but that's about all the playing time I could get. I was just the ball boy on game days."
Though they were brothers their body types could not have been more different.
"He was always the shorter, stockier guy and I was always the taller, lengthier, faster one," said Isaiah. "I was always the tallest kid in my class so it's just always kind of been like that."
Though they were usually in different weight classes, they were always one another's wrestling opponents around the house and in just about every kind of competitive exercise their father could put them through in the backyard.
"We broke a lot of stuff in the house," said Isaiah. "Bed frames, vases, windows. Shoot, whatever you can name in the house we probably broke it. So, yeah, our parents had a lot of disciplining to do."
When football season was over, Isaiah's long and lanky frame lent itself well to basketball, while Isaac used his squarer frame to wrestle.
"Just kind of whatever fit our body types," Isaac said.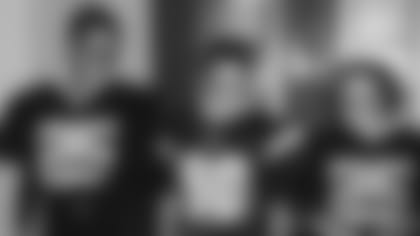 Even though their athletic pursuits diverged in the winter season, they always had football and their offseason training with dad.
"He was pretty tough on us," said Isaac. "I mean he was probably the toughest on us out of everyone. He had us in the backyard at age seven and eight spraying us with a hose doing push-ups, doing ladder drills in the backyard. Just doing crazy stuff. Just teaching us how to work hard and how to really understand the game of football."
"Yeah if you drove by while he was working us it wouldn't look so cool," said Isaiah.
But it did raise the level of each of their personal games. As the years passed Isaac was rounding into a two-way linemen while Isaiah was developing into an accomplished receiving target.
They also couldn't escape their dad, who was also their high school coach at Berean Christian. As tough as their dad was on them, they understood why.
"Yeah it definitely helped for sure with our dad in the way he raised us," said Isaiah. "He was very hard on us and he expected the most out of us and he knew what we could and couldn't do. So if you weren't performing up to our ability of what he knows we can do then he would just ride us and push us to our max ability."
But there were also times when dad's relentless drive, which made him a successful NFL player, would wear on them. Having one another to vent and relate proved beneficial.
"We definitely had each other to lean on and help each other and kind of team up against him every once in a while," said Isaiah chuckling.
Isaiah was enormously productive as a receiver in high school with three consecutive 1,000-yard receiving seasons from his sophomore to senior seasons, including a career-high 1,521 yards in his final high school campaign. He finished his high school career with 61 receiving touchdowns and another four on punt returns and earned second-team all-state honors.
After all those plays that finished in the end zone, the two brothers would perform their touchdown celebration, which consisted of Isaac shoulder pressing Isaiah by his armpits, straight up into the air lifting most of him above his head.
A four-star recruit, Isaiah was widely pursued by a handful of Power 5 conference programs, but he felt Oregon State fit him best. He'd only be about a four-hour drive from home and his family had a good chance to make it to most of his games.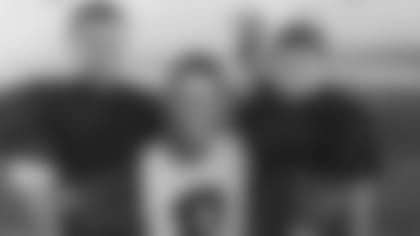 It was also the first time the brothers would not be teammates together.
The time in which they were not on the same roster, however, would prove to be short lived.
After a monster senior season that saw him set school records for tackles for loss and sacks, Isaac was a three-star recruit himself. It didn't take him long to decide where he'd play college ball.
"Honestly Oregon State just felt like a very at home place," Isaac said. "Just the community and the environment and just the fact that my parents wouldn't have to drive all over the country in order to see us play football. They could just go to one place and watch us both play was big in my decision."
Isaac enrolled at Oregon State early in January, and participated in spring ball, so the two essentially weren't teammates for all of four months.
Each of the brothers played during their true freshmen seasons with each seeing their roles increase with each passing year. Watching one another succeed in the same program in very different ways is something they both came to appreciate.
"Yeah, it's pretty crazy and it's cool at the same time," said Isaiah. "Just being able to go on offense and we just finish the drive and then he goes in on defense and I go on the bench and just watch the defense and look at the jumbotron and see my little brother out there making tackles or sacks. It was just surreal sometimes and it was definitely a blessing as well."
The brothers lived together off campus during their two school years together in Corvallis, before Isaiah declared himself eligible for the draft following his junior season.
For Isaiah Hodgins, getting drafted by the Bills in the sixth round this spring validated what has long been a goal for the wide receiver prospect. The opportunity to play in the NFL allows him to follow his father, James Hodgins' NFL path. It will also help point the way for Isaac with whom he has spent his entire football life.
The two brothers continue to train together now, with the COVID-19 restrictions forcing NFL clubs to conduct their offseason conditioning programs remotely.
But in a few months the two brothers will be as far apart as they've ever been. They'll be playing football on opposite sides of the country.
"Yeah, it's going to be hard for not just us but my whole family for sure," said Isaiah. "Just being in different time zones and trying to find ways that we can FaceTime where it's not too early for them or too late for me. So there will need to be a lot of communication and FaceTime."
Hopefully Hodgins can lean on a new teammate who went through a similar situation in Tremaine Edmunds. He too played with his two brothers all through grade school and high school and then in college at Virginia Tech.
Tremaine and his older brother Terrell both entered the draft the same year (2018), while Trey was already playing in the league for the Steelers. Tremaine obviously wound up in Buffalo, with Terrell luckily landing with their oldest brother in Pittsburgh.
Fortunately for the Hodgins, Buffalo plays against the AFC West and NFC West this fall. With road games at Arizona, Las Vegas and San Francisco, the odds are good the Hodgins brothers will be able to reconnect this season.
"Hopefully they'll be able to come out for some games and visit or I'll make some holidays with them," Isaiah said. "We've just got to try to keep in touch as much as we can."