Former Bills linebacker Takeo Spikes is a prideful man, who values family and tradition. Before Spikes' father died he told his son that he was the last to carry on the family name. Spikes had two half brothers, but they weren't his father's kids and didn't have his surname. Knowing his dad's family was so large Spikes was saddened by the fate of his father's family.
"My father's side of the family, they weren't really educated," Spikes said. "They had to quit school. Even though slavery was over they still had to stay on the plantations and farm. We come from a line of sharecroppers. You still had to stay on the white man's land in order to live. A lot of my dad's brothers died off so I just didn't know who else was out there."
Connecting the family tree
Living in Atlanta and an avid follower of the college recruiting battles in the SEC, Spikes kept seeing a kid from Cleveland County, North Carolina whose name kept surfacing among the best linebackers in the South. His name was Brandon Spikes.
"I started hearing his name and I said to myself, 'I wonder,'" said the Bills two-time Pro Bowl linebacker. "My father always told me about other relatives, but everyone on his side died off. So I didn't think there was any way, but I still had a hunch."
Spikes made contact with the number one rated high school linebacker in North Carolina, and sixth-rated linebacker in the country at the time, and after talking came to discover they were in fact cousins.
"I didn't really know him," said Brandon Spikes. "I figured he was my cousin because in North Carolina we had a lot of our family reunions in Georgia where he's from. He had no idea. He thought it was just him and his father and when his father passed he thought he was the only Spikes. So once I graduated from high school and I was getting recruited by Auburn and Florida he traded texts with me. Obviously he wanted me to go to Auburn, but that's how we started talking."
"He told you about that huh," said the elder Spikes of his failed recruiting efforts. "That guy man… obviously that didn't work."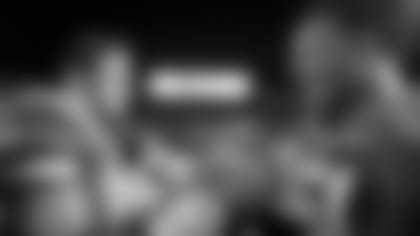 But it did jumpstart a relationship between them. Playing the same position and sharing a deep passion for football provided a natural springboard for their conversations.
"It started my freshman year in college and we've been friends ever since," said Brandon.
Building a bond
What really surprised his older cousin was when they first had a chance to meet and train together.
"He came to train with me in Atlanta. I looked at his stature and he does look a lot like my uncles," Takeo said. "So it was kind of freaking me out a little bit. He was tall in stature and his nose was the same as my uncles and even his hairline was the same."
Their relationship only grew from there. As Brandon was making a name for himself at the University of Florida, Takeo was taking his last few shots at a Super Bowl ring in the NFL.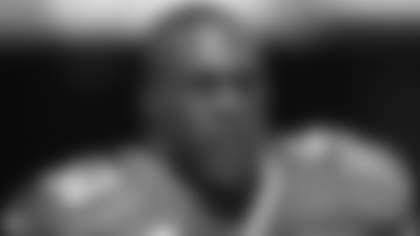 "We'd text back and forth when he was playing at Florida and that's when it started to get good because we started to share information and life experiences," said Takeo. "What he needed to look out for. He's a very prideful young man. He's stubborn, not when it comes to hard work, but dealing with him in general. He keeps a lot of stuff to himself, but he's proud of what he's been able to accomplish."
In his last season playing for San Francisco in 2010, Takeo began to lobby the 49ers front office to draft his younger cousin the following spring.
"I was trying to get our GM Trent Baalke to draft Brandon," said Spikes. "It was close too. He was going to draft him. I remember talking to Trent about him. I'd say, 'Alright if you want to see a big play turn on the game.' Every time I said it he always showed up in the game.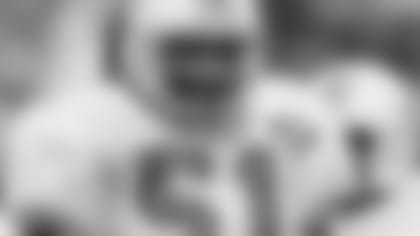 "Trent loved him because he reminded him so much of the versatility of Bryan Cox. A guy who could come downhill and be a big time thumper, but people forget that Cox used to rush off the outside. He was a great blitzer in college and he saw a lot of the same qualities in Brandon who did a lot of the same things at Florida."
In the end Spikes wound up a second-round draft choice of the New England Patriots in 2010, while his older cousin signed in free agency with San Diego, where he played his last two NFL seasons. 
The younger Spikes still remembers watching his older cousin play at Auburn, with the Bengals as a first-round pick and for the Bills. Brandon was motivated by Takeo's intensity and playmaking ability.
"His influence on me was definitely just inspiring me to be great," he said. "Inspiring me to have a dream and chase it. I saw him do some things in college and he went on to the NFL and had an awesome career. Watching him in Buffalo growing up that's why I wore 51 playing high school and college and he's just an all-around guy. He's professional and handles his business on and off the field."
So what does it mean to the elder Spikes to see a cousin he never knew he had not only playing in the NFL, but at linebacker, wearing his old jersey number, playing for a team where he had some of the most productive seasons of his career? 
"It's big with me because I had somebody who helped me out when I was younger and for him to be family and come out and say that I inspired him makes me feel like the work that I've done not only on the field, but off the field with him is worthwhile," said Takeo. "He's learning and eating off of it. That's all we can do is spread the knowledge to each other.
"If you want to be a great player everybody is going to have their runs, but for me my definition and I've told him, that in order for one person to be unanimously great it's not so much your play, but it's how much you raise the play of others around you."
Confidante
It's readily apparent that Brandon consults Takeo on many of the issues he faces as a professional. With this being his first foray into free agency and Buffalo calling and expressing interest, he called his older cousin for the truth about playing for the Bills and their fans.
"He said, 'Hey cuz what is it like? Tell me the truth. I know you're not going to lie to me. Everybody else wants something from me. I just want to know the truth,'" said Takeo. "I said, 'I'm glad you finally called.' I just told him I played in five places. To me by far it's the best football city that I played in that will remind you of Friday night football in high school. The reason why I appreciated it so much was it's hard to find fans who get paid minimum wage, but they're taking that minimum wage that a lot of times they should be spending to pay off their bills and they're spending it on their other Bills, the Buffalo Bills."
Having experienced the energy in Ralph Wilson Stadium firsthand, Takeo is convinced that Brandon, an emotional player by nature, is going to get a major lift from the fan support.
"He loved hearing that," said Takeo. "He was like, 'So what is it about Buffalo?' I said, 'I'm telling you man the energy. It could be 20 below and people will still come out there and see you.'
"He's going to get a charge out of that support. I told him the people will embrace you if you embrace the people. They know good football players and you have to be aware of that."
"He just told me there is no other fan base like it, and I loved to hear that," said Brandon. "I love a place with a lot of tradition. I remember being a little boy and watching Thurman Thomas and (Jim) Kelly and Pepper (Johnson) and them battling. I just want to bring that back. It's been a long time."
Following footsteps
Takeo Spikes played for the last Bills team to post a winning record when they went 9-7 in 2004 and narrowly missed ending the club's non-playoff streak.
"I'm very eager to see how he's going to respond in Buffalo," said the elder Spikes. "I know how he's going to respond, but I'm eager for everyone to see how he's going to respond this year knowing what he went through leaving New England."
"It just feels great to have a new beginning. The past is the past. I wasn't happy, but I'm happy now and I'm ready to get to work and ready to help," said Brandon Spikes. "I just want to be part of a winning program and organization and I saw this place as a great fit for me. I'm in Buffalo now and I'm just excited about the future. I want to bring that type of mentality and mindset and toughness, that old school ball and relentless effort."
Sounds a lot like how his older cousin played, which is why it may convince the elder Spikes to make it up to a Bills game this fall. Just having a relative he never knew he had sitting in the middle of his old team's defense is something he just may have to see in person.
"I'm going to be honest with you. I'm tickled. It makes me laugh on the inside every time I think about it," said Takeo. "I never would have thought this could happen. I never would have thought it would happen like this."