Every summer leading up to training camp buffalobills.com examines 25 of the more pertinent issues facing the team as they make their final preparations for the upcoming regular season. This year we wanted to focus on a few different areas that impact the team off the field in addition to what takes place on the field. From now until report day at training camp we'll address these subjects one at a time. Here now is the latest daily installment as we closely examine some of the answers the Buffalo Bills have to come up with between July 18 and the Sept. 7 opener at Chicago.
The offseason departure of Jairus Byrd left a noticeable hole in the Bills secondary. Aaron Williams will slide in full-time to the free safety spot, but the strong safety position is not solidified just yet. Two younger players - Jonathan Meeks and Duke Williams - are vying for the spot, with veteran Da'Norris Searcy already taking the upper hand.
Da'Norris Searcy
The former Tar Heel has given no reason for Jim Schwartz and the rest of the Bills coaching staff to doubt that he is unfit for the starting job. Searcy spent much of his 2013 season at the hybrid nickel/linebacker spot and notched 71 tackles and 3.5 sacks. Although he would realistically be moving to strong safety full time, he still hopes he can get some snaps in under that role again this season.
"That is extra value to my play," Searcy said of his hybrid position last season. "I don't want that to leave, I like that role for me. But if it does, then I'll just play safety. I have no problem with that either."
After spending much of OTAs being paired with a variety of other safeties, Searcy lined up next to Aaron Williams and the rest of the first team for the majority of OTAs. He was comfortable in the role of ball hawking and made his fair share of big plays.
During minicamp, Searcy will have to prove that he has what it takes to separate himself from his competition in the passing game. He has proven himself a capable defender against the run, but at strong safety he will be relied upon more in pass coverage than in previous seasons.
Despite the competition between he and his teammates, Searcy still understands that winning comes before anything else.
"We all understand that we're out here competing for a spot. But we also always encourage one another to just get better and continue to go out there and compete. We always want to encourage each other… At the end of the day it all comes down to winning," Searcy said.
Jonathan Meeks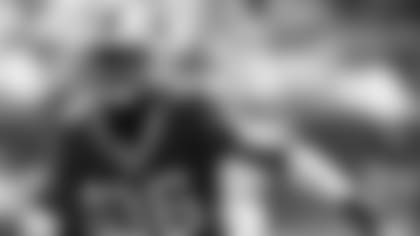 He did not get much of an opportunity to showcase his talents during his rookie season, but Meeks is confident in his abilities.
"All of the guys that we've got are great players," Meeks said of the defensive backfield. "But I will be there in run support, a playmaker on pass plays, and a physical guy. In this position battle I'm just trying to show the coaches what I can do."
Meeks his fair share of plays in OTAs and minicamp. One memorable play came on OTA day 7 when he cut off Sammy Watkins coming across the middle to intercept a pass from EJ Manuel. He will have to show more of that kind of instinct in order to overtake Searcy for the starting spot.
Meeks is a different kind of safety than Searcy, which works in his favor. He is more of a ball hawk in the passing game, more likely to make a big pass-breakup than a tackle for loss in the run game. It could simply come down to what Schwartz is looking to get out of the position on a week-to-week basis.
Duke Williams
Williams could have the most to gain during training camp. Coming out of Nevada, he was known as a big hitter who is able to come up in run support and force turnovers. He was not able to showcase that ability in June without pads and full contact practices.
"It's kind of like guys come out here in the spring and make a lot of plays with just jerseys on and they look pretty, but for defensive players it's a whole other game and intensity with pads on," said Williams. "You get to see guys go at it full speed, no holding back and no keeping guys up. Especially in the preseason when we go full tilt we can really show what we've got. That's what I'm really waiting for."
What the coaching staff loves about Williams is his athleticism. A converted cornerback, he won state titles in basketball and track-and-field in high school and had impressive combine numbers that boosted his stock in last year's draft. Now, he has to translate that athleticism onto the field in training camp and in the preseason.
Williams got the majority of his snaps this offseason with the second team as he was paired with Meeks. But if he can show flashes of what the Bills saw when they decided to draft him, he has the talent to be the full-time starter.