Recently-retired Buffalo Bills DE Chris Kelsay is scheduled to announce the Bills second-round pick in the upcoming NFL Draft, the league announced on Wednesday.
To hear Kelsay's reaction to being selected, tune in to Monday's edition of the John Murphy Show podcast, hosted on BuffaloBills.com. The show airs live from 7-9 p.m. on weeknights on Sports Radio WGR 550 in Buffalo, 950 ESPN Radio in Rochester, and is also streamed live through the Bills mobile app.
Thirty two legendary NFL alumni, one representing each team, will announce their respective team's second or third-round selection on Friday, April 26 from Radio City Music Hall. This continues a successful program that began in 2011 in which each selection in the second round is announced by a former player.
Kelsay appeared in 147 games for the Bills, ranking 16th all-time, since the time the club made him a second-round draft choice in 2003. The defensive end stands ninth on the team's all-time sack list with 32.5 in his career. Kelsay also ranks eighth in team history in forced fumbles with eight and is tied for first in team annals with a pair of career safeties. The Nebraska product was a locker room leader for the defense and enjoyed remarkable durability throughout his career.
The NFL alumni scheduled to be on-hand to make the announcements from the podium feature six Pro Football Hall of Famers, including three from the Class of 2013: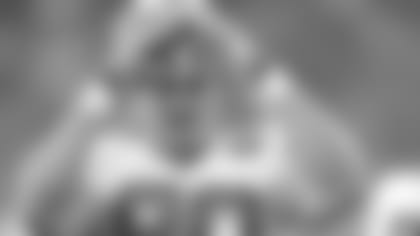 ](http://www.buffalobills.com/media-center/photo-gallery/Bills-Veteran-Chris-Kelsay-Retires/c050c359-2ee2-42b1-948a-e1032cdd7e4f)
Arizona Cardinals, Larry Centers (FB)
Atlanta Falcons, Deion Sanders (CB)
Baltimore Ravens, Jonathan Ogden (OT)
Buffalo Bills, Chris Kelsay (DE)
Carolina Panthers, Mike Minter (S)
Chicago Bears, Neal Anderson (RB)
Cincinnati Bengals, Tim Krumrie (DT)
*Cleveland Browns, Dick Schafrath (T)
Dallas Cowboys , Tony Casillas (DT)
Denver Broncos, Randy Gradishar (LB)
Detroit Lions, Herman Moore (WR)
Green Bay Packers, Dave Robinson (LB)
Houston Texans, Steve McKinney (C)
*Indianapolis Colts, Tarik Glenn (T)
Jacksonville Jaguars, Mark Brunell (QB)
*Kansas City Chiefs, Gary Barbaro (DB)
Miami Dolphins, Larry Little (G)
Minnesota Vikings, Joey Browner (S)
New England Patriots, Kevin Faulk (RB)
*New Orleans Saints, Steve Gleason (S)
New York Giants, Rich Seubert (G)
New York Jets, Wayne Chrebet (WR)
*Oakland Raiders, Willie Brown (DB)
Philadelphia Eagles, Jeremiah Trotter (LB)
Pittsburgh Steelers, Merril Hoge (RB)
St. Louis Rams, Orlando Pace (T)
San Diego Chargers, Jim Hill (DB)
San Francisco 49ers, Guy McIntyre (G)
Seattle Seahawks, Isaiah Kacyvenski (LB)
Tampa Bay Buccaneers, Warren Sapp (DT)
Tennessee Titans, Keith Bulluck (LB)
Washington Redskins, LaVar Arrington (LB)
Teams marked with a * do not have a second-round selection, barring a trade into Round 2.  Their player representatives will announce their Round 3 picks.
The 2013 NFL Draft will continue the three-day format introduced in 2010, with the first three rounds broadcast in primetime at 8 p.m. ET on Thursday, April 25 and 6:30 p.m. ET on Friday, April 26, and concluding with Rounds 4-7 on Saturday, April 27 at 12 p.m. ET. The NFL Draft will be broadcast on NFL Network and ESPN/ESPN2. Fans also may watch the live NFL Network stream on NFL Mobile from Verizon.