When safeties Micah Hyde and Jordan Poyer joined the Buffalo Bills as free agents in 2017, the duo noticed a special opportunity in front of them. They wanted to make their position unit unlike anything they had experienced. And today, the safety tandem has seen their prophecy become reality.
"We said let's make this a special thing that we have," Hyde explained. "And obviously we drafted Tre'Davious that year also, so he was a part of that transition. I think that after we started playing games together, we started finding out how each other played and communicated and were overall just good dudes.
"We decided to try to make this thing great and I think that's where we are now."
Hyde, Poyer and cornerbacks Tre'Davious White, Levi Wallace and Taron Johnson are playing at an elite level this season. Hyde leads the Bills with three interceptions and ties for the second-most in the NFL (Logan Wilson, Cincinnati and Byron Murphy, Arizona - 3). Johnson and Hyde lead the team in passes defensed with five. Poyer and Wallace have also delivered their share of game-changing plays. White is recognized as one of the NFL's top lockdown cornerbacks.
The group is part of the best defense in the NFL right now. The Bills lead the NFL in points per game allowed (12.8), yards per game allowed (251.8), and takeaways (15). They rank second in passing yards allowed (173.4).
The group believes their success starts with their continuity.
"You don't see secondaries or guys like this staying together for this long," White shared. "I've been fortunate enough to have Jordan (Poyer) and Micah (Hyde) for the five years I've been here. And then Levi (Wallace), this is his fourth year here, too. It's quite special, it's a group that I'll forever cherish."
Since 2017, the Bills defense leads the NFL with 116 takeaways and has allowed a league-low 213 plays of 20 yards or more. As Buffalo prepares to face the Tennessee Titans on Monday Night Football tonight, national analysts are beginning to take note of this special group.
"This team is more aggressive and more opportunistic than they have been in recent years," former Pro Bowler and current ESPN NFL analyst Ryan Clark said.
"Micah Hyde and Jordan Poyer are the best safety combination in the NFL right now," former Buffalo Bill and current ESPN NFL analyst Matt Bowen said. "I have no problem saying that. That's what they are because they both have multi-dimensional traits."
"Tre'Davious White to me is the Tim Duncan of the National Football League," Bowen added. "He is so fundamentally sound."
"Taron Johnson in the slot, I think, is a future slot corner star with what he's been able to do," Clark added.
"Levi Wallace goes up there and he holds his own," former Pro Bowler and current NFL Network analyst DeAngelo Hall added. "He stands his ground, he makes plays."
Defensive coordinator Leslie Frazier thinks the group learns at a high level in the meeting room and on the field because of their familiarity with each other and the system.
"The fact that we've been together for the number of years we have just gives us a leg up when it comes to preparation, how we do meetings and how we do practices," Frazier explained.
This preparation becomes beneficial during games when the defensive backs confuse offenses by disguising the coverages.
"Say we have a call and Micah and I see Taron disguising," Poyer said. "He didn't communicate with us, but he's disguising. We know what the call is and we can disguise based off of what he's doing. Whether he's showing or whether he's off, we just know Taron's doing this, we can do this. It's a lot of communication without really communicating."
"It is that nonverbal communication that gives offenses and quarterbacks hell," Hall said thinking back to his playing days.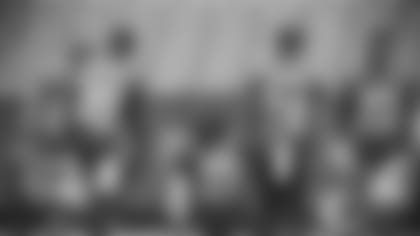 In 2021, the group has allowed just one completion of more than 20 yards and has limited quarterbacks to a 1.0 passer rating when they try to go deep. Both numbers are the best in the NFL, and it goes back to the years they've spent together in the same system under the same defensive coordinator.
"Just think about how much time they spend off the field, just how ingrained in each other's lives that they've all become," Hall said. "That's how you become a great team. You don't just talk about it or do it on game day, it becomes part of your life. I'm sure they have a great relationship off the field."
"Those guys are my brothers," Wallace shared. "And outside of football, we've been through life together. That's been real special to me. Micah and Poyer are in year nine now and they've seen so much. The chemistry that we all have together is just tremendous on and off the field."
The group has set an example to other position groups as to how a tight relationship off the field can lead to career numbers on the field.
"It's really cool to see their growth and just how they bond," left tackle Dion Dawkins said. "How they eat breakfast all together, how they eat lunch all together, how they go and hit the field all at one time. They do everything as a unit, which is why it shows on the field."
Former NFL players like Hall and Bowen wish they could have played with a secondary like Buffalo's. The two never got the chance to be part of a unit that was together for more than a couple seasons.
Clark was part of a Steelers secondary that was together for eight seasons. During those years, they were regarded as one the best secondaries in the NFL led by Hall of Famer Troy Polamalu. Clark relates his relationship with his DB unit to what the Bills secondary has in place right now.
"When we'd break down huddle, we'd always say when one brother makes a play, and then we'd all follow with, we all make a play," Clark said remembering his time with Pittsburgh. "And I think you truly see that when you watch the secondary of the Buffalo Bills."
The group loves each other and believes their relationship will last long past their years with the Buffalo Bills. Hyde said he imagines family trips and a group text that never stops once they all retire.
But right now, all he can think about is what would lock them in as brothers for life.
"We're just so close, we're just so together that the only thing that I can even think of is winning the Super Bowl together," Hyde shared. "Like there has to be some way to tie us together for the rest of our lives and I feel like that's winning the Super Bowl."
To make it all the way, Hyde knows the unit must keep playing up to their standard with another test against the Titans on Monday night.
Little did Hyde and Poyer know that the seeds they planted in hopes of creating something unique in Buffalo would grow into a chance at a Super Bowl season with teammates who have become family.